A recent release from ErgoGenix, ErgoDrive is a testosterone booster, that claims to be a little different from the rest.
But does it really work as advertised.
ErgoGenix claims it does, stating that ErgoDrive has 4 individual functions and will do more than boost your testosterone levels.
Here's how this supplement plans to help you:
Boost Performance
Increase Metabolism
Build Muscle
Maintain Muscle
Essentially the benefits that come with extra testosterone. Which made me think it wouldn't be too different to the rest.
I had to get to the bottom of it. Now, after careful research, I've prepared this review that should decided whether ErgoDrive is right for you.
This is what I found:
About the Company
With a relatively underdeveloped website, there's little you can find out about ErgoGenix apart from what they sell.
However, they've managed to secure Bodybuilding.com as a vendor for them, which speaks volumes for their credibility.
In terms of what they offer, ErgoGenix sell a range of different supplements that cater to many aspects of the lifting lifestyle.
BCAA's, Pre-Workouts and even Sleep Aids are just a few of the products this company offers.
As far as I'm concerned there's no worries about the authenticity of this company. They're pretty legit.
The Ingredients and how they work
If you're taking ErgoDrive they recommend 2 servings a day, each consisting of 2 capsules.
This is a mediocre way of doing things.
The best testosterone boosters on the market have around 3 – 4 servings a day – this allows the body to be constantly supplied with the nutrients they need to keep T-levels always on the rise. Longer periods between servings can lead test levels to drop back down and hinder progress.
The ingredients on the other hand weren't that bad, but they weren't the best I've seen by a long shot.
Some pretty good choices have been made. However, there seems to be little effort made towards blocking estrogen in this product, and if you have a lot of female hormone in your system, ErgoDrive may not be the best choice for you.
Here's a run down of the ingredients: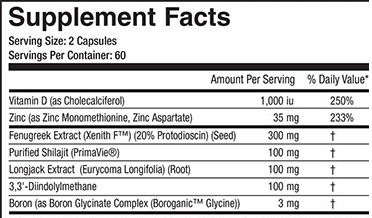 Vitamin D3 – This is the ultimate vitamin for testosterone boosting. Technically a hormone D3 is the vitamin our skin synthesizes from the sun's rays. Due to poor weather and indoor living, most people are vitamin D deficient and have a lot to gain from the supplement.
Multiple studies have shown supplementing D3 has led to increased testosterone levels, bone density and other benefits.
Zinc – One of the few minerals that help increase testosterone levels. Used in multiple reactions in the brain, zinc is helps create Luteizing Hormone (LH) which is the precursor to both testosterone and growth hormone.
However a daily income of ErgoDrive is 70mg. The tolerable upper intake level of Zinc is around 40mg according to the Institute of Medicine's Food and Nutrition Board. This may be  dangerous move.
Fenugreek – This traditional herb not only boosts libido, it also helps increase testosterone. Usually found in Indian cuisine, this nutrient has been proven to lower blood glucose and insulin levels.
This directly affects the amount of Sex Hormone Binding Globulin (SHBG) in the body – a killer of free testosterone – and lessens their production. This allows more testosterone to circulate throughout the body freely.
Purified Shilajit – A combination of different minerals used in alternative medicine. There's thought that this nutrient may help boost testosterone, however not many studies have been done.
The only successful study was performed on infertile men, and it's uncertain if the effects will apply to everyone else.
Longjack – This doesn't help testosterone, but does have some merit as a libido booster. Longjack may promote sex drive, and can perform as an erectile aid in some cases.
DIM – This nutrient can be found in the green vegetables like broccoli. There's thought to it having an effect as aromatase inhibitor/estrogen blocker. However, the process can be complicated, in fact too much DIM can promote estrogen levels.
It can be a risky thing to supplement.
Boron – A mineral that helps towards free testosterone. Boron is known to bind to SHBG, this allows more testosterone to circulate through the blood stream and increases overall amount of male hormone in the body.
Check out which ingredients work and which don't in our
– Testosterone Booster ingredients guide –
Side Effects
Overall the nutrients involved in ErgoDrive are all natural. On their own they won't cause any side effects. However, I do have an issue with the zinc.
As ErgoDrive provides almost double the tolerable limit of zinc, you may experience side effects such as vomiting, cramping, diarrhea, or headaches.
In the long term it can also lead to copper deficiency.
Be careful with this supplement.
Pros and Cons
Pros
Contains quite a few good ingredients
May help boost libido
Cons
Too much zinc – could result in side effects
Not enough estrogen blockers
Serving schedule needs work
– Click Here to see our Highest Rated Testosterone Boosters –
ErgoDrive Review Conclusion
After analyzing the components of ErgoDrive how it is delivered via servings, I feel I can only give it a 3 out of 5.
Although a lot the ingredients used in this product are proven to boost testosterone, however, some errors have been made which stop this from being a good supplement to recommend.
The problem with the ingredients is definitely the zinc. The tolerable upper intake level of Zinc according to the Institute of Medicine's Food and Nutrition Board is 40mg per day – ErgoDrive has 70mg per day. This can lead to a large amount of side effects that I've covered above.
The serving schedule isn't the best either, with only 2 a day your body wouldn't be supplied with a constant flow of nutrients to continue raising testosterone levels.
In closing I would say to not go for this product, but to check out some of my top rated Testosterone boosters right here.