From EVLUTION NUTRITION comes EVLTEST, one of their newer products and all round male-testosterone booster.
Unlike most T-Boosters, EVLTEST should be taken just before bedtime, and claims to support sleep – which appears to be a growing trend with testosterone boosters. Although this seems like a good move, considering the increase in testosterone and growth hormone during sleep, I have my reservations. However I'll discuss those later.
In terms of EVLTEST claims to do, they state the following:
Supports Natural Testosterone Levels
Increase Strength
Improve Stamina
Enhance Performance
Supports Optimum Sleep
However, as these statements aren't FDA approved, EVLTEST is well within it's right to make such bold claims. The proof of this actually being the case will come from the ingredients.
About the company
I've covered EVLUTION NUTRITION in the past. To keep things short, EVLUTION are a reliable company – however their website would make you think otherwise.
They deal primarily with Bodybuilding.com and GNC, so there's a high chance that the ingredients are the same values as EVLUTION state they are.
In terms of other products they sell, EVLUTION cover a wide range of supplements that works in with most active individuals lifestyles. They have supplements that cater to before, after and during a workout.
However, when using EVLUTION products, I've always had a bad time. Both LeanMode and TRANS4ORM have performed in the 2-3 star area – which isn't what we're looking for. Hopefully EVLTEST can turn things around.
The Ingredients and how they work
Unfortunately in terms of dosage, EVLTEST is another supplement that falls into the '1 serving per day' camp. This is not ideal.
The best testosterone boosters on the market use around 3-4 servings per day. Although it may not be as convenient as 1 serving, it is the best way to continually raise testosterone levels.
It constantly supplies the body with the nutrients it needs to achieve continuous and steady spike in testosterone levels. Whereas 1 serving secures a sudden rise, and then a steady decline to it's starting point over the 24 hours in between top ups.
This is a bad mistake to make, but it doesn't make EVLTEST a complete write off.
It is the ingredients that will govern this product.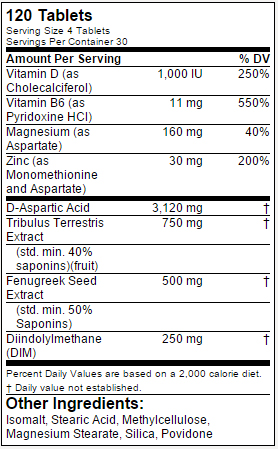 Vitamin D3 – Technically more of a hormone than a vitamin. D3 has been linked to boosting testosterone and improving bone density time and time again in clinical studies. There isn't that much in here compared to some T-Boosters, however 1000 IU should be enough to make a difference.
Vitamin B6 – This vitamin is linked to the reduction of estrogen. Vitmain B6 has a role in the body's C2 pathway involving hormone regulation – it has been linked to reducing the gene activity of estrogen which slows the production of the female hormone in the body.
Magnesium – This mineral helps promote free testosterone. Sex Hormone Binding Globulin (SHBG) claims over 60% of the body's natural testosterone, which removes it's anabolic potency and makes it permanently unavailable for future use. The magnesium takes the place of the testosterone and promotes T levels. Although there could be more than 160mg in this T-Booster.
Zinc – Whereas this mineral is more involved in the production process. Needed for certain reactions in the brain, zinc can help towards creating the luteinzing hormone, the precursor to testosterone. There are numerous studies on zinc helping with testosterone production.
D-Aspartic Acid – A great T-Boosting component that is generously supplied in EVLTEST. D-Aspartic Acid has been proven to be a regulator of testosterone synthesis. In 90 day studies 2.66g of DAA has been seen to raise T-Levels anywhere from 30-60%. EVLTEST contains 3.12g.
Tribulus Terrestris – Although there is a lot of trib in this T-Booster, the nutrient itself is massively redundant. Trib has been proven on multiple occasions to have no effect on T-levels. The only effect it may have, is a slight increase in libido.
Fenugreek – On the other hand, this traditional Indian herb has a lot more benefits. For starters it's a powerful libido enhancer, and although not directly linked to producing testosterone, it does help promote it. This is done by how fenugreek reduces insulin levels, which can help with diabetes and the reduction of SHBG which increases the amount of free-flowing testosterone.
Diindolylmethane (DIM) – Most commonly found in broccoli, DIM is thought to show promise as an aromatase inhibitor (estrogen suppressant) but so far there has been no concrete proof.
 Check out which ingredients work and which don't in our
– Testosterone Booster ingredients guide –
Side Effects
No side effects have been reported with this product.
Pros and Cons
Pros
Contains a lot of effective ingredients
A good amount of D-Aspartic Acid
Includes Vitamin D3
Cons
Some ingredients unproven or ineffective
Serving schedule needs improving
– Click Here to see our Highest Rated Testosterone Boosters –
EVLTEST Review Conclusion
In closing I was very impressed with EVLTEST. It contains a lot of the ingredients I look for in a testosterone booster that have been proven to work, (D3, Zinc, Fenugreek, Magenesium).
One thing I will say though is that the serving schedule definitely needs some revision. 1 big serving a day isn't enough to keep T-levels consistently raised over a 24 hour period. It needs to be constant with around 3-4 doses a day.
Also some of the ingredients like Tribulus Terrestris and DIM are questionable as to them having any effect at all.
However, I will say this is a pretty effective testosterone booster if you're ever in a pinch – but there are better ones out there.