Hypertest XTR is a testosterone booster from Axis Labs. It comes with 30 servings and costs $49.99.
This product claims to:
Raise free and total testosterone
Enhance muscle mass and strength
Lower estrogen and cortisol levels
Support tissue repair
Increase sex drive
Sounds pretty good so far – but how does it compare with the best natural testosterone boosters on the market? Find out in our Axis Labs Hypertest XTR review…
About the Company
Axis Labs is a supplement company based in Colorado, United States. It sells everything from pre-workouts to protein powders, fat-loss products, and even own-branded t-shirts.
It's not clear when the company started. But we do know it went international in 2006, and now ships to six continents worldwide.
Axis Labs claims to be committed to changing "how people feel" – which is nice.
The people behind the brand also say they make "the best quality sports nutrition supplements on the market." This is something we read every time we review a new supplement and it can get a little tiresome. Let's hope there's a least a grain of truth in it this time…
The Ingredients and How They Work
A quick glance at the ingredients list for Hypertest XTR reveals it doesn't use any proprietary blends – which is great.
It also contains a handful of great T-boosting ingredients, along with a couple we could do without.
See for yourself: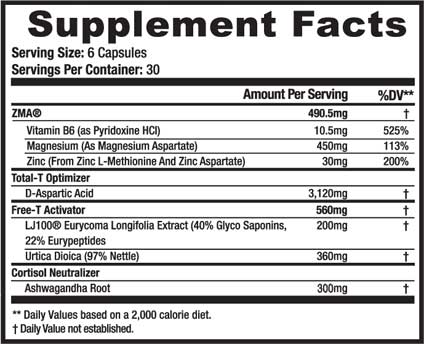 Vitamin B6
Vitamin B6 is a vital nutrient that helps boost testosterone, lower estrogen and lift your mood.
In one study, B6 reduced the cells responsible for estrogen production by 30%. And as the female hormone can lower testosterone and hinder your ability to pack on muscle (and could lead you to develop man boobs!), B6 is more than welcome here.
To boost T, the ideal dose of B6 is 5-7.5mg. But Hyper XTR contains 10.5mg, which is a little too much.
Magnesium
An NCBI study by Cinar, V et al shows Magnesium boosts both free testosterone and total T-levels in athletes and those who don't work out.
More than 300 enzymes need this mineral to help your body perform a host of different processes. This includes breaking down proteins, fats, and carbs as fuel for your muscles.
The problem of Magnesium deficiency
Not getting enough Magnesium can cause muscle fatigue, cramps, soreness, and tension.
By contrast, getting more of the mineral in your diet helps muscle growth and faster recovery after a tough workout.
So whether you want to boost your strength, sex-drive, or self-esteem, it's vital you get plenty of Magnesium.
How much Magnesium do you need?
The optimal amount of Magnesium is 100-200mg. With this in mind, it's worth noting Hypertest XTR contains 450mg.
This is a little worrying because the tolerable upper limit for adults is 350mg. Symptoms of Magnesium toxicity include hypotension, facial flushing, and vomiting. See the Side Effects section of this review for more info.
Zinc
Research shows strong links between Zinc deficiency and low testosterone. One study by Kilic, M et al shows Zinc supplementation raises T when combined with exercise.
Another study by Netter, A et al shows the mineral boosts both testosterone and dihydrotestosterone (DHT) in infertile men.
New research published by the American Journal of Clinical Nutrition shows Zinc is even more important than we first thought…
Supplementing your diet with 10mg of Zinc can make more proteins available for DNA recovery, and boosts the amounts of antioxidants in the body. This in turn helps you maintain healthy testosterone levels.
D-Aspartic Acid
D-Aspartic Acid (D-AA) is an amino acid which is shown to boost T, enhance your sex drive and help you pack on muscle.
In fact, one study shows D-AA can boost by up to 45.5% in just 13 days.
How does D-AA work?
D-AA boosts testosterone in three ways…
One – it tells your brain to release more of the Luteinizing Hormone (a key T precursor). Two – it acts on the Leydig cells in the testes to raise T and lift your sperm count by 30-60%!
And three – D-AA allows your body to convert more cholesterol into testosterone.
See SupplementTester's Highest Rated
Highest-Rated Testosterone Boosters Here
Eurycoma Longfolia Extract
Eurycoma Longfolia (aka Tongkat Ali) is a traditional herb believed to boost sex drive and increase strength.
The presence of bioactive compounds like eurycomaoside and eurycolactone allow marketers to propagate Tongkat's ancient rep as an aphrodisiac. This is because these active ingredients are thought to increase CYP17, which helps regulate testosterone.
However, despite evidence to this effect in rat studies, there's no proof Eurycoma affects either testosterone or sex drive in humans.
Urtica Dioica
More widely known as Stinging Nettle, Urtica Dioica blocks the sex hormone binding globulin (SHBG), which can strip testosterone of its ability to enhance sex drive and muscle gains.
The perfect dose of Urtica Dioca is 160-200mg. But once again, Hypertest XTR contains too much.
Ashwagandha Root
Ashwagandha is commonly known as the "king of Ayurvedic herbs" – and with good reason.
The popular adaptogen not only boosts testosterone, but also enhances sperm motility and quality. It can even improve power output, and enhance running capacity.
The Hypertest XTR label lists Ashwagandha as a "cortisol neutralizer" – one study showed the herb can reduce levels of the stress hormone by 14.5-27.9%. And as there's a proven link between low T and high cortisol, this is great news for any man needing an extra dose of maleness.
For optimal T-boosting, the ideal dose of Ashwagandha is 300mg. And it's great to see the guys at Axis Labs got the dosing spot on here!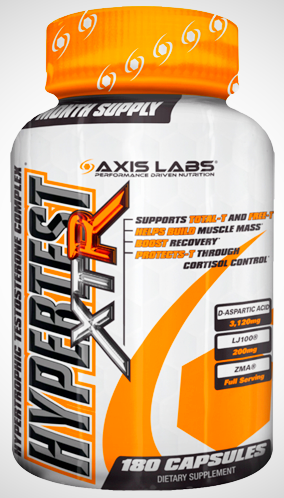 See SupplementTester's Highest Rated
Highest-Rated Testosterone Boosters Here
Hypertest XTR Side Effects
Hypertest XTR is largely safe to use.
However, the product contains 450mg of Magnesium, which is above the tolerable upper limit (350mg/day for adults aged 19+). As a result, you may experience the following symptoms:
Diarrhea
Lethargy
Muscle weakness
Irregular heartbeat
Hypertension
Low blood pressure
Facial flushing
Vomiting
If you experience any of the above symptoms, we recommend you seek medical advice before continuing to take the supplement.
Pros and Cons
Pros:
No proprietary blends
Contains a number of great T-boosting ingredients
Perfect dose of Ashwagandha
Cons:
Most ingredients overdosed
Contains more than the tolerable upper limit of Magnesium (may be toxic)
No evidence Eurycoma boosts T or enhances sex drive in humans
High price – costs more than a lot of other T-boosters
Missing some key ingredients (such as Vitamin D3 and Panax Ginseng)
See SupplementTester's Highest Rated
Highest-Rated Testosterone Boosters Here
Hypertest XTR Review Conclusion
After reviewing so many awful supplements lately, it's fair to say Hypertest XTR ain't at all bad – but it's still far from being the "total T optimizer" its makers claim.
This test booster contains a handful of ingredients we'd expect to see in all the best natural testosterone boosters – we particularly love D-Aspartic Acid and Ashwagandha.
The main problem with this supplement is the doses. While it uses the perfect amount of Ashwagandha (300mg), it uses too much of every other key ingredient. The 450mg of Magnesium is a particular issue – that's 100mg over the tolerable upper limit.
Meanwhile, Eurycoma Longfolia is understudied. As it stands, there's no evidence it can boost T in humans. Hypertest XTR is also missing some key T-boosting ingredients – the addition of Vitamin D3 and Panax would've been awesome.
Our verdict
Hypertest XTR is one of the best T-boosters we've tested in a while – but that ain't saying much. While it does contain great ingredients, you could still do a lot better.