From iSatori comes Rapid-Test, the testosterone booster endorsed by Youtube fitness celebrity CT Fletcher.
It's always reassuring to see a big name on a product, however that guarantee that it's going to be effective.
If you're considering using Rapid-Test, you're going to want to read this review first.
iSatori's Rapid Test is claimed to:
Boost Testosterone
Lower Estrogen levels
Use proven ingredients
Just what you should be looking for in a testosterone booster.
Read on to see if this supplement is the one right for you.
About the Company
With a lot of history in the supplements industry iSatori first arrived on the scene in 2001.
Over a decade and a half later they're still producing successfully selling supplements and cater to wide range of gym-goers and fans of the active lifestyle.
They have numerous products on sale in the industry that tackle all areas that aid before, after and during workouts.
You can find their products through numerous online retailers.
The Ingredients and how they work
The servings to Rapid-Test are slightly different to other testosterone boosters.
It requires 1 serving a day of 3 capsules – 10 hours before your workout. The issue with this is the timing, unless you have a set in stone routine for your training you're never going to get this perfect.
Plus testosterone boosting isn't a quick fix, it's a long term process that takes around 2 – 3 months for you to really feel the benefits.
As a side note there's only 63 capsules in this product, this means that Rapid-Test will only give you 3 weeks of servings. Which is a lot less than other T-Boosters.
The ingredients on the other hand were pleasantly surprising. However, there were one or two issues, here's the full list: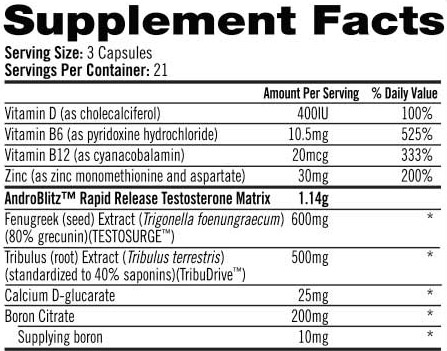 Vitamin D3
One of the best natural nutrients for boosting testosterone. D3 is technically a hormone, and has been linked to boosting testosterone levels with regular supplementation.
Naturally we can only get this nutrient from the sun, and due to indoor living and poor weather, it's hard to get enough.
The only problem you'll find with it in Rapid-Test is that there may not be enough, 3000 IU or more is needed a day to boost your test levels.
Vitamin B6
Mainly a supporting vitamin but it can help with the suppression of estrogen. Working with the C2 pathyway, B6 can decrease gene activity of the female hormone. Which allows your testosterone levels to grow easier.
Vitamin B12
This doesn't aid testosterone levels, but it does help with energy levels. By helping boost metabolism and energy levels, you'll have more stamina and a better workout.
Zinc
This is main mineral when it comes to boosting testosterone levels. Involved in reactions in the brain, zinc is essential for production of the Luteizning Hormone (LH), the precursor to testosterone and growth hormone.
Fenugreek
Used in Indian cuisine in curry, fenugreek has the ability to boost free testosterone. It lowers your insulin levels which reduces the amount of Sex Hormone Binding Globulin (SHBG) in your body.
SHBG is a killer of testosterone and binds to over 60% of the male hormone in your body. With less of them around, more testosterone can circulate in the blood stream.
Tribulus Terrestris
Originally thought to be an effective testosterone booster by supplement companies, unfortunately Tribulus Terrestris has never lived up to its reputation.
After numerous studies this nutrient has failed to boost testosterone levels. Which is unfortunate as this is one of the main nutrients that goes into Rapid-Test.
Calcium D-Glucarate
This doesn't necessarily boost testosterone, but it is useful if you're looking to make gains. Calcium is great for promoting bone and joint health which is useful if you train a lot or put most of your efforts into heavy lifts.
Boron
Although it says 200mg of Boron Citrate, what we're actually interested in is just the boron – of which there is only 10mg.
Despite not being much, this isn't a bad amount and can help improve levels of free testosterone when supplemented daily.
Check out which ingredients work and which don't in our
– Testosterone Booster ingredients guide –
Side Effects
There have been none reported with this product.
Pros and Cons
Pros
Uses some good ingredients
May promote free testosterone
Cons
Poor serving schedule (only 1 a day)
Uses Tribulus Terrestris (ineffective) as main T-Booster
Little effort to suppress estrogen
Only 3 weeks supply per box
– Click Here to see our Highest Rated Testosterone Boosters –
iSatori Rapid-Test Review Conclusion
On the whole this product uses a lot of good ingredients, however there is still some work that needs to be done.
The Vitamin D3 was a great choice, however, whether there was enough of it in this product is the real question. 400IU is good as a standard supplement, but to boost testosterone levels it needs to be at least in the 3000IU range.
Fenugreek was a good addition as well, 500mg is a solid amount to kick start the promotion of more free testosterone, however I feel this may have worked better as a secondary ingredient rather than a main component.
Then there was the Tribulus Terrestris, which should even be in this product. Generously used in Rapid-Test, Trib has never been documented for producing any satisfactory testosterone boosting effects. It's a waste here and it only drags the product down.
The serving schedule needs work as well – 1 a day is not enough to keep testosterone levels constantly on the rise. The 24 hour gap between servings is too wide to ensure a progressive rise. Plus, it's difficult when you have to take it 10 hours before your gym session – it's hard to plan.
If you want a testosterone booster that will ensure the best results, we suggest going over to our top T-Boosters page to find the supplement that will be right for you.