Whether you're looking for a supp to fuel your pre-workouts, stack up on protein, boost T or stay hydrated – you can bet Kaged Muscle offers something for you.
But are they any good?
We've reviewed the company's Pre Kaged pre-workout supp before and weren't too impressed – so we want to see whether Ferodrox can testosterone booster fare any better.
Claims to:
Support healthy testosterone and cortisol balance
Maintain T-levels within the normal healthy range
Increase strength and lean muscle mass
Boost stamina and performance
Promote optimal recovery
Online reviews for Ferodrox are a bit of a mixed bag – we've seen some glowing testimonials and a few a awful ones. So what's the truth? Let's dig a little deeper…
About The Company
Kaged Muscle is well-known across the world for making and selling expensive sports supplements – and many of the company's products boast stellar reviews online.
Its ambassadors include IFBB pro bodybuilder Fouad Abiad, fitness model Ashley Horner, and powerlifter Jesse Norris.
The Ingredients and How They Work
As we look over the ingredients in the Ferodrox formula, we can't really see anything special to justify its high price ($58.99 for 60 tablets).
See for yourself: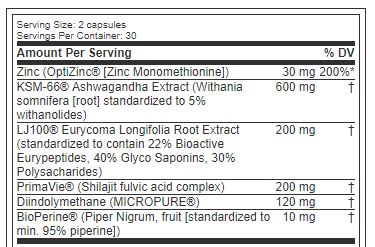 Ashwagandha Extract
Ashwangandha also goes by the names of Indian Ginseng, Poison Gooseberry, Withania Somnifera, and Winter Cherry. The herb hails from India and has been used in traditional medicine for over 3000 years.
As a potent adaptogen, Ashwagandha is proven to reduce cortisol – the body's main stress hormone – in the blood.
This is useful in a T-booster because stress can impede muscle development.
In addition, a study published in the Journal of Ethnopharmacology suggests Ashwagandha may increase T-levels in infertile males and in men undergoing strength training.
Eurycoma Longifolia Root Extract
We see Eurycoma Longifolia Jack (EIJ) a lot in T-boosters – perhaps more than you realize, as it's another ingredient on this list with a stack of different names.
(It's also known as Longjack, Tongkat Ali, and Malaysian Ginseng).
Legend has it Longjack makes your erections AND your muscles stronger, as well as combating stress and high blood pressure.
This belief persists because Longjack contains eurycomaoside and eurycolactone, which help convert estrogen into testosterone.
However, there's no concrete proof to show Longjack supplementation can boost your T-levels.
While one study suggested it could boost testosterone by 46%, these findings are unsound given that researchers used no placebo as a control to measure the potency of the herb.
Shilajit Fulvic Acid
Shilajit Fulvic Acid is a natural compound found in the Himalayas. It's used in Ayurveda medicine and is thought to prevent ageing, asthma and a host of other ills.
Many dry powder forms of Shilajit are banned in Canada due to their high levels of heavy metals. They also remain unapproved by the FDA in the US.
Still, its active ingredient, Fulvic Acid, remains on sale across North America.
But can it boost testosterone?
The results of human studies do show some promise. During one study by Biswas et al, 200mg of Shilajit boosted T-levels in infertile men by 23.5%. However, it's still unclear whether Shilajit achieves the same results in fertile men.
A second study showed similar results in men aged between 45 and 55.
But this research was directly funded by a manufacturer of the product – and this raises a red flag. We recommend only using ingredients subject to independent tests by researchers without vested interests in the results.
See SupplementTester's Highest Rated
– Testosterone Booster Supplements Here –
Diindolymethane
Your body produces Diindolymethane (DIM) when you eat broccoli, kale, cauliflower and other members of the Brassica family.
These vegetables contain the compound indole-3-carbinol (I3C), which has anti-carcinogenic properties – this is why eating your greens can help fight cancer. But in terms of whether DIM can boost T-levels, the results are less clear.
It's almost certainly true the compound can stop the sex-hormone binding globulin (SHBG) from inhibiting the free-flow of testosterone. However, the available research focuses on the use of I3C as a precursor, rather than DIM in isolation.
For this reason, we advise eating plenty of broccoli or kale instead – at least until the results of further research become available.
Bioperine
Bioperine is a modified form of Piperine (or Black Pepper Extract) – and it's a staple in many great (and not-so-great) T-boosters.
Black Pepper Extract boosts the absorption of other nutrients and makes them more potent. This supp contains 10mg of Bioperine, which is the optimal amount for boosting T-levels.
Bioperine is particularly useful for men over 30 who want to restore their T to youthful levels.
But as some of the other ingredients in Ferodrox aren't proven beyond doubt to be effective, this may shrink the potency of Bioperine in the supp.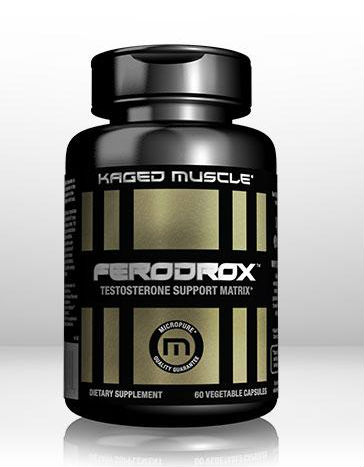 See SupplementTester's Highest Rated
– Testosterone Booster Supplements Here –
Side Effects
As you'd expect from a brand known for its premium supplements, Kaged Muscle Ferodrox is largely safe to take.
However, there are very few studies on the long-term effects of Ashwagandha, Eurycoma Longifolia, or Fulvic Acid.
Pros and Cons
Pros:
Ashawagandha may increase T in infertile men
Bioperine a useful addition to many testosterone boosters
Shilajit Fulvic Acid shows promise as a T-booster
DIM has many proven health benefits
Cons:
Expensive ($58.99 for 60 tablets)
No evidence Ashwagandha boosts T in fertile men
Efficacy of Fulvic Acid backed by shaky research
Not enough studies on the T-boosting effects of DIM in isolation
Bioperine boosts effects of unproven ingredients (may be wasted here)
Not for sale in the UK
See SupplementTester's Highest Rated
– Testosterone Booster Supplements Here –
Review Conclusion
Despite our previous disappointment when reviewing other Kaged Muscle supps, we wanted more from Ferodrox.
In fact, we have a right to expect more considering the cost – $58.99 for 60 tablets!
A lot of these ingredients show promise for their supposed ability to boost Testosterone. But when you buy a high-grade product, you want the gains you get to be worth the dent in your wallet.
It's just not good enough to include ingredients that MIGHT boost testosterone. When you fork out 60 dollars for a T-booster (with just 60 tablets), you need to know it WILL work.
Worth the cost?
While it's true even the best T-boosters are not for everyone, you expect (at the very least) for such a pricey supp to include ingredients backed by decades of research.
So while Ferodrox isn't bad – at $58.99, it should be great.
If this supp was half the price, we would've given it 3 stars. But as it's so expensive, it doesn't deserve more than 2.
So here's our advice: Ignore Kaged Muscle Ferodrox and spend a little less on a T-booster with proven power.