Contained in a gorilla fist shaped bottle, this caught our attention when looking for new test boosters to review. We're interested to see whether it really is as powerful as it's advertised to be.
Claimed to promote:
From first glance, Kong Test Booster seems to be a bit of a gimmick – it even comes with a warning saying 'extremely potent testosterone booster'. So let's take a closer look at the ingredients inside…
About The Company
This testosterone booster is made by Kong Nutrition. They're heavily focused on a gorilla to spearhead their advertising.
There wasn't much information about this company on their website; it simply stated to contact a man called Peter Jones for more information…
The Ingredients and How They Work
After trying to find out what nutrients were inside Kong Test Booster – we found that this product contains 3 proprietary blends (so you can't see the dosages of each individual ingredient inside).
This is a problem; it makes it almost impossible to find out how effective this test booster will be. But we'll do what we can, and reveal the benefits and side effects of each ingredient below.
See for yourself: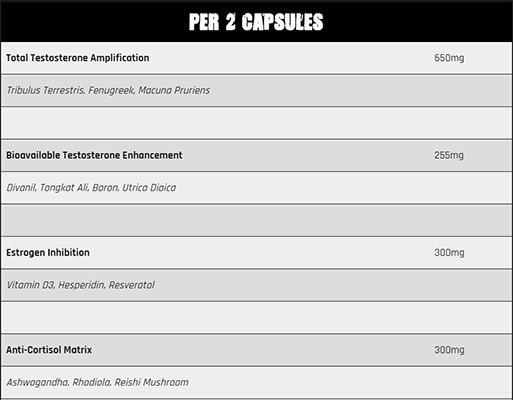 Tribulus Terrestris 
Not a good start by Kong Test Booster here. In a nutshell, tribulus hasn't shown to work in any studies – and can cause your prostate to increase in weight (which can lead to health issues you want to stay away from).
It's even worse when added into a proprietary blend. Why? Because if it's contained in a large dosage, it'll increase your risk of suffering from side effects.
As a result, we prefer to avoid tribulus terrestris.
Fenugreek 
This is a key ingredient in testosterone boosters. Basically, this herb has shown to promote your testosterone levels in numerous scientific studies – and you can't argue with that.
But the problem is this; as fenugreek is inside a proprietary blend, there might not be an optimal dosage inside (meaning it might not work).
Mucuna Pruriens 
Otherwise known as velvet bean, this is a very useful ingredient shown to help boost your test levels. However, the same studies suggest that you need a 300mg dosage for this to work.
As you know by now, as mucuna pruriens is inside a proprietary blend – it's not likely to be dosed optimally here.
Divanil 
One search of this ingredient, and you'll know what you're in for; titles such as 'the truth about divanil' and 'scam' appear on google's first page.
There's no studies to prove that divanil is effective – so we're considering this as an ineffective nutrient here.
Tongkat Ali 
This herb is known under a variety of names – Eurycoma Longifolia and Longjack. The good news is that there's evidence to suggest it can raise your libido.
However, it's never shown to affect your testosterone levels. As a result, this isn't the best ingredient you can have in Kong Test Booster.
See SupplementTester's
Highest Rated Test Boosters Here 
Boron 
Boron is a mineral that shows promising signs when it comes to boosting your test levels. However, it's never a key T boosting ingredient in any product.
Urtrica Dioica 
More commonly known as stinging nettle, this is another nutrient shown to raise your test levels. However, like with the other ingredients in Kong Test Booster – it's inside a proprietary blend, so it's not likely to be effective here.
Vitamin D3 
Many people don't know that Vitamin D3 is a hormone that's synthesized by your skin from the sun's rays. As a result, it's actually our favorite test boosting ingredient available.
But here's the problem; Vitamin D3 is inside a proprietary blend with an overall dosage of 300mg (you need around 5,000IU for it to actually work).
Ultiamtely, this means vitamin d3 has been underdosed here.
Hesperidin 
Hesperidin is a compound that's found in orange peels – and is known to be a kind of stimulant that can also promote cognition.
However, no study has shown that this is useful in a test booster (making it an ineffective nutrient inside Kong Test Booster).
Resveratrol 
If you've heard the myth that red wine can prolong your life – it's because it contains resveratrol. However, there is no scientific evidence backing this claim up – making resveratrol an ineffective ingredient.
Ashwagandha 
A popular herb that's been used in traditional Indian medicine. Ashwagandha is thought to improve your strength levels while boosting your testosterone.
While it has shown to slightly improve your strength output, ashwagandha hasn't proven to raise your test levels at all.
Rhodiola Rosea 
We're not sure why Kong Test Booster contains rhodiola rosea – this herb is known for its ability to reduce fatigue and boost your cognition, but has no effect on your testosterone levels at all.
Reishi Mushroom 
This is a Chinese mushroom that's thought to battle cancer while improving your immune system and general health (although there's no scientific evidence for any of these claims.
As a result, we consider Reishi Mushroom to be an ineffective nutrient inside Kong Test Booster.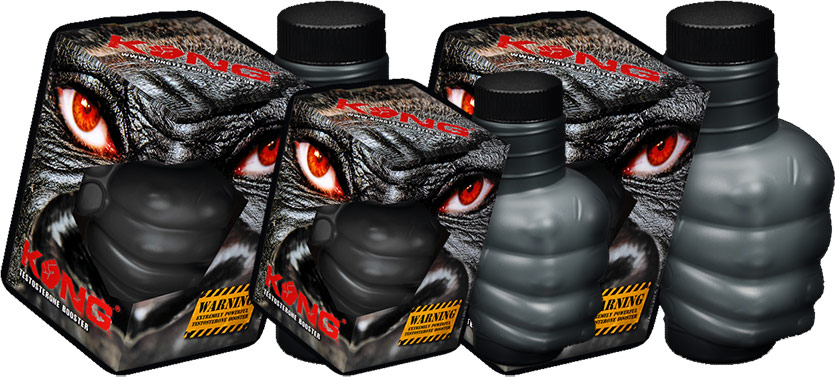 Check out which ingredients work and which don't in our
– Testosterone Booster ingredients guide –
Pros and Cons
Pros: 
Contains Fenugreek and vitamin d3
Mucuna pruriens and stinging nettle shown to promote test levels
Cons:
Tribulus terrestris known for causing harmful side effect
Every ingredient inside proprietary blends
All ingredients likely to be underdosed (so they might not work)
Side Effects
The main concern we have with Kong Test Booster, is that it contains tribulus terrestris – which has been reported to increase prostate weight before.
Now, this can lead to seriously harmful health issues. So we recommend that you avoid this ingredient.
Increase in prostate weight
Not what you're looking for? See our
Highest Rated Test Boosters Here 
Review Conclusion
Kong Test Booster looks quite fancy, due to coming in a gorilla fist shaped bottle. However, once you get past the packaging, it's quite a disappointing product.
In a nutshell; there's no excuse for a company hiding all its nutrients inside proprietary blends (and this can actually be potentially dangerous when they contain ingredients such as tribulus terrestris.
As a result, we recommend that you look for better test boosters – that are dosed optimally without containing any proprietary blends.