The Matrix Nutrition says "Matrix Testo Anarchy represents a new dimension in the body's hormonal support axis." We're so used to hearing this kind of empty jargon that such words mean nothing to us.
What we really want to know is – does it do the job it's supposed to do?
This product claims to provide:
Hormonal support
Protein synthesis
Muscle development
A "cutting edge muscle support formula"
We've tried Matrix protein powders before and were quite impressed, but we were less fond of the brand's Night Shredder fat burner. Could Matrix Testo Anarchy be a success or another fail? Read this review to find out…
About The Company
The Matrix Nutrition website claims "quality underpins everything that we do."
The UK company also claims its products are "prepared, packaged and dispatched directly to you." But while this suggests the same direct-to consumer model used by a market leader, we've found Matrix products on sites all over the web.
This company's product range includes protein powders, fat-loss products, weight gainers, testosterone boosters and much more.
It's surprising to find such a "small, dedicated" team offer so many products. Could it be spreading itself too thin?
The Ingredients and How They Work
Testo Anarchy contains just five ingredients, two of which we're glad to see and three we're not so happy about.
See for yourself: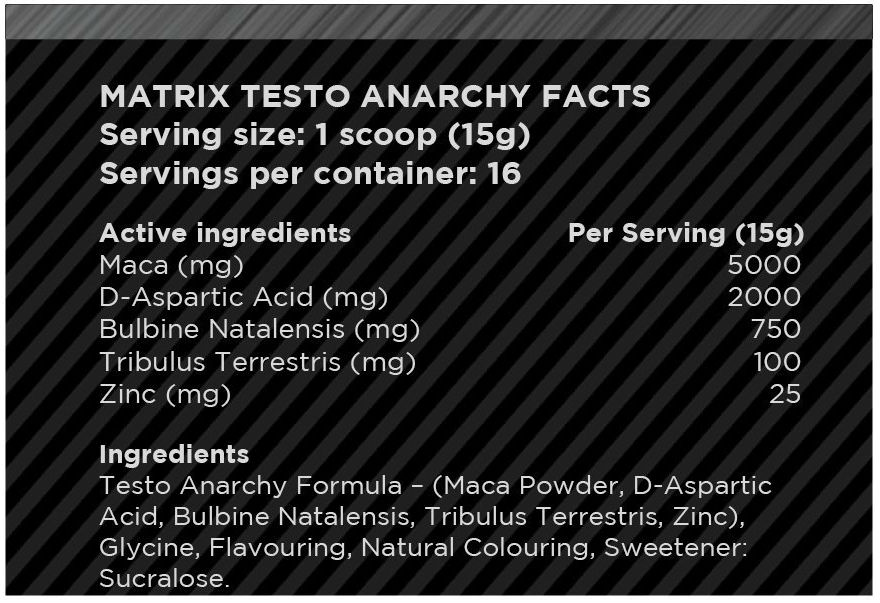 Maca
Maca is a plant that grows in the Andean mountains of Central Peru. Also known as Peruvian Ginseng, Maca looks like a turnip and is a member of the broccoli family.
The herb contains p-methoxybenzyl isothiocyanate, a compound thought to boost libido and fertility. Maca also contains sterols, fatty acids, alkaloids and phytonutrients, all of which have decent nutritional value.
But while Maca may enhance sex drive and sperm count, studies show it does not increase testosterone. And because testosterone naturally boosts sex drive, there's little need for a herb that serves just this one purpose.
What's more, this supp contains just five ingredients. With this in mind, it would surely better serve your needs by swapping this one-trick pony with an ingredient proven to help you gain muscle, get more energy AND enhance your libido.
D-Aspartic Acid
D-Aspartic Acid is one of our favorite T-boosters. This amino acid boosts T in your brain by raising levels of the Luteinzing Hormone (LH). This LH then travels to the Leydig cells in your testes to release testosterone.
D-AA also helps your body convert cholesterol into testosterone. For all these reasons, it's fair to say it's one of the best natural T-boosters out there.
2000-3000mg is the standard dose you'll find in T-boosters. However, at doses of 3000mg or more, it's important to cycle D-AA over a 12- or 13-day period.
For constant daily use, we've found doses in the range of 1600-2300mg to be ideal (but the higher the dose within that range, the better). As Matrix Testo Anarchy contains a daily dose of 3000mg, this is too much for ongoing optimal results.
SupplementTester's Highest Rated
– Testosterone Booster Supplements Here –
Bulbine Natalensis
Also known as Ingcelwane, Rooiwortel and Ibhucu, Bulbine Natalensis is a herb from the Asphodelaceae family.
Hailing from Southern and South Eastern Africa, the herb has been used as an aphrodisiac for hundreds of years.
But unlike a lot of discredited herbs, Bulbine Natalensis does show promise as both a T-booster and libido enhancer.
Research shows its increases levels of the Luteinizing Hormone (a T-precursor) in male rats and it's currently being investigated as an aphrodisiac and T-booster.
How safe is Bulbine?
As it stands, we need to see the results of more research before we can recommend taking it in a T-booster. In truth, the scientific community doesn't know how safe Bulbine is.
In fact, the lone human study was funded by a company that makes and sells this ingredient – and is therefore unreliable.
Tribulus Terrestris
The fitness world used to consider Tribulus Terrestris a must-have T-boosting ingredient – but those days are long gone.
Tribulus became popular among Bulgarian weightlifters in the 1970's. And after these athletes started winning medals, the herb quickly developed a reputation as the go-to, legal performance enhancer.
We now know that doping was common behind the Iron Curtain during the Cold War era, so it's possible these athletes were using Tribulus as a ruse for their illegal steroid use.
So does Tribulus boost testosterone, or not?
The presence of steroidal saponins, which make up 40% of the herb, seemed to give weight to its supposed T-boosting power.
But modern research confirms Tribulus has no effect on sports performance and does NOT help you gain muscle.
Some also believe Tribulus may enlarge your prostate. Yet while this is not proven beyond doubt, this potential side effect is worrying, to say the least.
Zinc
Zinc is an essential mineral that we're pleased to see in this supp. Among its many health benefits, Zinc can help improve everything from your sex drive, to muscle mass and T-levels. It also reduces the risk of heart disease and can boost brain function.
Sources of Zinc include red meat, poultry and whole grains – but the richest source of Zinc are oysters.
Why do you need to take more Zinc in a supp? Because over 50% of the world's population are Zinc deficient – so you could well be among them.
For men and women over 19, the tolerable upper intake level of Zinc is 40mg. As it's likely you already ingest some of the mineral in your diet, the 25mg in Testo Anarchy is way too much to take in supplement form.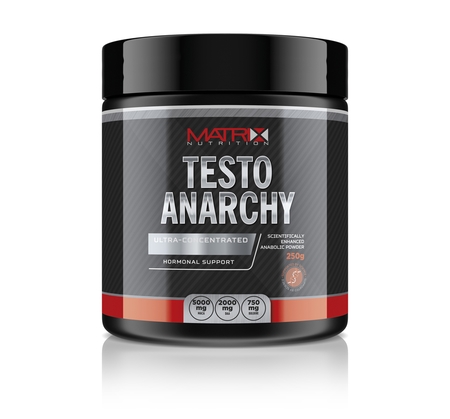 SupplementTester's Highest Rated
– Testosterone Booster Supplements Here –
Side Effects
As a whole, Matrix Testo Anarchy is safe to use. Tribulus Terrestris is thought to be a possible cause of prostate cancer, but at 100mg, it's  unlikely to cause you any harm.
The 25mg of Zinc may also cause issues.
As the tolerable upper limit (the point at which a nutrient becomes turns toxic) is 40mg, the large dose of Zinc in Testo Anarchy may become toxic if you already get 15mg or more in your diet.
Symptoms of consuming too much Zinc include:
Nausea
Severe headaches
Decreased appetite
Pros and Cons
Pros:
Maca may increase the libido
D-AA is a safe, yet potent T-boosting ingredient
Cons:
Tribulus does not improve sports performance or help you gain muscle
Maca does not boost T or induce muscle gain
Not enough info on long-term safety of Bulbine Natalensis
Too much Zinc – 25mg may be unsafe when combined with the Zinc in your diet
Too much D-AA in the daily dose for optimal results
Not available in the USA
See SupplementTester's Highest Rated
Highest-Rated Fat Burners Here
Review Conclusion
Matrix Testo Anarchy is not awful – it just left us wanting.
The good stuff
We welcome D-Aspartic Acid and Zinc in any T-booster – these should be among your top 10 ingredients if you're looking to boost testosterone, gain muscle, or enhance your fertility and sex drive.
The not-so-good stuff
Maca is an okay libido enhancer. But in a supp with just five ingredients, there are much better alternatives out there. The issue with Maca is that has no effect on muscle mass or testosterone.
Bulbine Natalensis also shows promise a T-booster.
The bad stuff
This supp contains too much of both Zinc and D-AA. In fact, the high dose of Zinc (25mg – five times the ideal amount!) could be toxic if you already get 15mg or more in your diet.
There isn't enough info on either the efficacy, or the long-term safety, of Bulbine Natalensis to warrant its place in this product.
Meanwhile, Tribulus Terrestris is a long-discredited ingredient that DOES NOT raise T, help you gain muscle, or enhance your sex drive.
So while Matrix Testo Anarchy isn't the worst T-booster we've tried, it certainly isn't the best. To pack on muscle and improve the way you look and feel, we're afraid you should look elsewhere.