---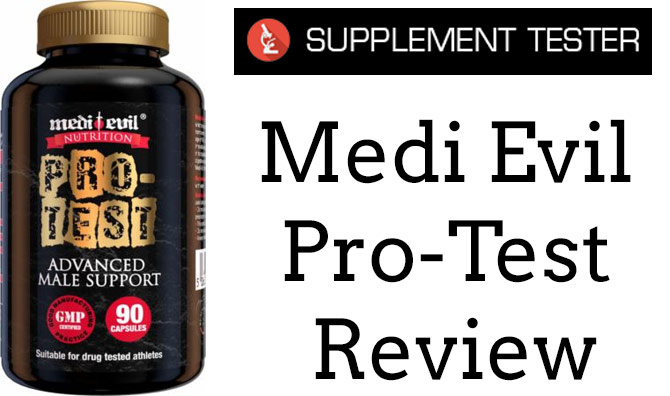 ---
This is a strange product. It contains mainly herbs that don't affect testosterone levels. It even contains Milk Thistle, which is used by those cycling steroids to protect their liver; this is a gimmick trying to fool people into thinking it's stronger than it really is.
Claimed to promote:
Testosterone levels
Energy levels
Immune system
The marketing for this product is terrible. We couldn't really find what this product claimed to do, until looking at a few irrelevant sentences.
Our first impressions of this test booster isn't good. So let's hope the ingredient list for Medi Evil Pro-Test proves us wrong.
About The Company
The company behind Pro-Test are Medi Evil Nutrition. There's alot of swords everywhere on their website, so they've really gone for the knights in armor theme there.
We don't mind this, but what we don't like – is that they don't have an 'about us' section on their website. In fact, they have a link to what's supposed to be an 'about me' page, but this leads to their sales page – which isn't good.
As a result, we couldn't find any information about this supplement company at all. But what we do know is their ingredients, so let's take a look.
The Ingredients and How They Work
As we mentioned at the start of this review, Pro-Test contains more herbs and ingredients that improve your general health – than nutrients that are proven to boost your test levels.
We don't know about you, but we prefer testosterone booster supplements to contain mostly nutrients that are proven to raise your T levels – why else would you buy these supplements?
Anyway, we'll talk you through the ingredients on the list here. So you can see for yourself: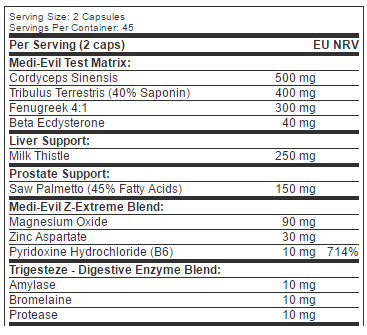 Cordyceps Sinensis 
This is a mushroom used in traditional Chinese medicine that's believed to improve your general health and promote test levels.
However, no studies have shown Cordyceps to be actually work in any studies. Not only that, it's thought that you need at least a 1,000mg dosage for it to be effective anyway; as Pro-Test only contains 500mg, it wouldn't work.
As a result, this is an under-dosed and unreliable nutrient.
Tribulus Terrestris 
Tribulus is a herb that's been used in tradition Indian medicine to boost testosterone and libido. However, recent studies have shown that it has no effect on your T levels.
Not only that, Tribulus has shown to increase the weight of your prostate – which can lead to severe health issues if you're male.
Ultimately, as Tribulus doesn't work and causes a side effect, it's a nutrient we choose to avoid.
Fenugreek 
Finally, a good ingredient. In fact, fenugreek is one of our favorite ingredients that's proven to boost your testosterone levels.
Not only that, it's one of the most efficient ingredients, as it's shown to work in dosages as little as 50mg per serving. As a result, fenugreek is always a great ingredient to add into a test booster supplement.
Good work by Medi Evil Nutrition here.
---
See SupplementTester's
– Highest Rated Test Boosters Here –
---
Beta-Ecdysterone 
This ingredient is becoming more popular, and is a naturally occurring steroid found in plants and insects. But don't get too excited just because it's classed as a 'steroid' – it hasn't actually shown to promote testosterone levels in any studies yet.
As a result, this is an unreliable ingredient; at least until there's been more research conducted that proves whether it works or is useless.
Milk Thistle 
This is a herb that's quite commonly used, even outside of the bodybuilding world – due to it's ability to help protect your liver.
As a result, this has become popular with steroid users; as steroids damage your organs (including your liver), they rely on Milk Thistle to protect their liver.
It's a useful ingredient to improve general health, but it doesn't impact your test levels. We believe Medi Evil Nutrition has added this into Pro-Test to fool people into thinking it's equally as strong as steroids.
But don't be fooled – Pro-Test is nowhere near as powerful as steroids.
Saw Palmetto 
This is a fatty acid mix that's believed to suppress prostate growth and increase testosterone levels. This is why it's often included in T-Booster supplements that contain tribulus.
But what's concerning, is that companies know about Tribulus' side effect, and still include it in their products anyway. Increasing the size and weight of your prostate shouldn't be a risk taken by anyone.
Anyway, back to Saw Palmetto. All you need to know about this ingredient, is that it's not shown to boost your testosterone levels; although it has shown to promote general health and potentially treat urinary tract symptoms in men.
Digestive Enzymes 
Amylase, Bromelain and Protease are simply digestive enzymes which help break down protein. We're not actually sure why Medi Evil Nutrition has included this in their test booster supplement.
None of these have shown to boost testosterone, and you're body produces some of them naturally anyway in your saliva. Again, we believe these are simply gimmicks to make you think they're better than they are.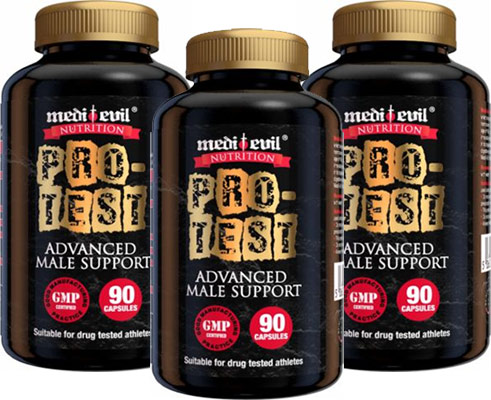 Check out which ingredients work and which don't in our
– Testosterone Booster ingredients guide –
Pros and Cons
Pros: 
Fenugreek shown to boost test levels
Milk Thistle improves liver health
Cons: 
Tribulus reported to increase weight of prostate
Contains numerous ineffective ingredients
Missing many effective test boosting nutrients
Not good value for money
Side Effects
For a testosterone booster that doesn't really work, it's not a great thing that it contains an ingredient reported to cause a side effect – tribulus.
If you skipped the ingredients section, here's what you need to know; Tribulus is known for increasing the weight of your prostate, which can lead to serious health issues if you're male.
As a result, we always avoid supplements containing this ingredient (as it doesn't even raise your test levels).
Not what you're looking for? See Our
– Top Three Test Boosters Page Here – 
Review Conclusion
Ultimately, this is a test booster that's replied on gimmicks; trying to fool people into thinking it's more effective than it really is.
Those that have done some research into testoterone will know that steroids can harm your liver – and liver support such as Milk Thistle is needed to protect your liver.
As a result, companies are increasingly adding Milk Thistle into their test boosters, to fool them into thinking their test booster products are equally as strong as steroids and require liver support.
But don't be fooled – After looking at the ingredient list for Pro-Test, this relies heavily on the 'plant steroid' (Beta-Ecdysterone) as the other ingredients aren't effective (apart from fenugreek).
Verdict 
There's no way that Pro-Test can keep up with the best testosterone boosters on the market. It doesn't have the nutrient profile necessary to actually raise your test levels, making it an ineffective product overall.