Tribulus Max is a product we're reviewing from the UK based supplement company MET-Rx and it's claimed to promote:
Workout Performance
Testosterone Levels
However, there is an underlying issue with this product which makes us wary of it – it only contains Tribulus Terrestris.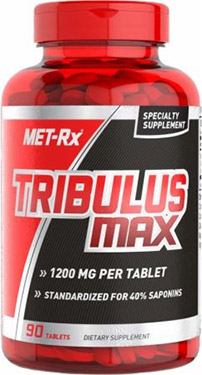 If you're thinking about using this product – you should read our review first:
About the Company – MET-Rx
MET-RX are a UK based company that has been in the industry for over a decade. They make their products in GMP approved facilities and the quality of the nutrients they use are well above board.
It's whether they use the right ones and delivery them correctly is the real question. And unfortunately that's a real issue for this product – take a look:

The Ingredients and how they work
First off, the servings in this product are a problem – there's only 1 a day.
There's a disappointing show from MET-Rx here, with only one active ingredient (Tribulus) you won't get much effect from this product at all.
Here's what you need to know about tribulus:
A word about Tribulus Terrestris
There's a lot of myths surrounding Tribulus Terrestris in the supplement industry and it's time to get a few things straight.
If you're looking to boost your testosterone levels Tribulus Terrestris is not what you should be using.
There are no reliable studies to support it – Tribulus has failed every clinical study is been apart of for testosterone boosting[1,2,3]. The only time the outcome has been different was in one study involving men with a low sperm count[4], however, the rise in testosterone was so small that it failed to be viewed as significant.
And that involved supplemented 6g of Tribulus a day – far more than what's in MET-Rx's Tribulus Max.
The only thing that Tribulus may be good for is libido, however the studies are limited and the effects are mild.
References:
[1] Saudan C, Baume N, Emery C, Strahm E, Saugy M. Short term impact of Tribulus terrestris intake on doping control analysis of endogenous steroids.

Forensic Sci Int.

2008;

178

:e7–e10.
[2] Rogerson S, Riches CJ, Jennings C, Weatherby RP, Meir RA, Marshall-Gradisnik SM. The effect of five weeks of Tribulus terrestris supplementation on muscle strength and body composition during preseason training in elite rugby league players.

J Strength Cond Res.

2007;

21

:348–353.
[3] Neychev VK, Mitev VI. The aphrodisiac herb Tribulus terrestris does not influence the androgen production in young men.

J Ethnopharmacol.

2005;

101

:319–323. doi: 10.1016/j.jep.2005.05.017.
[4] Sellandi TM, Thakar AB, Baghel MS. Clinical study of Tribulus terrestris Linn. in Oligozoospermia: A double blind study. Ayu. 2012;33(3):356-364. doi:10.4103/0974-8520.108822.
As you can see it's not the best ingredient for testosterone boosting – and it definitely shouldn't be used on its own considering how poor the results are. Too many core nutrients are missing.
Check out which ingredients work and which don't in our
– Testosterone Booster ingredients guide –
Side Effects
There haven't been any side effects reported with users of this product.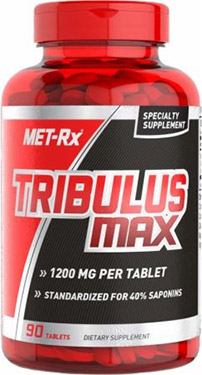 Pros and Cons
Pros:
Cons
No reliable studies/not clinically backed
Incomplete nutrient profile
Only contains one ingredient
Not What You're Looking For? Click here for
– Our Top Rated Testosterone Boosters –
MET-Rx Tribulus Max Review Conclusion
Tribulus Max is definitely not what you're looking for in a testosterone booster and there are a few good reasons why.
First off, you have to look at the servings, only one a day will not be enough to keep you constantly supplied with the nutrients you need to keep you T-levels growing.
Secondly the nutrient profile itself is flawed. With only one ingredient a day, there's only so much benefit you can expect to get from this product – it's incomplete and lacks testosterone boosters and free testosterone promoters.
Thirdly, it only contains Tribulus, which is the most over-rated testosterone booster on the market, it's even been seen to fail at boosting testosterone in several studies.
There are definitely better options out there.
To see what we recommend to boost your testosterone safely, and more importantly, effectively, check out our top 3 recommendations by following the link below: