T Advantage is a Natural Testosterone Booster from the company MMUSA.
Despite the product's ingredients being entirely confined to a proprietary blend (meaning we don't know their dosage), a source at Bodybuilding.com has mentioned that the main ingredient in this supplement is Avena Sativa.
T Advantage claims to be able to:
Boost Free Testosterone
Increase Muscle Mass
Raise Sex Drive
Improve Performance
As it only has 4 ingredients, I'm not so sure it's as effective as MMUSA tout it to be. But we'll get to our full analysis of the ingredients in a moment. First let's learn more about MMUSA:
About the Company
MMUSA is one of the older breeds of supplement companies. Having been around since 1995, all of their products are made in the US and they offer a wide range of supplements for both active men and women.
Fat Burners, Testosterone Boosters, Creatine and a whole host of other goods are available on their website. The fact they have survived over 20 years in this industry is a credit to their reputation.
Each product from MMUSA comes with a 30 day guarantee, however, shipping costs will not be refunded and there may be $25 restocking fee for each item. Keep that in mind.
The Ingredients and How they Work
Unfortunately, the recommended servings for T Advantage has some conflicting information.
On their website, T Advantage is recommended to be taken once a day in a serving of 2 capsules, before a workout. But on the bottle T advantage is recommended to be taken as 3 capsules on an empty stomach.
Given that most people don't check the websites for their serving amounts, I've decided to go by the directions on the bottle.
However, I still don't think that this is the most effective way for a T Booster to be served.
The top T-Boosters on the market have around 3-4 servings per day. This keeps testosterone levels elevated and allows them to steadily rise over time – rather than have a sudden spike, and risking it returning to normal at the end of the day.
Now in terms of actual ingredients, the whole panel is part of a proprietary blend. This means we don't know how much of each ingredient is in T Advantage, or how effective each one will be.
We can only work on what we know about the ingredients themselves, let's see: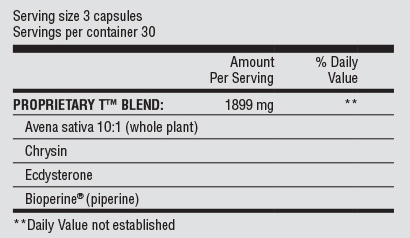 Avena Sativa – Found in oats. There has been some proof of this nutrient raising luteinizing hormones in the body which is a precursor to testosterone. And it is also thought to help improve free testosterone. However, there have not been a lot of studies recorded to vouch for it's effectiveness.
Chrysin – A bioflavonoid found in bee pollen. This nutrient has also been seen to raise testosterone. However, the only times this has been successful is when the Chrysin was injected directly into the testicles. It cannot be absorbed effectively enough orally.
Ecdysterone –  Found in the Maral Root. It is thought to promote muscle growth, strength and overall protein synthesis, which would aid recovery. Although there are currently no human studies whatsoever that vouch for this ingredients's effectiveness. There are limited rodent studies that seem promising, however they don't always scale up to give the same results with a human.
Bioperine (Black Pepper) – This ingredient isn't aimed at raising testosterone, but more for increasing overall absorption of the product. Beyond that, it offers no other benefits.
Check out which ingredients work and which don't in our
– Testosterone Booster ingredients guide –
Side Effects
There have been no reported side effects supplementing T Advantage
Pros and Cons
Pros
Avena Sativa may help boost T to an extent
No side effects
Cons
Not enough ingredients to work effectively
Proprietary Blends
Only 1 ingredient may be effective
Servings need to be broken up into multiple times a day
– Click Here to see our Highest Rated Testosterone Boosters –
MMUSA T Advantage Review Conclusion
This product may be completely safe, but on the whole it's largely ineffective.
The only ingredient that shows promise of raising T levels is the Avena Sativa – and we don't how much is in T Advantage due to it being a proprietary blend.
The other ingredients like the Chrysin and the Ecdysterone, are either too difficult to absorb orally, or haven't been proven to work in humans.
Servings are a problem as well. Both the website and the supplement itself give conflicting directions and it makes it difficult to know if you're using the product properly. Also 1 big serving a day is not the best way to boost testosterone.
In my honest opinion, this is one of the worst Testosterone Boosters I've come across – save your money.