Methyl Arimatest caught our attention after seeing it's big red packaging. It claimed to raise your testosterone levels to over 10,000pg/ml; we found this interesting, as you could easily measure your T levels and prove whether it works or not.
Anyway, while we won't be checking our blood for test levels in this review, we'll be checking out whether the ingredients inside Methyl Arimatest are actually likely to work or not.
Take a look:
About The Company
When looking at trying out a supplement, it's always important to find out about the company. In particular, we recommend learning whether they manufacture products in the USA or UK under strict guidelines.
While we didn't find out this information, we believe that MuscleMeds is an American-based company (although this isn't confirmed on their website).
But what's equally as important, is whether a supplement contains safe and effective ingredients. Let's find out whether Methyl Arimatest does in the next section.
The Ingredients and How They Work
We're surprised that MuscleMeds have offered the big claim that Methyl Arimatest will raise your test levels to over 10,000 pg/ml. So we wonder what happens if you take this product and your blood work says your T levels are lower? No idea.
Anyway, in terms of ingredients, Methyl Arimatest is made-up from 2 single ingredient pills; one contains dihydrotase and the other contains 7-methoxyflavone, so we'll analyze these ingredients to see how effective they really are.
See for yourself: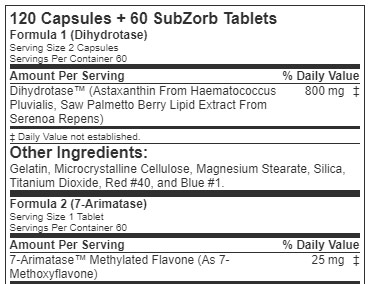 Dihydrotase 
In a nutshell, dihydrotase is thought to be capable of preventing testosterone from converting into DHT (dihydrotestosterone).
It's basically MuscleMeds' patented mixture of astraxanthin, saw palmetto berry lipid extract; it's pretty cool that the Mayans used saw palmetto berry extract to drink as a tonic, but in modern times, it doesn't seem too effective in supporting raised test levels.
But one thing saw palmetto berry extract does seem reliable at doing, is preventing prostate enlargement.
Now, we would claim that this might be necessary when consuming ingredients that potentially put you at risk from this side effect (eg. tribulus terrestris). But as Methyl Arimatest doesn't contain this nutrient, it doesn't seem completely necessary here.
Overall, the most worrying thing is that none of the ingredients in the 'dihydrotase' blend are reliable at boosting your testosterone levels.
7-Arimatase 
This is another single ingredient and is a patented form of 7-methoxyflavone; it's a methoxyisoflavone that's thought to have positive effects on your T levels, but there hasn't been much research to back-up this belief.
We're not personally convinced that 7-methoxyflavone is the best option when aiming to boost your testosterone levels. We'll be sticking with the more reliable vitamin d3.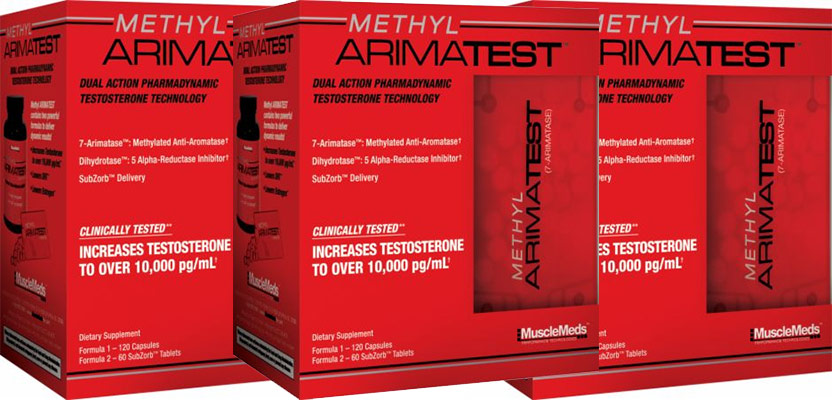 See SupplementTester's Highest Rated
– Testosterone Booster Supplements Here –
Pros and Cons
Pros: 
Saw palmetto berry extract seems effective at preventing prostate enlargement
Cons: 
None of the ingredients seem reliable at boosting T levels
Missing key test boosting ingredients like vitamin d3
Side Effects
The good news is that none of the ingredients in Methyl Arimatest seem likely to cause any side effects. But as both ingredients in this test booster haven't been researched much, we can't be 100% sure.
See SupplementTester's Highest Rated
– Testosterone Booster Supplements Here –
Review Conclusion
Considering that Methyl Arimatest has promised you testosterone levels over 10,000pg/ml, we're not sure how it's going to live up to it.
It's important to remember that this T-Booster only contains 2 ingredients and comes at a price of $56.99; many products that come at a similar price usually contain between 5-10 tried-and-tested nutrients in comparison.
Ultimately, we don't believe that Methyl Arimatest will be more effective than other test boosters on the market. So you should save your cash and look elsewhere for better deals.