One of the newer testosterone boosters that's just been released on the market is the N.O.x Test SX-7 Black Onyx T-Booster from MuscleTech.
MuscleTech's marketing of the product claims this T-Booster:
Promotes Nitric Oxide and increases muscle pumps
Boosts Free Testosterone levels
It's definitely a different angle to what we're used to seeing with T-Boosters, however this does not mean it's effective. Read on to find out what we liked and didn't like in this supplement:
If you're serious about boosting your testosterone levels check out our Top Testosterone Boosters in the link below:
– Click Here to see our Highest Rated Testosterone Boosters –
About the Company
MuscleTech is a company I've reviewed numerous times in the past, and they're a fairly reputable outfit.
Sold on all the major sites like Bodybuilding.com and GNC.com, MuscleTech's Hydroxycut Series is one of the better known for it's Hardcore Fat Burning range,
Overall it's a well established brand and has multiple supplements which tailor to various aspects of an active lifestyle.
The Ingredients and How They Work
The serving schedule on SX-7 Black Onyx is really good. With 4 servings a day of one capsule each, your body can be constantly supplied with the nutrients it needs to progress with T-levels.
However how effectively it actually works depends on the ingredients – and they weren't all winners in this one.
Here's what we found:
L-Citrulline
This is a standard pre-workout ingredient and good for raising blood flow and overall muscle pump in your body by being converted into L-Arginine after being absorbed.
It's a good choice – just not a good amount. Citrulline works best when supplemented in 6 – 8g doses, not the 1.5g serving in Black Onyx.
L-Arginine
Although having more L-Arginine in the blood stream helps with muscle pumps – you can't supplement L-Arginine directly. Studies have shown it isn't absorbed well by the body.
The best bet is to stick with citrulline and let your body create it's own.
Quercetin
Many studies have been done on this anti-oxidant and the consensus is quite disappointing – it doesn't do much.
The only benefit it may have is helping with absorption of fat burning nutrients like green tea and guarana.
Red Wine Extract
Used mainly for the component Resveratrol. This is essentially the reason behind the thinking that a glass of wine could actually be good for you.
The only benefit here is that it may support blood flow. Keeping with the pre-workout/test booster mix here.
Rhodiola Extract
This is a cognitive enhancer that helps reduce fatigue and exahustion. However, there's one problem with it in Black Onyx – the dosage.
Rhodiola has been reported in numerous studies to have a bellcurve effect after taking more than 680mg a day – this means it stops being a benefit and becomes a hindrance. Black Onyx exceeds this dosage with 771mg in one daily serving.
Broccoli (Diindolylmethane)
Dinndolylmethane, also known as DIM isn't a testosterone booster – but it shows promise for reducing estrogen in the body. That said there's not a lot of evidence to support that claim.
Boron Citrate (Only 5% Boron)
This is one of the more potent ingredients for boosting testosterone – however you need more than Boron to ensure an effective change in T-levels.
Ginkgo Biloba
Another nutrient used to boost cognition. The problem here is that not MuscleTech is avoiding using a lot of key testosterone boosting ingredients.
Full List: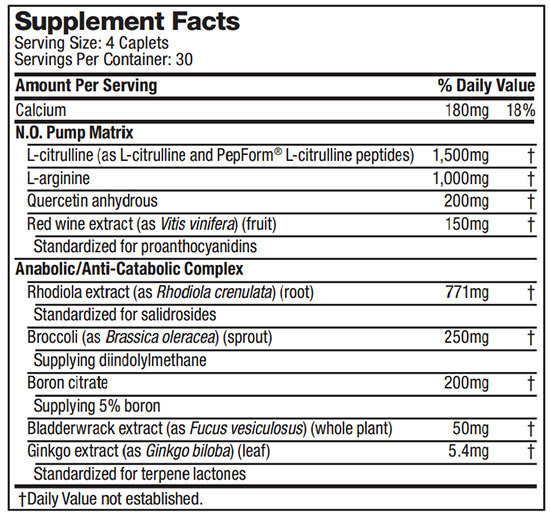 Overall Black Onyx seems to be making all the wrong moves when it comes to this T-Booster.
The cognitive boosters are overdosed, the pump-enhancers are under-dosed and the testosterone boosting nutrients makeup the least amount of the product.
Check out which ingredients work and which don't in our
– Testosterone Booster ingredients guide –
Side Effects
The only problems you can expect with Black Onyx is fatigue.
This is mainly down to the bellcurve effect of the Rhodiola Extract – Black Onyx uses too much, so instead of enhancing focus, it has the opposite effect.
Aside from that, no other negative effects have been reported.
Pros and Cons
Pros
Contains cognitive enhancers
Good serving schedule
Cons
Only one effective testosterone boosting ingredient (Boron)
Under-dosed 'pump' ingredients
May cause fatigue
– Click Here to see our Highest Rated Testosterone Boosters –
N.O.x Test SX-7 Black Onyx Review Conclusion
Although advertised well, SX-7 Black Onyx isn't all it's cracked up to be.
The main positive is that the serving schedule on this product is fantastic (4 a day), it's the ingredients that let this product down.
And servings don't mean much if the product being supplied isn't up to scratch.
Black Onyx tries to be three things: a T-Booster, a Pre-Workout and a Nootropic – but it's diversity makes it fail at all three.
The nootropic ingredients are over-dosed – there's too much Rhodiola which can cause fatigue.
The pre-workout ingredients are under-dosed – there's not enough L-Citrulline for a full pump.
And for T-Boosting the only effective ingredient is Boron – which won't do much on it's own.
This is nowhere near the best Testosterone Booster on the market – for the best results be sure to check out this year's top rated in the link below: