The Nugenix Testosterone Booster has recently gathered attention on various supplement sites and advertising slots.
But is it as good as they say it is?
Many of you have emailed me asking for a review of Nugenix and if it really does effectively higher testosterone.
Nugenix claim this T-Booster is the best for boosting free testosterone – however that is only half the battle.
You also want to supply the body with what it needs to produce more testosterone and also effectively lower estrogen.
If you're considering Nugenix, read this review before you make any firm decisions.
About the Company
Based in Salt Lake City in Utah, Nugenix is a supplement company solely dedicated to boosting testosterone levels and mens health.
They sell solely the testosterone booster in this review and another supplement to promote prostrate health.
It sold via many online retailers in both supplement and vitamin stores.
The reports around this product are mixed with this review giving you the definitive answer of whether it is worth your time.
The Ingredients and How they Work
In terms of servings, we were a little disappointed with the amount in Nugenix. With only one serving a day of 3 capsules on an empty stomach, you will only get limited benefits with this product.
The trouble with one serving a day is that it only gives your body a boost once over a 24 hour period – this gives levels time to drop back down and makes it harder to progress.
The ideal amount of servings you need is around 3 – 4 a day. This gives your body a constant supply of what it needs to promote testosterone levels.
The ingredients were just as disappointing, many were wrapped in a proprietary blend – meaning there's no way to see how much of each ingredient is used, and by the size of it, they may be under-dosed.
Here's the low-down: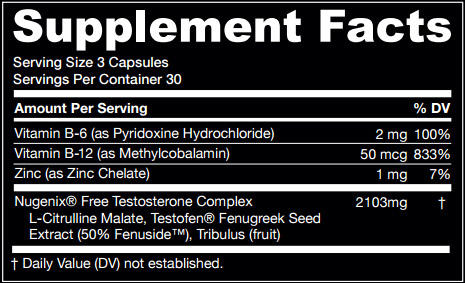 Vitamin B6 – Thought to help reduce estrogen production, Vitamin B6 has shown signs of reducing gene activity of the female hormone in certain pathways in the body.
Vitamin B12 – More of an energy booster than anything else. B12 keeps your energy levels high and metabolic rate fast during usage.
Zinc – This mineral is one of the more vital nutrients for boosting testosterone. Helping your brain create more of the luteinizing hormone, the precursor for testosterone.
L-Citrulline Malate – Usually found in preworkouts, Citrulline Malate is absorbed by the body and converted into L-Arginine in the liver which dilates blood vessels and increases overall pump.
However, this nutrient is only effective in doses of 6 – 8g, and in Nugenix Citrulline Malate only makes up an unknown part of a 2103mg blend.
It will not be effective in this product.
Fenugreek – A traditional herb used in Indian cuisine. It helps support libido and has been seen to regulate blood sugar. This indirectly promotes free testosterone by managing insulin levels and Sex Hormone Binding Globulin – both elements that can interfere with testosterone production.
Triubulus Terrestris – May have the ability to boost libido, but not much else. Tribulus has been touted in the past for it's ability to raise testosterone levels – however, there has no evidence to support this claim, and any studies to prove it's effects have been ineffective.
The biggest let down with Nugenix has got to be the lack of actual testosterone producing ingredients. Although there's Zinc and Fenugreek, the list ends there, and the doses for both appear to be low.
A nice addition to this product would've been some known T-boosting ingredients like D-Aspartic Acid and Vitamin D3. In the way this product is set up at the moment, it will have hardly any effect.
Check out which ingredients work and which don't in our
– Testosterone Booster ingredients guide –
Side Effects
Nugenix has not been reported to have any side effects
Pros and Cons
Pros
Contains Zinc and Fenugreek
May support Libido
Cons
Proprietary Blend
Under-dosed ingredients
Only 1 serving a day
– Click Here to see our Highest Rated Testosterone Boosters –
Nugenix Testosterone Booster Review Conclusion
Overall we're looking at an under-performing T-Booster here.
There's a low amount of Zinc and an unknown amount of Fenugreek in this product – definitely not enough to raise your T-Levels – and the other ingredients will be having little effect at all.
Many of the ingredients are under-dosed, and in some cases ineffective altogether.
Add on to that the fact that you only get one serving a day of this product and it's enough to see that it's well below the standard.
If you're looking to make serious gains and boost your testosterone, we strongly suggest you check out the Top T-Boosters on the market to find the best product for you.