---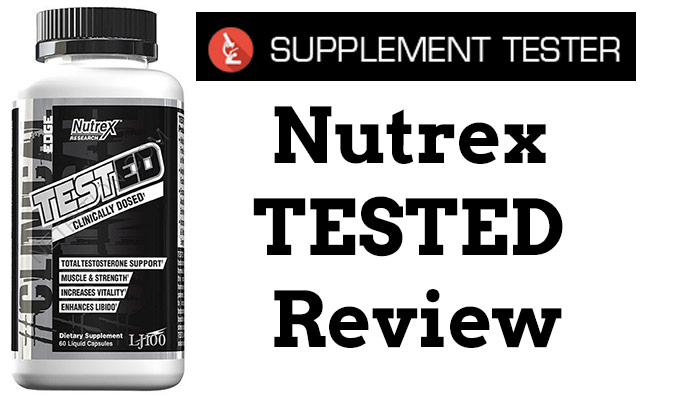 ---
Nutrex have released some new products in 2017, so it's only natural that they get your attention. Well, Tested has been added to their line-up of testosterone boosters, so we were keen to see how good it was.
Claimed to promote:
Test levels
Lean muscle
Libido
These seem like good benefits that a quality testosterone booster should deliver. So we'll be interested to see whether the ingredients inside can back up these claims…
About The Company
Nutrex are a well-established supplements company and have been around for a long time. They market a variety of products and are best known for their Lipo-6 series of fat burners.
With all due respect, their testosterone boosters haven't done as well. But Tested could be the product that makes the change for them.
Let's take a look…
The Ingredients and How They Work
We're not too sure what to think of the ingredient list for Nutrex Tested. It's shorter than we expected, but we'd rather this than see another product loaded with unnecessary ingredients.
We find that the best test booster supplements contain around 8-9 tried-and-tested ingredients overall. The problem is, Tested by Nutrex only contains 2 ingredients – so it'll have to be effective to make it worth the money.
See for yourself:

Eurycoma Longifolia Extract 
Also known as Tongkat Ali, Malaysian Ginseng or Longjack, this has been used in tradition medicine as a sexual enhancer. As a result, this herb has been studied – to find out whether it actually works.
The results? Well, Eurycoma Longifolia Extract has actually shown to benefit your libido in dosages of 200-300mg. As Tested contains 200mg per serving, it's been dosed optimally here.
But here's the bad news; it's not shown to impact your testosterone levels at all. Considering this is 1 of 2 ingredients in Nutrex Tested, this isn't a good sign.
Boron
This is a mineral that's shown to increase testosterone when supplemented in large dosages (higher than what you would consume naturally from foods).
Which foods contain Boron? Some include; chickpeas, almonds, beans, vegetables, bananas, walnuts, avocados, broccoli – generally legumes, beans and vegetables.
Studies have proven that it can raise test levels when in supplements, which is great. However, it's not as reliable as other ingredients such as Vitamin D3 – so while it's effective, we don't consider Boron a key ingredient in testosterone booster supplements.
Quick Summary of Ingredients 
Right, so there's only 2 ingredients in Tested by Nutrex, which isn't ideal. But the good news is that they haven't been reported to cause side effects.
We do prefer test boosters that contain numerous tried-and-tested ingredients (more than 2…). But Tested is far from the worst T-Booster we've reviewed on our website.
How To Take
Serving sizes are often forgotten about. But this is one of the most important factors – it can actually determine how effective a testosterone booster is.
So what's the best serving size? Well, studies have shown that 3-4 capsules spread throughout your day is more likely to benefit you.
This is because 3-4 capsules spread out allows your body to stay fuelled with the nutrients required to boost T. On the other hand, products with serving sizes of 1-2 capsules daily will give you a spike in nutrients, but then you won't benefit from them for most of your day.
It's not great to see that Nutrex's Tested comes with a serving size of 2 capsules per day. We expected a company as established as Nutrex to know everything by now.
Bottom Line: Serving sizes of 3-4 capsules per day is optimal. Unfortunately, Tested only comes with 2 capsule servings daily (meaning you might not be fuelled for most of your day).

Check out which ingredients work and which don't in our
– Testosterone Booster ingredients guide –
Pros and Cons
Pros: 
Contains 2 beneficial ingredients
No side effects
Cons: 
Only contains 2 ingredients
Missing key test boosting nutrients
Not good serving size
Not good value for money
Side Effects
As we've mentioned, one of the best things about Nutrex's Tested is that it hasn't shown to cause any side effects. After analyzing the 2 ingredients inside Tested, we can confirm that it's not likely to cause any side effects at all.
Not what you're looking for? See Our
– Top Three Test Boosters Page Here – 
Review Conclusion
We can see what Nutrex have tried to do with Tested; this company has tried to make a really simple testosterone booster – going against all the products that contain overloads of ineffective ingredients.
The idea was great, but they just haven't managed to pull it off here. By only adding 2 ingredients, Tested can't compete with the test boosters that contain more tried-and-tested nutrients that've shown to raise your T levels.
For example, our favorite testosterone boosters contain around 8-9 ingredients that are all proven to work. But Nutrex Tested isn't the worst test booster we've reviewed.