As more guys are looking to pack on muscle, the more they are turning to testosterone boosters.
However, like all products out there, not every one is effective. Certain research is required to see whether a product is worth buying.
One of these products in particular is Oral Testibol, a testosterone booster from Primal Muscle.
Usually when I write out the 'features' copy for these products they're always a little indulgent of themselves. Primal Muscle has managed to take that to the next level:
Best Testosterone Booster – An EXTREME Surge of Testosterone Production Produces: Tremendous GAINS in Lean Muscle Mass!

MASSIVE Increases In STRENGTH, Vascularity & Lean Muscle DEFINITION!

Powerful Increase in ALPHA-MALE Mindset and Assertiveness PLUS Explosive Libido and Sex Drive!

NOTICEABLE RESULTS In 2-4 Weeks GURANTEED! All Natural – Only Top Quality Raw Materials Used.
Considering I know what the ingredients are in this product, I can tell you right off the bat, they do not produce these kind of results.
Also, if it was that could you wouldn't drop the price from $120 to $30, would you?
But enough about my opinions, let's look at some of the facts.
About the Company
According to their website Primal Muscle is "dedicated to providing the most powerful and result producing anabolic and fat burning compounds available without a prescription." but it seems more like a marketing ploy.
Selling fat burners and test boosters, some of the claims Primal Muscle make about their products are absolutely absurd. Their products are heavily implied to have steroid-like qualities to trick the layman into purchasing them.
I really don't like this style of advertising, it's unfair on guys who are trying to make real progress.
Let's look at the facts and see what's really going with Oral Testibol.
The Ingredients and how they work
One serving of Oral Testibol is 3 capsules a day. One capsule with every meal.
To be fair, after what I've said about them, this is a pretty good dosage level and should keep whatever effects this product provides consistent throughout the day.
Now, what's the thing actually made out of: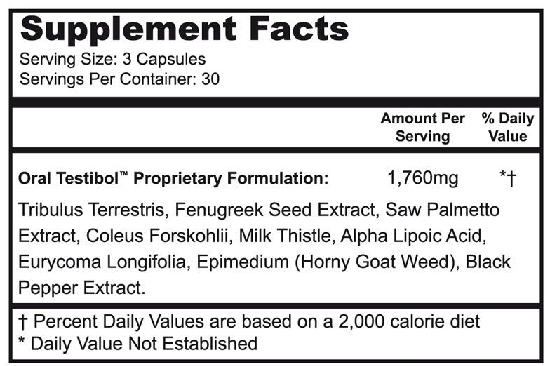 As you can see, it's a proprietary blend; from the top:
Tribulus Terrestris – Not a testosterone boosting ingredient, but was thought to be for a few years before being unproven – it has been seen to enhance libido though.
Fenugreek – Another libido enhancer, Fenugreek has also been seen to indirectly help free testosterone by reducing Sex Hormone Binding Globulin via regulation of the blood sugar.
Saw Palmetto – A fatty acid compound thought to raise testosterone, again proved not to have any effect, however it may be able to suppress prostate growth – but that doesn't help us in this situation.
Coleus Forskohlii – Has been thought to raise testosterone levels, however only one valid study has been carried out on obese men. That said they were taking 500mg a day, it's possible that 500mg of CF is in here – however the proprietary blend forbids us from finding out.
Milk Thistle – Now this is a puzzler. Milk Thistle is known to have estrogenic mimicking effects. Promotes liver protection, hinders testosteorne.
Alpha Lipoic Acid – A form of nootropic that aids energy metabolism. However it may also decrease blood glucose, which may indirectly raise testosterone by shrinking the risk of insulin resistance.
Eurycoma Longifolia – Also known as LongJack, it comes up quite a bit in boosters, however it doesn't boost testosterone. It's another libido enhancer, with an unproven chance of being anti-estrogen and pro-erectile. However, these are again unproven.
Horny Goat Weed – The final libido enhancer in here. Yes, as the name may imply, Horny Goat Weed is an erectile aid. It has seen to increase testosterone in animals, but a study has not yet been done to prove this in humans.
Half of these ingredients are libido enhancers and the other half are in the wrong kind of supplement, the wrong kind of dosage or work indirectly.
I'm didn't mention black pepper as that only helps with the absorption of the product – regardless, I'm surprised they cared enough to include it.
Check out which ingredients work and which don't in our
– Testosterone Booster ingredients guide –
Side Effects
Despite having a proprietary blend structure, I doubt there'll any problems with Oral Testibol. It seems to be quite the effective libido enhancer, but unfortunately not much else.
There are far better than this product out there that will give you realistic results on the grounds of proven ingredients and reliable dosages.
Pros and Cons
Pros
Cons
This will barely boost testosterone
Milk Thistle promotes estrogen
Many of these ingredients work indirectly
The majority of these ingredients just promote libido
– Click Here to see our Highest Rated Testosterone Boosters –
Oral Testibol Conclusion
If I didn't know any better, I would've thought that this product was aimed at the older man. It focuses heavily on libido enhancement.
Primal Muscle made major mistakes with this product and did not include any serious reliable or proven ingredients.
There were no real testosterone producers, there were a few free testosterone promoters and a rather indirect aromatase inhibitor – however let's not forget that the milk thistle was pro-estrogen.
The entire product was a mess, and I strongly suggest you don't believe their hype and fake amazon reviews and look for a real product to help you. We've got a list of our favorites at the top of the page.