---

---
When we heard PHD Nutrition had released a new testosterone booster supplement in 2017, we were excited. Our top 3 T-Boosters page hasn't been updated in a while, and we're constantly on the lookout for more contenders.
Test Matrix is claimed to promote:
Testosterone levels
Strength
Endurance
Read on to find out how good this product really is.
---

---
About The Company
PHD Nutrition is a UK-based supplements company. They create a range of products – such as protein powders, fat burners, BCAAs and this supplement here.
Test Matrix is PHD's new testosterone booster in 2017. It contains some key T-Boosting ingredients, which is a great sign – but as the saying goes; the doses make the poison.
So let take a look.
The Ingredients and How They Work
Test Matrix contains 9 main ingredients, with D-Aspartic Acid and Fenugreek being 2 of our favorite testosterone boosting ingredients list.
However, there are others that aren't as effective and reliable. See for yourself: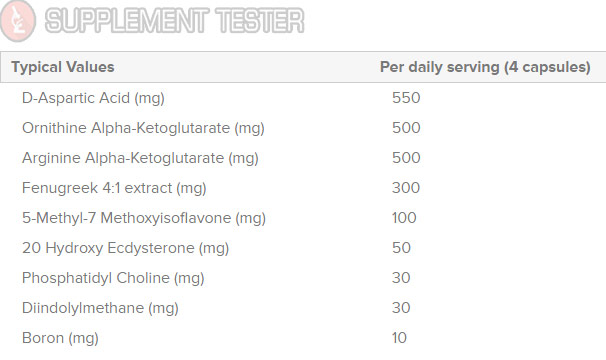 D-Aspartic Acid 
One of the best ingredients to boost your testosterone levels – it's shown to work in numerous studies, and even raises your HGH level too.
However, PHD has made a mistake with the dosage here – the optimal dosage for DAA is between 2,000mg-3,000mg, but as you can see, there's only 550mg in Test Matrix.
The bottom line is that the low dosage of DAA isn't likely to raise your testosterone.
Ornithine & Arginine Alpha Ketoglutarate
Both of these ingredients are unrealible; they haven't shown to positively affect your testosterone levels in any study conducted.
The good news is that they're not likely to cause side effects either.
---
---
Fenugreek Seeds Extract 
Often found in Indian cooking (such as curries), Fenugreek's been used for a very long time in ayurveda (traditional Indian) medicine too.
And for good reason, as studies have proven Fenugreek Seed Extract to raise testosterone levels and libido – 2 key benefits of a testosterone booster. One of our favorite T-Boosting ingredients.
5-Methyl-7-Methoxy-Isoflavone
This is a flavone that's believed to reduce cortisol levels. If it did deliver this benefit, then it would lead to an increase in testosterone levels.
However, there haven't been any respectable studies to back-up this claim. As a result, we consider this an unreliable ingredient.
20 Hydroxy Ecdysterone 
20 Hydroxy Ecydesterone is a class of hormone extracted from insects. It's believed to promote muscle mass, but there haven't been any studies to prove this theory.
Another unreliable ingredient in Test Matrix here.
---
---
Choline
Choline is always the worst ingredient in a supplement when it's included. Basically, no studies have shown that it offers any benefits – but it makes your breath smell fishy.
Diindolymethane 
Also known as DIM, this is believed to stop testosterone converting into estrogen – but only steroids are strong enough to encourage your body to begin converting T into E.
Not only that, DIM can actually do the opposite, and promote testosterone conversion into estrogen – which is definitely not what you want as a male.
Fortunately, there is a small amount in Test Matrix (under 100mg), so this will simply be an ineffective ingredient here.
Boron 
We don't believe Boron is a main ingredient in any supplement, but it has shown to improve testosterone levels in studies. The facts are there, and we can't argue against this.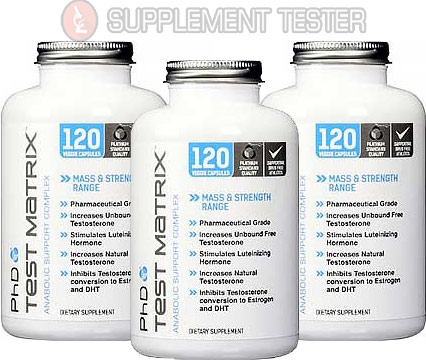 Not what you're looking for? See Our
– Top Three Test Booster Supplements Page –
Side Effects
There is 1 ingredient that's likely to cause a side effect in Test Matrix – Choline.
Basically, you'll suffer from a fishy breath after consuming Choline – it's a strange side effect, but it's not harmful (apart from making you smell).
As a result, Test Matrix isn't likely to cause you any serious side effects.
Pros & Cons
Pros: 
Fenugreek is proven to boost T levels
DAA is a key testosterone booster
Boron shown to positively impact testosterone
Cons: 
Not an optimal dosage of DAA, so it might not work
Choline causes a strange side effect
Most ingredients in Test Matrix are unreliable
Review Conclusion
At first glance, Test Matrix by PHD Nutrition didn't seem bad at all. However, once we delved further into the product, we weren't impressed.
It's a shame, because this testosterone booster contains 2 of our favorite T-Boosting ingredients (with Boron also being effective). However, Test Matrix is ruined by being mostly filled with ineffective or unreliable nutrients.
Bottom Line: There are better testosterone boosters containing more effective ingredients in optimal dosages – we recommend checking them out, to get the best value for your money.