It's one of the highest rated testosterone boosters on Bodybuilding.com, however is this product is as good for your testosterone levels as they make out?
If you're considering purchasing Elevate from Pride Nutrition, read this review before you make any decisions.
On the face of it Elevate claims to:
Increase overall strength
Promote lean muscle mass
Improve performance and stamina
However, claiming is one thing, results are another.
In this review, you're going to learn about the facts and results associated with Elevate and whether it'll be the right testosterone booster for you.
About the company
Originally started in 2003, Pride Nutrition has never been a major player in the supplements industry, but it's always had a presence.
With over a decade of being on the market, Pride Nutrition has produced an extensive range of products that cater to multiple aspects of an active lifestyle that covers before, after and during gym sessions, along with general health and lifestyle products.
If it's survived this long it's clearly doing something right.
The ingredients and how they work
Elevate only has two servings per day of 1 capsule. This may be convenient, but it can potentially hold back your progress.
The top performing testosterone boosters use around 3 – 4 servings a day, this ensures that testosterone levels are constantly kept 'topped up' and allows your hormonal levels to improve quicker.
The ingredients in Elevate were mixed in effectiveness – however it was more about what they didn't put in, rather than what they did.
Take a look: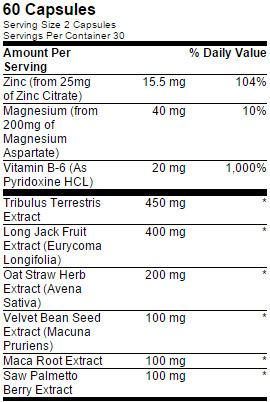 Zinc
This mineral is one of the key boosters of testosterone. Necessary for certain reactions in your brain, zinc helps with the production of the Luteizning Hormone (LH). This is the chemical needed to create both testosterone and growth hormone, and the more you make of it the better.
Magnesium
Mg doesn't help produce testosterone, but it does make more of the circulating male hormone available by how it affects Sex Hormone Binding Globulin (SHBG).
SHBG is a protein that binds with around 60% of the testosterone in your bloodstream and strips it of all anabolic potency. Supplemented magnesium binds with the protein instead and allows for more testosterone to circulate throughout your bloodstream.
Vitamin B6
More of a supporting nutrient however it does serve some purpose for reducing your estrogen levels. With increase B6, the vitamin affects your C2 hormonal pathway and slows down the gene activity of estrogen in your system.
Tribulus Terrestris
A few years ago Tribulus was thought to be an effective testosterone booster, however recent studies have shown that it has no effect at all on your body's supply of the male hormone.
The best it can do for you is raise libido, but you need more than that for your testosterone levels.
Longjack
Also known as Eurycoma Longifolia – unfortunately it doesn't have any testosterone boosting ingredients, however, it has been seen to boost libido in some cases.
Oat Straw Herb (Avena Sativa)
Not evidence has been collected on Avena Sativa but it may help boost testosterone. By supporting optimum blood sugar levels, Avena Sativa may be able to lower SHBG in the bloodstream and increase overall testosterone.
Velvet Bean Seed (Mucuna Pruriens)
This nutrient is one of the less common ingredients used in T-Boosting, but it is effective. The L-DOPA in the bean has been clinically proven to both raise testosterone and boost growth hormone in the body.
Maca Root Extract
A Peruvian herb that unfortunately doesn't aid testosterone levels, however what it can do is help towards strengthening libido.
Saw Palmetto Berry Extract
This doesn't do much for testosterone levels at all – it's more of a prostate health aid. This is more for guys who have just come off a cycle and are worried about the organ becoming enlarged.
It's not going to affect your gains.
Check out which ingredients work and which don't in our
– Testosterone Booster ingredients guide –
Side Effects
None have been reported, the ingredients included are safe, granted you are not allergic.
Pros and Cons
Pros
Contains a few proven ingredients
Potential to boost libido
Cons
Doesn't use a lot of the 'main' testosterone boosters
Poor serving schedule
Some ineffective ingredients
– Click Here to see our Highest Rated Testosterone Boosters –
Pride Nutrition Elevate Review Conclusion
Overall, you can expect mixed results if you are planning on supplementing Elevate.
There good features of this T-Booster is the fact that it contains Zinc, Magnesium and Mucuna Pruriens. Although these nutrients are effective, there are a few key ingredients that would've made this product a whole lot better.
Vitamin D3 would've done wonders for this product. Technically a hormone, it has been linked in numerous studies to the improvement of testosterone levels. The same goes for D-Aspartic Acid. It's a shame that these weren't included and it may be reflected in the results.
Another negative is the inclusion of Tribulus, it's never been proven to raise testosterone levels and won't offer you any real benefit.
You're best bet is to look elsewhere, and our highest rated testosterone boosters is a good place to start. Check them all out right here.