---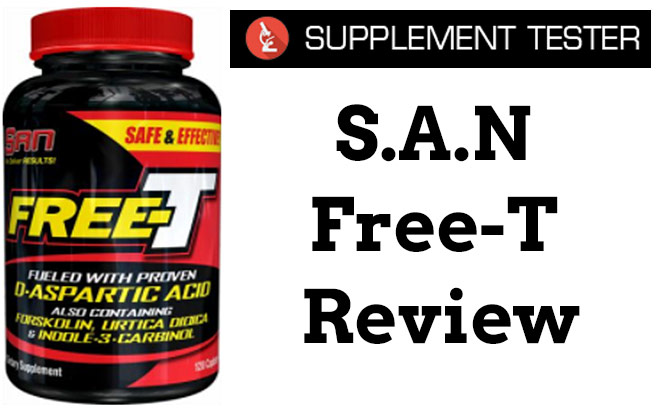 ---
Here at SupplementTester, we listen to your requests. And although we hadn't heard of Free-T before (or the company behind it), we ordered ourselves a bottle and got the job done.
Claimed to promote:
Testosterone levels
Post Exercise Recovery
Muscle Gains
Increased strength
As we just mentioned, we hadn't heard about this test booster supplement before, but it was on the 'highest rated' list on bodybuilding.com – so this company either paid to have it on there, are you guys have actually been choosing this over the bigger brands (fair play if that's the case).
We'll take a look at the company before seeing which nutrients have been added to deliver the benefits above.
About The Company
We always enjoy seeing a well made website – all companies should spend money on having a nice website, and it says alot when they have a non-functional site for their customers.
Anyway, SAN Nutrition's website was easy to get around, and we got all the information we needed from their 'about us' page.
This is a USA-based company that were founded in 1996; they aim to deliver the 'highest quality and most innovative products on the market'.
We hadn't heard of this company before, so we're interested to see whether Free-T can help put them on the map.
The Ingredients and How They Work
Our first impressions of this testosterone booster are good – it doesn't contain any proprietary blends so you know exactly what you're getting.
Also, Free-T contains 2 of our favorite T-boosting nutrients (Vitamin D3 and D-Aspartic Acid) – but the rest of the ingredients are less commonly found in these types of supplements.
As a result, we'll examine each nutrient in-depth – so you can see how effective this product is. See for yourself: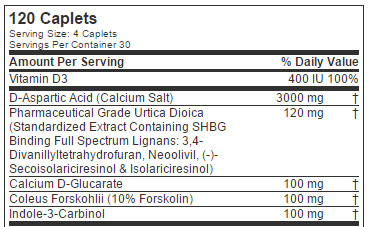 Vitamin D3 
Vitamin D3 is one of the most beneficial nutrients you can find on the market, especially if you're trying to increase your test levels. In a nutshell, it's shown to enhance your testosterone levels in numerous studies – making it a reliable nutrient to have in a T-Booster supplement.
However, you have to watch out for the dosage; the same studies have shown you need at least 3,332IU for this to work. As Free-T only contains a tiny 400IU, it's not likely to do much for your test levels here.
Ultimately, this is a great example of why the dosages of each ingredients inside supplements are so important.
D-Asparic Acid 
SAN Nutrition clearly know about dosages, as they've added an optimal amount of D-Aspartic Acid in Free-T. Basically, studies have shown that a dosage between 2,000-3,000 is needed to achieve increased testosterone levels.
As Free-T contains 3,000mg of D-Aspartic Acid, you'll be getting the benefits from this ingredient – and as DAA hasn't shown to cause side effects, there are no negatives either.
We're just disappointed that San Nutrition didn't dose Vitamin D3 properly.
Urtica Dioca 
Otherwise known as stinging nettle leaf extract – we're not sure why SAN Nutrition has listed this ingredient under it's 'fancy' name.
In a nutshell, stinging nettle has shown to be effective at helping you raise your testosterone levels. It works by increasing the amount of free testosterone in your body, and also decreases estrogen levels too.
As a result, stinging nettle is one of the best ingredients you can find in test boosters on the market.
Calcium D-Glucarate 
This isn't a common ingredient seen in testosterone boosters for a reason – it doesn't work. Calcium D-Glucarate has no effect on your T levels – making it a useless addition in Free-T by SAN Nutrition.
Coleus Forskohlii 
While this isn't a popular ingredient in most test boosters, it might be quite useful – studies suggest that Coleus Forskohlii may increase testosterone (as well as protect against cancer and inflammation).
There haven't been enough studies to prove that it works yet, but it's one to watch out for in the future.
Indole-3-Carbinol 
You might not have heard of this ingredient before; but all you need to know is Indole-3-Carbinol hasn't shown to promote testosterone levels in any study (meaning it's ineffective).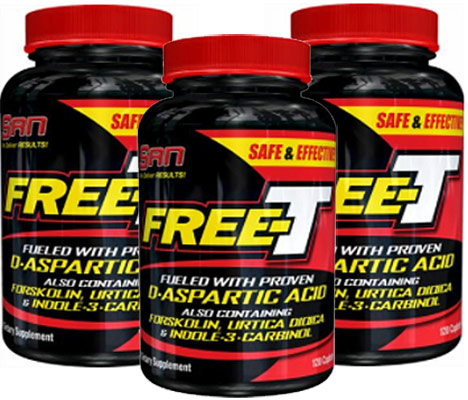 Check out which ingredients work and which don't in our
– Testosterone Booster ingredients guide –
Pros and Cons
Pros: 
No proprietary blends
Contains 2 key testosterone boosting ingredients
Stinging nettle root shown to promote test levels
Cons: 
Contains ineffective ingredients
Coleus Forskohlii isn't reliable
Vitamin D3 underdosed (will be ineffective as a result)
Side Effects
One of the best things about Free-T, is that none of the ingredients inside are likely to cause any side effects. This definitely gets the thumbs up from us, as we always avoid testosterone boosters that put you at risk of any unwanted effects.
Not what you're looking for? See Our
– Top Three Test Boosters Page Here –
Review Conclusion
After analyzing Free-T by SAN Nutrition, we can see why you (yes, you our readers) have recommended this product to review. On the surface, it looks great with 3 ingredients shown to work in studies.
However, there are a few problems – vitamin d3 has been underdosed at 400IU (optimal dosages begin at 3,332IU), meaning it's not likely to work here.
Not only that, Free-T contains some ineffective ingredients such as Indole-3-Carbinol – this is simply filling space that a useful nutrient could've used instead. Ultimately, it's these little things that make the difference when you're looking at testosterone boosters; small things can take a supplement from being average, to one of the best on the market, so it's important for companies to pay attention.