The Sheer Strength Labs website calls Sheer Test a "science-based test booster for men" that is "backed by proven science."
This product claims to promote:
More muscle growth
Enhanced libido and sex drive
Reduced body fat
Increased natural energy
Better results in the gym
Sounds good so far. But we're immune to hype, so we want to see whether this T-booster is all it's cracked up to be. Here's our Sheer Test review…
About the Company
Sheer Strength Labs claims to be "one of the fastest-growing sports nutrition companies in the United States."
In addition to Sheer Test, it also makes Sheer Insta-Test, Sheer Test Plus and Sheer Alpha Plus (all test boosters), Sheer Sleep and SheerHealth Prostate Support.
While we'd never heard of the company until recently, we have to applaud the company's apparent dedication to "proven science and real results." It also decries the prevalence of "snake-oil salesmen" and proprietary blends in the supplement industry – which is great.
However, we remain skeptical because so many brands and products claim to be above the hype and say they're dedicated to science, only to fall flat under scrutiny. Let's hope Sheer Test can surprise us…
The Ingredients and How They Work
As promised, Sheer Test doesn't use any proprietary blends – which is always awesome to see.
Note: We – and most experts – don't like proprietary blends because they hide vital dose info. This gives you no way of knowing exactly what you're paying for. We feel this does you – the consumer – a disservice.
We can also see Sheer Test contains at least four awesome ingredients, as well as a few we don't like.
See for yourself: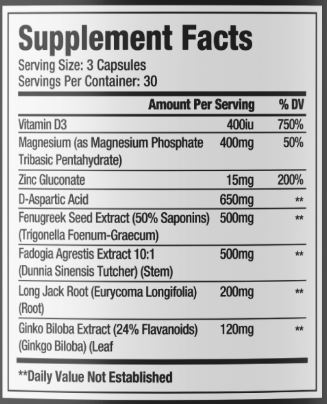 Vitamin D3
We're not sure why Vitamin D3 was given that name – it's actually more of a steroid hormone than a vitamin.
A great deal of research links low D3 levels with low T; science also shows that men with higher levels of the nutrient in their systems also have more testosterone.
The best T-boosters give you a bigger (and more effective) dose of D3 than you could ever get from spending time in the sun.
And to optimize Vitamin D's T-boosting effects, you need to supplement your diet with at least 3332IU of the nutrient. With this in mind, it's sad to see Sheer Test contains just 400IU of D3.
Magnesium
Magnesium is an essential mineral that offers a host of health benefits. These include the ability to raise free testosterone, boost muscle growth and protect the muscles against soreness. Magnesium also helps regulate blood sugar, which allows your body to produce more T.
Sources of Magnesium include green leafy vegetables (such as kale and spinach), nuts, seeds, salmon, and bananas. However, most of these foods contain small amounts of the mineral (a mid-sized banana has just 8% of what you need).
So to get a solid T-boosting dose of Magnesium, it's best to take it in a supplement. Sheer Test contains 400mg of the mineral, but 100-200mg is more than enough.
Zinc Glutonate
Zinc is another essential that helps prompt the pituitary gland to release the Luteinizing Hormone (LH), which is a key testosterone precursor.
As well as boosting testosterone, Zinc helps break down fat, boost energy and improve mood.
D-Aspartic Acid
Along with Vitamin D3, D-Aspartic Acid (D-AA) is one of our two favorite T-boosting ingredients.
The amino acid and neurotransmitter is proven to not only boost testosterone; it also enhances fertility and increases muscle size and strength.
D-AA works by stimulating the release of the Luteinizing Hormone to signal the release of more testosterone. This then acts on the Leydig cells in the testes to boost sperm count and speed up the rate at which your body converts cholesterol into the male hormone.
But again, there's not enough D-AA in Sheer Test to be effective in a test booster. Whereas the optimal range is 1600-3000mg, this supp holds a paltry 650mg.
See SupplementTester's Highest Rated
Highest-Rated Testosterone Boosters Here
Fenugreek Seed Extract
Fenugreek reduces insulin levels, which in turn helps inhibit the sex hormone binding globulin (SHBG) and allows testosterone to flow freely through your body. The herb is also a potent T-booster.
Fenugreek is a herb popular in India – in fact, Indian cuisine is pretty much the only place to find it in food.
The issue with this is that a lot of this food has a high-fat content, so it's best to get it in a supplement if you want to benefit from its T-boosting power.
It's therefore terrific to see 500mg of Fenugreek in Sheer Test.
Fadogia Agrestis Extract
Fadogia Agrestis is a Nigerian shrub that has been used for centuries as a libido enhancer and pro-erectile agent.
Early research appears to show the erectile and aphrodisiac power of the plant extract in rats. However, the lack of human studies means Fadogia Agrestis is an ingredient to avoid – at least for now.
This is especially true as continued use (for one month or more) appears to be toxic to rodents (and possibly to humans).
Long Jack Root
Otherwise known as Longjack, Eurycoma Longifolia, and Tongkat Ali, Long Jack Root is a common ingredient in natural test boosters.
It's thought to increase testosterone not only through anecdotal evidence, but also due to the fact it contains a bioactive compound called CYP17. The thinking is this might allow the body to convert more testosterone from other hormones.
Despite this, the majority of studies used rodents as subjects, rather than humans.
And while rat studies show some effects on libido and seminal quality, research also shows no effect on the Luteinizing Hormone, which plays a key role in testosterone production.
Ginko Biloba
Widely known as a brain booster, Ginko Biloba also shows promise as a libido enhancer. However, there's very little proof it can boost testosterone.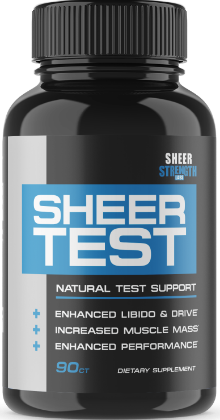 See SupplementTester's Highest Rated
Highest-Rated Testosterone Boosters Here
Side Effects
Sheer Test is safe to use unless you're allergic to any of its ingredients.
However, some research implies Fadogia Agrestis could be toxic with continued use. As it's an understudied ingredient, no-one knows what the long-term implications of taking it may be.
Pros and Cons
Pros:
Contains a number of awesome T-boosting ingredients
No proprietary blends
Cons:
Not enough Vitamin D3 or D-Aspartic Acid
Too much Magnesium
Fadogia Agrestis could be toxic with long-term use
No proof Ginko Biloba boosts testosterone
Sold out on Sheer Strength Labs' website
See SupplementTester's Highest Rated
Highest-Rated Testosterone Boosters Here
Sheer Test Review Conclusion
The marketing for Sheer Test promises a formula "backed by science" – and to some extent, that's what you get.
When we saw the likes of Vitamin D3, D-Aspartic Acid, Fenugreek and Magnesium listed on the label, we couldn't wait to try out this test booster.
We were also delighted to see Sheer Test doesn't contain any proprietary blends – this is a shallow marketing trick we want to see outlawed, quite frankly.
But Sheer Test suffers by underdosing the great ingredients. We're als unimpressed by the presence of quite a few unproven (or disproven) ones. So while this could be a decent product, it falls some way short of our favorite T-boosters.