---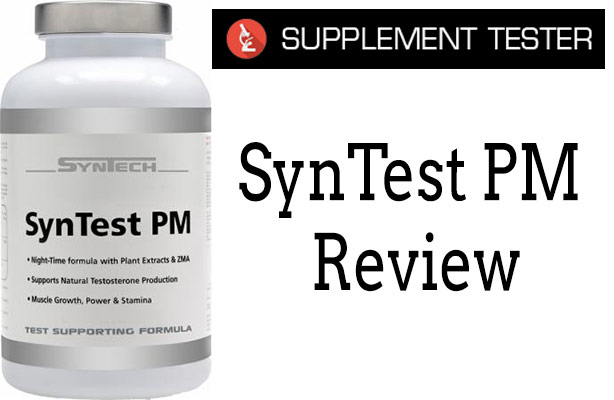 ---
We've always had an interest in testosterone boosters that claim to boost your T-Levels overnight…sounds a bit like a gimmick to us, but we always give everything a chance. So cue SynTest PM, which we'll be reviewing for you here.
Claimed to promote:
Test levels
Sleep quality
The claims are good, but we're just not convinced that a nighttime testosterone booster can beat the best on the market – we don't understand why companies have tried to fix something that's not broken…
Anyway, let's check out the company behind SynTest PM.
About The Company
SynTech Nutrition are the company that makes SynTest PM. They consider themselves to be experts in the industry, offering numerous supplements such as whey protein powders and this test booster.
We couldn't find much else about this company, so let's see what's inside SynTest PM.
The Ingredients and How They Work
One thing we're happy about after looking at SynTest PM's ingredient list, is that it doesn't contain any proprietary blends – this means you can see exactly what's inside.
However, we're don't like seeing Tribulus Terrestris, as it's shown to cause side effects and be ineffective in studies (we'll expand on this below).
See for yourself: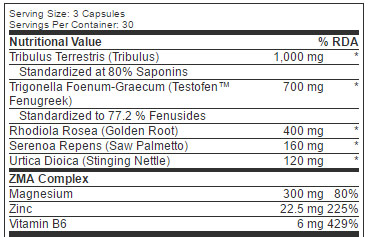 Tribulus Terrestris 
This is a herb that's been used in traditional Indian medicine for a while. It's believed to improve your libido and raise your testosterone levels – however, studies have shown that it's not capable of improving your testosterone levels.
Not only that, Tribulus Terrestris has been reported to increase your prostate weight. As you should know, this can lead to severe illness such as prostate cancer in men – which is why this should be avoided.
Fenugreek 
Fenugreek is another herb that's been used in traditional Indian medicine, but it's shown to work. Not only that, fenugreek can work in really small dosages (under 100mg per serving), so there's no need for the 700mg dosage in SynTest PM.
SynTech Nutrition could've decreased the dose of fenugreek here, and added other ingredients such as Vitamin D3 (which is proven to work too).
---
---
Rhodiola Rosea 
We're not sure why SynTech has added rhodiola rosea into this testosterone booster – as it's not shown to benefit your T levels.
This is a great ingredient in nootropics and pre-workouts, but it's not needed here.
Serenoa Repens 
Otherwise known as saw palmetto, this is believed to treat or prevent prostate cancer – SynTech Nutrition has probably added this to counteract tribulus' side effect.
However, the fact that this company knows the risk of tribulus increasing your prostate weight is worrying – they could have chosen from better ingredients that haven't been reported to cause any side effects.
Not only that, saw palmetto isn't even reliable in delivering any benefits – making it an ineffective ingredient in SynTest PM.
---
---
Urtica Dioica 
Also known as stinging nettle extract, this has shown to positively affect your testosterone levels.
It's most commonly known to 'sting' after being touched, but not many people know about it's ability to raise your T levels –  numerous studies have shown that it can deliver benefits from reducing inflammation, decreasing nasal congestion, to giving you that boost of testosterone you're looking for.
ZMA 
ZMA has become a popular supplement for increasing your testosterone levels – it's a combination of zinc, magnesium, and aspartate.
While zinc has shown to be effective in boosting your T levels, studies have shown that ZMA is ineffective at delivering this benefit, in numerous studies.
As a result, this isn't a reliable addition to a test booster supplement – it's even more worrying knowing that people consume ZMA separately, hoping to experience an increase in T.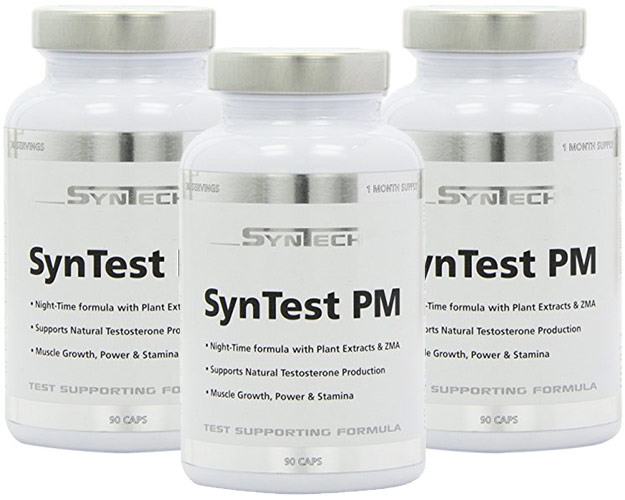 Check out which ingredients work and which don't in our
– Testosterone Booster ingredients guide –
Pros and Cons
Pros: 
Fenugreek raises testosterone levels
Cons: 
Missing numerous key T-Booster ingredients
Numerous ineffective ingredients
Not good value for money
Can cause side effects
Side effects
We always warn people against taking supplements containing tribulus terrestris – it can cause a severe side effect (increasing the weight of your prostate).
This can lead to serious male health issues – even increasing your risk of suffering from prostate cancer. As there are better ingredients to choose from (that don't cause any side effects), we recommend looking for supplements that contain our favorite testosterone boosting ingredients.
Not what you're looking for? See Our
– Top Three Test Boosters Page Here –
Review Conclusion
After analyzing the ingredients inside SynTest PM, we're not very impressed. This testosterone booster contains only 1 nutrient that's shown to improve your T levels – fenugreek.
The other ingredients have shown to be ineffective in numerous studies – meaning you'll be wasting your money on this product. While it would be more beneficial to buy an individual fenugreek product, the best test boosters contain a mixture of the best ingredients proven to raise your T.
For this reason, we recommend you to check out our favorite testosterone boosters on the market.