If you're new to Testosterone Boosters chances are that you're a little overwhelmed right now. With so many of the big brands (and the smaller ones) having something in stock that you only recently found out existed, it can be difficult to know which choices to make.
That's why I'm here.
And also why T-Factor is here. It's a popular T-Booster on the market, but does that mean it's effective?
This is a question you should always ask yourself, and I, by carrying out a rigorous and thorough review, will find you the answer.
Well, T-Factor claims to to be "the most potent, natural T-booster on the market today" by use of it's "unparalleled cutting-edge formula" – this is where we really be putting this product to the test.
But first, what about the company?
About the Company
The Protein Works is a relatively new company to the supplement market and is really still in it's infancy, only delivering product to the UK and Europe and sells entirely from it's own website.
It sells a vast range of products which mainly consist of protein powders, formulas and foods. Preworkouts, T-Boosters, creatine and the like aren't as promoted as their primary products however they have started to make their rounds on the internet and are being widely well received.
The Protein Works seems to be doing a rather good job at with their intentions and offer a 'Lifetime Guarantee' on all of their products, however a return must be paid for and the refund is either another product or credit on the user's account. Still, many other names have been known to offer a lot less, and considering this company's age their doing a great job.
The Ingredients and how they work
This is actually more of a tall order than usually testosterone boosters with T-Factor requiring an intake of 6 capsules a day over 3 servings each consisting of 2 capsules. This is both a negative and a positive.
From a negative perspective this product is highly inconvenient as you must chug down 6 pills a day for the full effects, however, thinking positively the multiple daily doses ensure that T levels remain elevated.
Now, let's get down to business: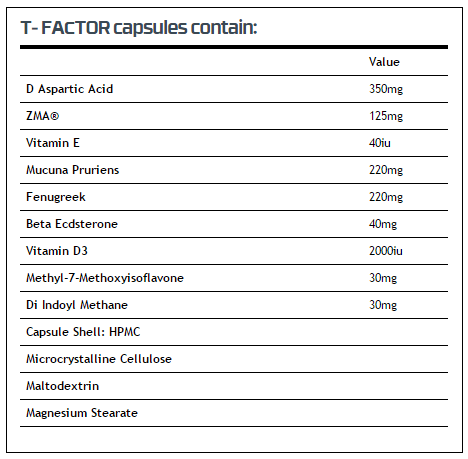 D-Aspartic Acid – DAA is really the 'go-to' ingredient for testosterone boosters, this amino acid as it releases luteinizing hormones, growth hormones and follicle stimulating hormones throughout the body. It also helps remove the limit on testosterone synthesis and builds up the testicles.
ZMA – A combination of zinc and magnesium, another common ingredient in testosterone boosters, they are valid parts to releasing luteinzing hormones in the body whilst also diminishing globulin levels. Globulin, being the sex hormone that binds to testosterone in the body, making it no longer available directly to the individual which diminishes the T-levels.
Vitamin E – This is strange one to include, and potentially a bit of a gamble. Vitamin E has been seen in some studies to lower testosterone (along with estrogen, I guess that balances it out), but in others it has been seen to increase testosterone – but only when supplied in gigantic doses.
Mucuna Pruriens – This has been used in a select range of testosterone boosters, it has been seen to raise testosterone levels in both humans and animals, however, the best results came after supplementing up to 5g and over to see any real results.
Fenugreek – Seen to be a very efficient libido booster, Fenugreek is good for releasing nitric oxide into the body (helps with blood flow) which will give more effective pumps at the gym. It also is good at regulating blood sugars which should help lower insulin levels. Spiked insulin can cause insulin resistant that leads to a decrease in testosterone levels.
Beta Ecdsterone – A naturally occurring phytochemical that has been seen to yield great results in terms of muscle growth. Unfortunately the dosage here is far below what has been used in studies. Optimum dosage is apparently 5 x (Body weight in KG) – as you can see unless you weigh 8kg, this ingredient isn't really going to have much of an effect.
Vitamin D3 – More of a hormone than it is a vitamin. D3 is a great thing to supplement when looking to raise testosterone levels. Usually through spending most of our lives indoors, we don't get enough of it – however it is one of the only essential nutrients for our survival. It is believed to help with the release of the luteinzing hormone in the body.
Methyl-7-Methoxyisoflavone – Thought to be a muscle building agent in the 70s, Methoxyisoflavone has since been rigorously tested in resistance trained males and has been seen to yield no impact or beneficial results to taking the product.
Di Indoyl Methane (DIM) – A molecule which is often found to be in broccoli – it doesn't hold much as a testosterone booster, however it has been thought to be an effective aromatase (estrogen producing) inhibitor. However evidence for this is unproven.
Check out which ingredients work and which don't in our
– Testosterone Booster ingredients guide –
Side Effects
There has been no reported side effects with this products. That is not the main issue, the real problem is having to wonder if T-Factor will have any real effect. Quite a few of the ingredients in this product are either, under dosed, not significantly effective or worse decrease testosterone.
Pros and Cons
Pros
Uses great natural ingredients
Multiple servings for elevated T levels
Has a lifetime guarantee
Cons
Some ingredients unproven and decrease testosterone
Some ingredients under dosed
6 capsules a day can be inconvenient
– Click Here to see our Highest Rated Testosterone Boosters –
T-Factor Review Conclusion
After looking into each ingredient that goes into T-Factor, I'm happy to say it does use, on the whole a profile of good ingredients. Apart from the vitamin E gamble.
Also, the amount of each effective ingredient used isn't really that effective. Especially in things like the Beta Ecdsterone and DIM.
There are better products out there, but on the whole it's not a terrible decision to buy considering it's price. But you're far better off the likes of TestoFuel and Prime Male.