A testosterone booster brought to us by MuscleTech.
Test HD is has been referred to as the hardcore testosterone booster. However after seeing the ingredients and with my experience with the product, I'll have to disagree.
In a nutshell Test HD sets out to achieve two things:
Increase total testosterone
Raise ATP Blood Levels
The second point is interesting as that focuses more on circulation and getting blood directly to the muscles. It's not so much a testosterone boosting feature, but rather something deals directly with physical performance.
However, as these statements have not been approved by the FDA the evidence for this actually achieving these outcomes is anyone's guess…
Unless we consider the ingredients.
But first, let's find out more about MuscleTech.
About the Company
I've reviewed several MuscleTech products before. The company started as a mail-order business in 1995 and quickly gathered momentum and grew into an industry superpower.
It has had financial troubles in the past, but has been brought back from the brink over the last few years after being bought out by a company known as Iovate.
The brand has a wide range of supplements that cater to almost every aspect of a healthy lifter's lifestyle covering all post, pre and during workout supps.
In my experience they've never really stood out as incredible supplements, in fact they've even had legal trouble in the past from some of the Hydroxycut range endangering lives.
Always make sure you study a MuscleTech product thoroughly before you make the purchase.
The Ingredients and how they work
Unfortunately the servings for Test HD aren't that well spaced out either. Using only 2 a day, with 1 caplet in the morning and another in the mid-afternoon – there is not enough being done to ensure effective testosterone production.
For the best results a testosterone booster needs to be providing anywhere between 3 – 4 servings a day. This makes sure that the body is constantly topped up with the nutrients it needs to constantly elevate the body's testosterone up to higher levels.
So the servings aren't looking to great. But what about the ingredients?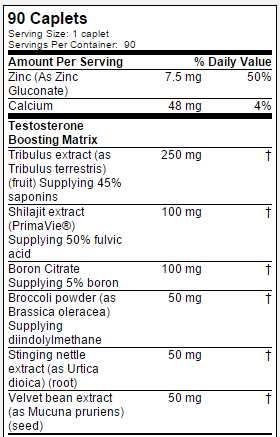 Tribulus Terrestris (250mg) – Unfortunately  people still aren't getting the message about Trib. This was once thought to help raise testosterone levels as it is weakly linked to improving libido. However, research has shown countless times that Tribulus Terrestris has no positive or negative effects on testosterone levels.
Shilajit Extract (100mg) – A compounded mix of minerals and a big part of Fulvic Acid. Shilajit Extract has been seen to raise testosterone when used continuously for 6 months. However there has only been one study looking into this, it isn't clear if these results are that reliable.
Boron Citrate (100mg) – This is a great ingredient for promoting free testosterone. Boron has been shown to reduce Sex Horomone Binding Globulin (SHBG) which decreases free testosterone and raises estrogen levels, Boron reverse that allowing for a lot more of the testosterone produced by the body to be readily available.
Broccoli Powder (DIM) (50mg) – Also known as diindolylmethane, this nutrient has thought to have some effect when it comes to suppressing estrogen in the body, as well as some anti-cancer abilities – however, nothing has been proven yet and whether it makes any changes is still unknown.
Stinging Nettle (50mg) – Another one for the free testosterone, this garden plant has been seen to have qualities that promote free testosterone. Stinging Nettle can inhibit SHBG and greatly reduce the amount of testosterone lost to it, thus increasing overall free T in the body. However 50mg may not be enough to make a difference here.
Mucuna Pruriens (50mg) – The final ingredient and a another proven testosterone booster. However, as there is only 50mg in Test HD it's hard to vouch for it's effectiveness in this supplement.
 Check out which ingredients work and which don't in our
– Testosterone Booster ingredients guide –
Side Effects
Test HD uses pretty natural and safe ingredients, there shouldn't be any side effects.
Pros and Cons
Pros
Good ingredients for testosterone production and free T promotion
45 day supply
Cons
Poor serving schedule
Many ingredients used are under-dosed
Main ingredient (Trib) ineffective
– Click Here to see our Highest Rated Testosterone Boosters –
Test HD Review Conclusion
Out of all the Muscle Tech products I've reviewed so far, this is definitely one of the best for the brand. However, that doesn't mean that this product is one of the best out there – far from it.
Although Test HD contains a lot of good ingredients to help with the testosterone producing process, and even a few that can help promote free testosterone – it just doesn't use enough of them.
Ingredients like the Mucuna Pruriens and the Stinging Nettle are great ingredients, but dosing them both at 50mg per serving will not got you very far at all when it comes to raising testosterone.
This isn't the only area where Test HD has dropped the ball, the servings in this product are also too low. They need to be more frequent if they want to make a serious impact on testosterone levels.
All in all I'd say MuscleTech has the good groundings of a testosterone booster here, but they just need to revise their serving dosages and how they're delivered to the user. Removing Tribulus Terrestris would certainly help this happen. I also didn't find any definitive proof of this product raising ATB blood levels.
For the moment, I do not recommend you buy this product.