Mutant Test is one of the more mainstream testosterone boosters you can come across on the market, but that doesn't mean it's the most effective.
Claiming to help:
Boost Testosterone
Promote Free Testosterone
There doesn't seem to be much, apart from the name, that helps Mutant Test stand out in the market.
However, Test claims to have a new and improved formula, that includes 6 active ingredients all specifically chosen for their ability to raise testosterone.
But I'm not convinced, here's what I found in my review.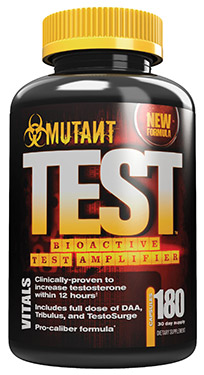 P.S. If you're looking for a testosterone booster to give you maximum gains, I strongly suggest reading my Top Testosterone Booster on the Market page over here.
About the Company
MUTANT is a supplement company that was started in 2006. If you remember there was a lot of hype about Mutant Mass a few years ago, this was their first big product.
Now that they've become a well established brand, Mutant has expanded their brand to incorporate pre-workouts, recovery products, fat burners and test boosters.
You can buy Mutant from their website or purchase them from many online retailers.
They deliver throughout Europe, USA and Canada.
The Ingredients and how they work
In an almost 'over the top' effort to emphasize their 'extremeness', Mutant Test requires one serving a day in the morning on an empty stomach… to the tune of 6 capsules.
Fortunately there's 180 caps in each bottle so you'll get a month's worth here. But swallowing 6 of these a day in the same serving seems a bit excessive, I'm sure they've handled the dosage – but it's highly inconvenient just to play along with the 'Mutant image'.
Plus, having it all in one serving may effect the products progress with raising testosterone – once so much has been absorbed it will fail to make a difference. The best method would be to have the pills spaced out over the day to keep the supply consistent. However Mutant would have to rework their formula to accommodate for this.
The real proof of this product effectiveness will be in the ingredients, so let's have a peek: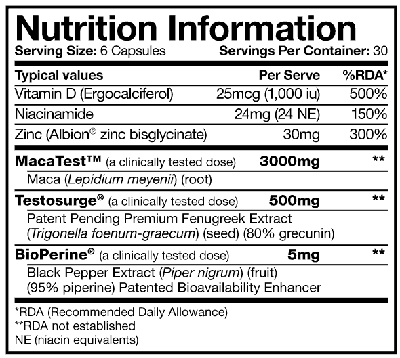 Vitamin D2 – Has been seen to raise testosterone, however Ergocalciferol or Vitamin D2 is not the most effective way. To adequately raise testosterone via absorption it's best to use D3.
Vitamin B3 – Niacinamide is involved in the production of testosterone. It also helps with energy levels and mood.
Zinc – This is a great testosterone booster. The body requires zinc to release luteinzing hormones throughout the body which greatly benefit testosterone production as well as DHT and growth hormone.
Maca Root – Part of the ginseng family, Maca Root from a Peruvian orgin, has been to be surprisingly good for raising libido and mood. However, there has been no reports of it increasing testosterone levels.
Fenugreek Extract – Another one for increasing libido, with the added bonus of controlling blood sugar. Fenugreek has been known to release nitric oxide in the body which helps with blood flow (making it great for pumps) the power that it has over blood sugar decreases the chances of insulin resistance and making testosterone levels more likely to rise.
Black Pepper Extract –  A known bioavailability enhancer, using Black Pepper, more ingredients can be absorbed by the body at a time. However with the amount used here, and the amount of mass to the actually product, the results are questionable.
Side Effects
As much as Mutant wants to play up to the 'dangerous' image of their product, it's not actually that bad. The main ingredients used however are more libido enhancers than anything else.
Side effects won't be noticed on this product per se, however with the large amounts Maca in Test – you've got more chance of your libido rising than your testosterone.
And just for further peace of mind, no side effects have been reported by consumers.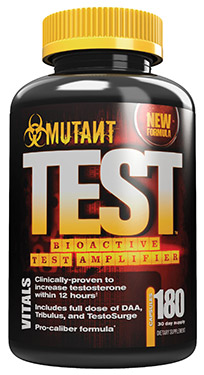 Pros and Cons
Pros
Contains Zinc
Good for libido
Raises energy levels
Cons
Not many testosterone boosting ingredients
6 pills per serving
No aromatase inhibitors (estrogen suppressors)
– Click Here to see our Highest Rated Testosterone Boosters –
Test Review Conclusion
Test by Mutant made a serious mistake when they changed their formula. They had some great ingredients and some not so great ones (mainly Tribulus Terrestris) – overall it was a stronger blend now.
Test Mutant has gone from a good Testosterone boosting and Estrogen suppressing supplement… to a glorified libido enhancer.
It's a fall from glory to say the least, if you're looking to make serious gains, you'll find a better T-Booster in our top rated page over here.