If you are looking for that extra edge to make big gains in the gym, a testosterone booster could well be your best ally.
It is a known fact that your levels of testosterone naturally drop as you get older – and low-T can lead to a loss of libido, depression, irritability, erectile dysfunction and less muscle mass.
However you can solve these problems by naturally boosting your testosterone – and Test Worx is one such product that claims it can help.
Produced by SuperiorLabs, Test Worx includes nine ingredients which are aimed at giving "you a noticeable edge in any sport or activity both on and off the field".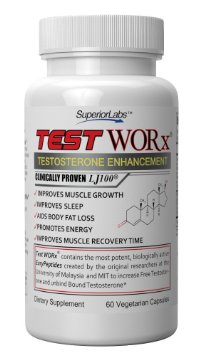 Ingredients and how they work
Just two capsules first thing in a morning are required, although it is recommended that you follow a five days on, two days off cycle for six weeks. You will also need to drink eight glasses of water a day.
There are a few interesting things included in Test Worx, however the clinical research involving humans means some of the other ingredients fall short.
Zinc – A mineral that has been proved to help increase testosterone levels, while it also has the added benefit of inhibiting the aromatase enzyme which converts testosterone into estrogen.
Pyridoxine-3-Carboxamide (Niacinamide) – A component of the vitamin B family, niacinamide has anti-anxiety and anti-inflammatory properties. It could also improve endurance.L-Arginine –
TEST WORx proprietary blend (Eurycome Longifolia, Tribulus Terrestris, Nettle Root, Maca, L-Arginine, Vitamin B12, Pyridoxal-5-phosphate) – Commonly described as LongJack
Eurycoma Longifolia has aphrodisiac properties and has shown anti-estrogenic effects in vitro. However there is conflicting clinical evidence over its abilities to increase testosterone levels.
Vitamin B12 supports enzymes in energy metabolism, while low levels of the nutrient can cause fatigue and depression.
There is much debate over the effectiveness of tribulus terrestris – It does appear to increase libido by enhancing androgen receptor density in the brain, however it has failed to increase testosterone in human studies.
By stimulating the androgen receptors, vitamin B6 helps with the production of testosterone. It also helps to suppress estrogen.
Maca, a member of the broccoli family, has been shown to increase libido and mood, while it could potential lower fatigue. However it has failed to increase the testosterone in men in some studies.
Commonly found in pre-workout supplements due to its ability to increase nitric oxide formation.
L-Arginine has been shown to increase growth hormone but has not impact on testosterone. L-Arginine can increase lean mass, though, while it could aid fat loss.
Nettle Root has been shown to aid reduce urinary complications associated with benign prostate hyperplasia, while it can also reduce the size of the prostate. However there is limited evidence that it can increase testosterone.
Check out which ingredients work and which don't in our
– Testosterone Booster ingredients guide –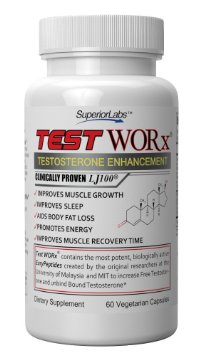 Test Worx Pros and Cons
Pros
Money-back guarantee
Vegetarian capsules
Good reviews
Cons
Proprietary blend
Debate over effectiveness of some of the ingredients
Need to cycle
Click here to see
– The Highest Rated Testosterone Boosters –
Test Worx review conclusions
On the surface Test Worx looks to be the real deal for boosting your testosterone. Unfortunately as you delve a little deeper, it doesn't match up to a number of its competitors.
There is a lack of supporting evidence from human trials to suggest some of the ingredients can actively increase testosterone levels. The ingredients, though, do appear to be able to boost your libido, while some will aid fat loss.
The proprietary blend is annoying – and we would personally love companies just to list out the amounts – while you will need to have a set regime to cycle Test Worx.
However you will find some good reviews on Test Worx from users, while the money-back guarantee means some people will be willing to try this out for themselves risk-free.
Our top-three testosterone boosters
To find out which supplements we have rated as our best testosterone boosters, check out our top-three guide.