Test Worx has some negative reviews online – but it remains popular after quite a few years on the scene. So we're doing this Test Worx vs TestoFuel review to see how the Superior Labs test booster compares to Roar Ambition's market-leading TestoFuel.
Both Test Worx and TestoFuel claim to:
Enhance muscle growth and recovery
Increase energy and stamina
Sharpen focus and clarity
Help you sleep better
TestoFuel also claims to boost sex drive.
Both Roar Ambition and Superior Labs claim to offer a potent, yet clean test booster. Despite this, their respective products contain just one or two of the same ingredients. But which one wins? Let's dig deeper…
About The Companies
Roar Ambition

Roar Ambition is a UK-based supplement company.
It burst on the fitness scene back in 2012, when it released TestoFuel to great reviews. The company's other products include Instant Knockout (fat burner) and 4 Gauge (pre-workout). All its products are safe and 100% natural.
Where to buy TestoFuel and other Roar Ambition products
Like all Roar Ambition products, TestoFuel is only available from its official website (TestoFuel.com) and the company website (RoarAmbition.com).
For this reason, you won't find this T-booster or any of its related products on Bodybuilding. Amazon, or GNC. To be honest, we found this a little annoying at first, as we love to fish for bargains.
But after speaking to the Roar Ambition customer service team, we quickly understood that selling direct allows the company to cut the cost of paying a distribution network. The rep we spoke to says this allows the team to focus more on quality over quantity.
And by taking complete control of its stock, the company can frequently update its formula without fear of outdated products sitting on shelves for years until some poor, unsuspecting customers buy them.
Where does Roar Ambition ship from?
Roar Ambition has its own distribution centers in the US and UK. The company website says this ensures fast shipping, wherever you are in the world.
Find out more about Roar Ambition's shipping policies on the product website: www.TestoFuel.com
---
Superior Labs

Like Roar Ambition, the guys at Superior Labs say their products are free from harmful substances, and its website describes its "purity process" in detail.
Claiming not to "cut corners", the company goes on to say it remains "on the cutting edge of technology and scientific studies that allows us to deliver the very best every time.
Besides this, we can't find much about the company, other than that it has been around for a few years.
Where to buy Test Worx and other Superior Labs products
Test Worx is available to buy from the product and company websites. Superior Labs also sells through Amazon.
Although this makes the company's products more widely available, selling through Amazon also means Superior Labs doesn't have the same control over its inventory as Roar Ambition. Does this mean that when you buy Test Worx, you could be getting an outdated product? Maybe.
Where does Superior Labs ship from?
While based in Utah, we don't know where Superior Labs ships from. Its products are NOT available outside the USA.
You can learn more about Superior Labs at www.mytestworx.com
---
Test Worx Vs TestoFuel: The Ingredients and How They Work
The first thing you should do when deciding whether to buy a test booster? Look at the ingredients. After all, most supplements promise near-miracles and rarely deliver.
When looking at the ingredients of Test Worx vs TestoFuel, you may notice that the Superior Labs product cloaks its most important ingredients in a big ol' proprietary blend.
But it's also worth pointing out the Roar Ambition T-booster ignores proprietary blends in favor of a clear list of ingredients and doses.
Reminder: Proprietary blends are sub-formulas that list ingredients, but hide dose info. We hate proprietary blends because they give you no way of knowing whether the product is worth your money.
See for yourself: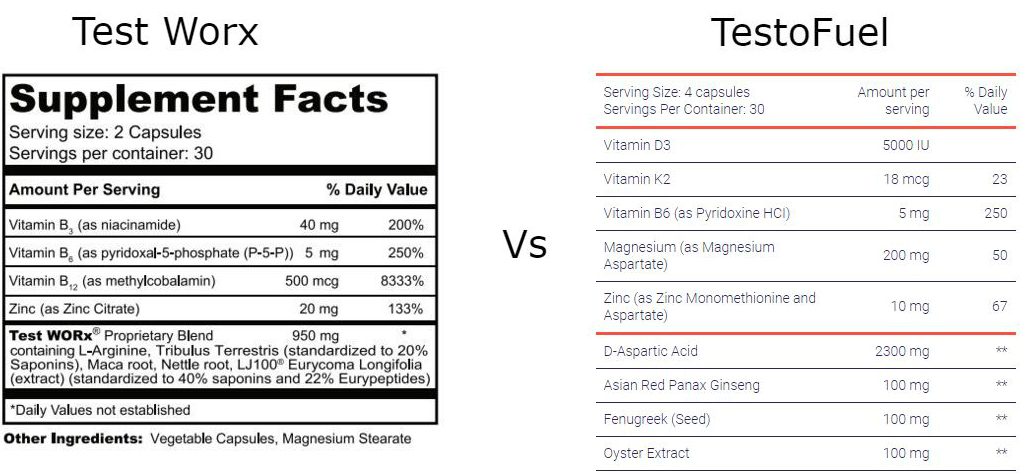 Shared Ingredients
Vitamin B6
Also known as Pyridoxine, Vitamin B6 is an essential nutrient found in a number of foods, including potatoes, non-citrus fruit, cereals, poultry and beef.
B6 helps your body rid itself of estrogen – the female hormone – which in turn helps you cut fat (it also lowers your chances of developing the dreaded man-boobs).
As we always say, 5mg of B6 is ideal if you want to boost testosterone – and it's fantastic to find both Test Worx and TestoFuel contain this optimal amount.
Zinc
Zinc is the second essential nutrient on this list – and it can boost everything from your brain function to your sex drive and T-levels.
Rich sources of the mineral include poultry, eggs, red meat, nuts, seeds and beans. Despite this, over 50% of the Planet Earth's population area Zinc-deficient. It's therefore wise to take it in a supp.
Unique Ingredients
Now you've seen what these two T-boosters have in common, let's take a look at what separates them…
TestoFuel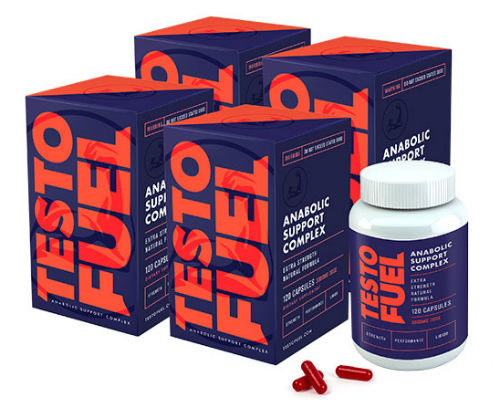 Vitamin D3
More accurately described as a hormone than a vitamin, D3 is one of three most important ingredients to look for in a natural, clean test booster.
Over the years, many studies have shown D3 to increase testosterone and boost energy levels.
One study, published in the Journal of Science and Medicine in Sport, found doses of 4000 IU and above helped both male and female subjects increase muscle mass and strength in both their upper and lower bodies.
Commonly known as 'the sunshine vitamin' due to our ability to absorb Vitamin D from the sun, millions of people still don't get enough. And as Vitamin D deficiency has been linked with low testosterone, it's important to get your fill in a supplement.
D-Aspartic Acid
D-Aspartic Acid (D-AA) is a relatively new addition to the world of T-boosting supplements. Despite this, it continues to develop and maintain an awesome rep as a potent T-booster and libido enhancer.
D-AA helps your body create more of the Luteinizing Hormone, a precursor to testosterone, and a facilitator of muscle growth. One study even saw D-AA raise serum testosterone by 30-60% on average over 90 days!
Oyster Extract
Oysters have long been considered a potent aphrodisiac, but they don't just boost your sex drive! Rich in 59 nutrients that are essential for your health, Oyster Extract is also a powerful T-booster.
Among these nutrients is iron, which helps your body produce more red blood cells for stronger erections. This also allows more nutrients to flow around your body for more satisfying muscle pumps in the gym.
Asian Red Panax Ginseng
Asian Red Panax Ginseng is a herb found in southern China and Korea. While many impostors exist, Red Ginseng is also known as True Ginseng – as it's the only kind you need.
Due to its ability to regulate blood-sugar levels in the body, Panax Ginseng is a potent test booster. It also dilates the blood vessels to improve erection strength and improve muscle pumps in the weight room.
Test Worx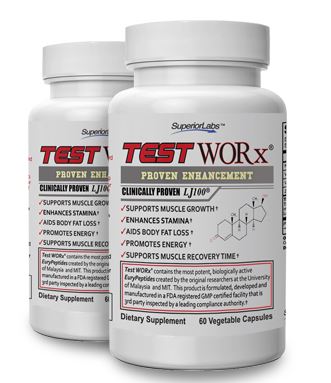 L-Arginine
L-Arginine is an essential amino acid that's often used in supplements to produce nitric oxide, which helps dilate the blood vessels for more satisfying muscle pumps in the gym.
But disregarding the fact that supplementing with L-Citrulline (an Arginine precursor) is more effective for this purpose, we have absolutely no idea why Superior Labs include L-Arginine in Test Worx.
Indeed, the sole study on the amino acid's T-boosting effects found that it DOES NOT boost testosterone.
Tribulus Terrestris
Tribulus Terrestris used to be everywhere. Up until just a few years ago, it would've been difficult to find a test booster that didn't include the herb.
It first came to the public's attention in the 1970's, when Bulgarian weightlifters claimed to use it as a legal way to boost testosterone and induce muscle growth before the Olympics.
As we now know widespread doping occurred behind the Iron Curtain at that time, it's likely the lifters in question were merely using Tribulus as a ruse to hide their cheating.
Since then, numerous studies have shown Tribulus does not boost T.
Maca Root
Maca is a member of the broccoli family and its root – Maca Root – resembles a turnip. The root contains the compound p-methoxybenzyl isothiocyanate, which is said to boost sex drive and sexual function.
But while at least three studies show Maca can enhance libido, all of this research used 1.5-3g of Maca. As Test Worx contains Maca Root in a proprietary blend, there's no way to tell how effective it is.
This is especially true considering the proprietary blend contains several ingredients totaling 950mg – so the Maca Root in this supp is unlikely to be effective.
Besides this, research shows Maca Root does not boost testosterone and therefore has no place in a T-booster.
Nettle Root
We've seen Nettle Root in at least of one the best T-boosters on the market. It is said to raise testosterone due to its ability to inhibit the Sex Hormone Binding Globulin (SHBG), which allows more of the male hormone to flow through your bloodstream.
Despite taking its place in some our favorite test boosters, we're not too sure how good it is – at least two studies we've seen dismiss the idea that it's any good for this purpose.
In addition, the great T-boosters that contain Nettle Root usually hold at least 150mg. And as Test Worx uses the ingredient as part of a proprietary blend, there's no way to tell whether it's worth your money.
Eurycoma Longifolia
Also known as Tongkat Ali, Longjack, and Malaysian Ginseng, Eurycoma Longifolia is a plant native to Thailand and Malaysia.
Its bioactive compounds include eurycolactone and eurycomaoside, both of which may improve sexual performance. Research also suggests the plant extract might induce a slight increase in T in infertile men, but the same is not true for otherwise healthy men.
Find out more about TestoFuel's ingredients here
or
Find out more about Test Worx's ingredients here
---
Side Effects
TestoFuel
TestoFuel's nine ingredients are natural and safe to use (unless you have allergies to any of them).
Test Worx
On the whole, Test Worx is also safe to take.
---
Pros and Cons: Testo Worx Vs TestoFuel
TestoFuel pros:
Increases energy, strength, muscle & libido
Optimal doses of nine great ingredients
D-AA, D3, Oyster Extract and Panax Ginseng all must-have T-boosting ingredients
Honest formula – no proprietary blends
Lots of positive online reviews
Available all over the world
Test Worx pros: 
Cheaper than TestoFuel ($57.95 vs $65)
Very popular
Nettle root is used in at least one of the best T-boosters
TestoFuel cons:
Premium price – costs more than many other T-boosters
You can only buy from TestoFuel.com or RoarAmbition.com
Test Worx cons:
Main ingredients are hidden inside a proprietary blend
L-Arginine and Maca Root do not boost testosterone
Tribulus Terrestris discredited as a T-booster
Eurycoma Longfolia does not boost T for fertile men
Not available outside the USA
You have the right to expect more for $57!
---
Conclusion: Test Worx Vs TestoFuel
This Test Worx Vs TestoFuel review has been a case of one T-booster that fails to live up to its popularity, and another test booster that succeeds in pretty much every way.
Test Worx has been around a for a number of years now – and it remains very popular. But we just can't work out why.
Why you should steer clear of proprietary blends
The guys at Superior Lans wrap the product's ingredients in a proprietary blend.
We hate these types of blends because they're just a hollow marketing trick used to convince unsuspecting consumers to hand over their cash. As the proprietary blend totals 950mg, it is very unlikely these ingredients have any use at all.
The proof's in the ingredients
As for the ingredients themselves? Well, Test Worx contains discredited ingredients like Tribulus, while the likes of Maca and Eurycoma Longifolia show slight promise as libido enhancers, but do not boost T.
As increased sex drive is not something which Superior Labs advertises, it seems a little strange to include ingredients that enhance libido, but not T.
By contrast, TestoFuel uses a clear list of nine solid ingredients, most of which we see in many of the best test boosters on the market. With all this in mind, there can be only one which of the battle between Test Worx vs TestoFuel…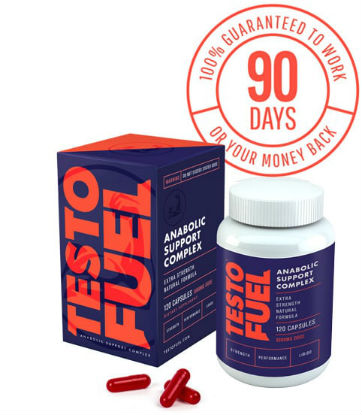 Check out this fantastic T-booster at www.TestoFuel.com