Describing itself as the strongest legal testosterone booster on the market. Testo Extreme Anabolic has got to be by far, the shadiest test booster I've ever reviewed.
I was tipped off about Testo Extreme Anabolic by a UK reader, I've tried researching into it and can't find any places to get hold of it in the US.
According to it's description on Amazon.co.uk Testo Extreme Anabolic has the following features:
#1 strongest legal testosterone / muscle booster with no post cycle therapy required.

Formulated with only scientifically backed ingredients which have been scientifically proven to massively stimulate the natural production of testosterone.

Massively improve muscle & athletic performance.

Guaranteed to pack on lean muscle mass, even on the hardest of hard-gainers!
Before you get excited – this is one of the worst testosterone boosters I've ever seen.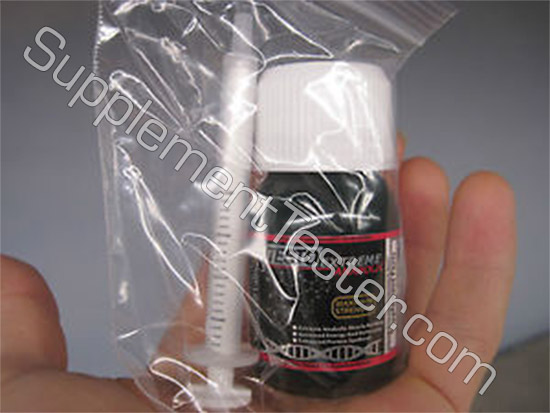 Check out our
– Highest Rated Testosterone Boosters –
About the Company
Nutracell Labs is a UK based company, and has a very confusing website – it appears to be pushing, this testosterone booster and a creatine supplement.
What makes it even stranger is that Nutracell Labs itself doesn't have a website any more, it's just one long page dedicated to both of these products with 'Most Promising Product of 2012' awards plastered all over them from no named authority.
This product ships throughout the UK and is endorsed by Dr P. Samson PHD, a Chemical Biochemist who I could not find any details on whatsoever.
The testimonials are also fake, using stock photos instead of actual customers.
It seems like a very unreliable company and you'd be right to be suspicious.
The Ingredients and how they work
Now we can take about the faux-injection. You're biggest question: Does it actually contain a needle? Oh no, far from it…
Testo Anabolic Extreme is nothing more than an amped up water gun, each bottle contains 30ml of the product which you must squirt – YES SQUIRT – under your tongue in 1ml servings.
Each serving should sit under the tongue for around 5 seconds for the product to be absorbed. Only one serving is required a day.
Usually when a testosterone booster takes 1 serving a day, I condemn for not been constantly topping up the test levels. However, in this case I will let it slide as there could be nothing more embarrassing that 'squirting-up' in public.
Now that that's out of my system, let's consult the ingredients:
Obviously with a product like this you can more than expect a proprietary blend, and that's exactly what we've been given in this instance.
There is no supplement fact sheet for this product. The product arrives in a bag, unboxed with the faux-syringe.
Damiana Leaf – Taken from the dried leaves of the Turnera Diffusa Plant and grown in Mexico. It has been thought to be a potent aphrodisiac and energy booster and understood to be great for libido. However, there is no current human tests meaning the only results we can look at come from rats, where it made an insignificant difference.
Tribulus Terrestris – Again another ingredient aimed towards sex drive and libido. However not a lot of studies support the claim that Tribulus Terrestris is effective.
Glucosamine Sulfate – I've come across this more when looking into joint supplementation. Glucosamine Sulfate promotes the fluid in your joints and aims towards achieving better movement.
Inositol – Now this is a first for me, reviewing a testosterone booster with testosterone decreasing properties. Inositol is a phytoestrogenic fiber which has been proven to decrease testosterone.
N-Acetyl-L-Carnitine Hydrochloride – A vital amino acid to help raise the body's energy levels, carnitine helps move fatty acids towards oxidation for energy, this also burns more fat and produces more energy.
Saw Palmetto Extract – is a palm tree like plant which has been used in the past in alternative medicine regarding male testosterone, but it is also used to low T levels – it's most commonly used as an alternative remedy to decrease the symptoms of prostrate cancer.
Phenylethylamine – Influencer of the 'good feeling' hormones in the body like dopamine and serotonin. It has been seen to help with weight gain, but clinically unproven.
L-Arginine – A positive ingredient to have in a t-booster. L-Arginine helps with blood flow and the production of growth homone in the body.
Avena Sativa Extract – A type of oat, it has been seen to increase luteinzing hormones in the body, which leads to an increase in free testosterone. In 1986 a test of the ingredient showed that it could have an impact on genital sensation.
Methylsulfonylmethane – Small amount of organic sulfur that can naturally form in the body. It helps the liver detoxify blood, and a healthy liver leads to healthy T levels. This is more a PCT supplement though – it's in the wrong place here.
Ginseng Root Extract – This product seems to concentrate a lot of libido rather than on actually boosting T levels. Ginseng has been seen to be a big help with erectile dysfunction giving a more effective result when it comes to penetration.
Caffeine Anhydrous – An incredibly powerful stimulant, caffeine helps raise energy levels and greatly increases metabolism to help the body burn weight. Not sure why this is in a testosterone booster though, it seems more like a fat burning ingredient.
Guarana – A powerful caffeinated herb which carries out a similar role in terms of raising energy levels and metabolism. However, as we mentioned with caffeine – there's no need for stimulants to be in testosterone boosters
Green Tea Extract – This is another ingredient that a fat burner would require. The caffeine raises energy levels and metabolism, however, the catechins in the green tea help with releasing norephiphrine which is fat burning hormone and creates a thermogenic process.
Side Effects
A lot of these nutrients in large doses cause dizziness and headaches.
On top of that, Testo Extreme Anabolic uses a proprietary blend, we have no boundary over which ingredient is too generously dosed and vice-versa.
There's no real way to tell just how dangerous this product is, so I feel the best way to understand the risks involved in this product is to look at some of the reviews online: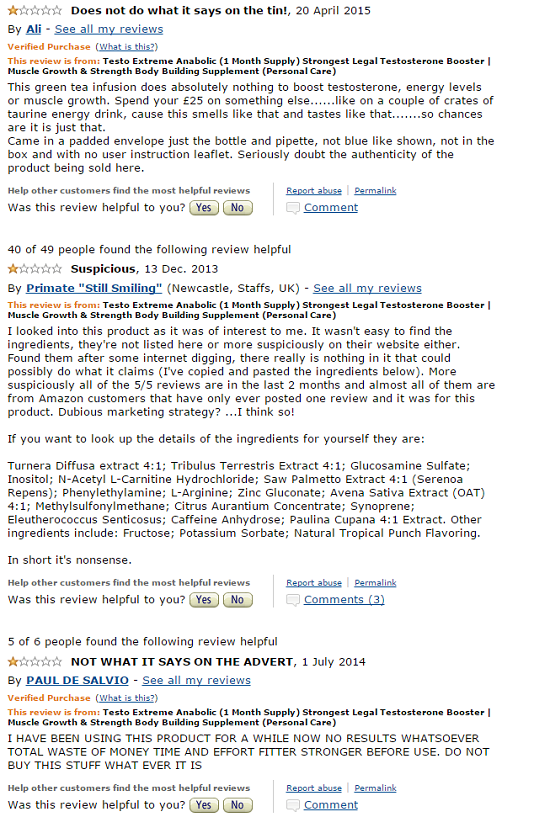 All verified purchases, all saying this product is not what it seems. Do yourself a favor and look elsewhere for a T-booster. You can find my top rated over here.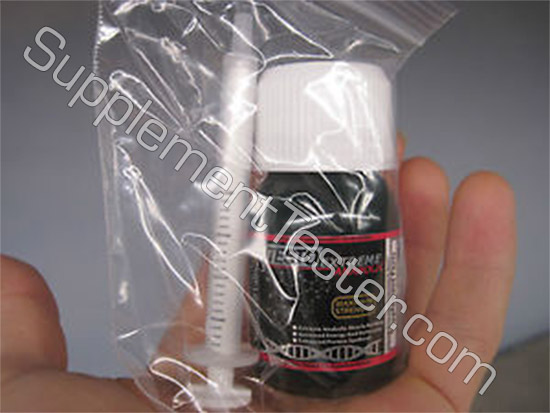 Pros and Cons
Pros
It contains green tea and caffeine, although that's not relevant to a testosterone booster, I need to be fair.
Cons
Has to be squirted under tongue
Fake Amazon reviews
Trying to be controversial to ensnare buyer
Some ingredients actually decrease testosterone
Other ingredients are totally inefficient
– Click Here to see our Highest Rated Testosterone Boosters –
Testo Extreme Anabolic Review Conclusion
I have literally no idea how this product made it to market. It's actually impressive by the amount of anti-testosterone ingredients they've managed to squeeze into this supplement.
The ingredients are not what you want for a testosterone booster, they actually closer to what you want for a fat burner than anything else.
Pretty much all of this product is terrible. If you really want to improve your testosterone levels, I suggest you use one of the T-Boosters I reviewed in My Top 3 Testosterone Boosters article – you can see the full list here.
There are poor ingredients, fake reviews, the ingestion method of the product, the recommended servings a day, the fake testimonials and the scientific reference annotations on the page that leading to no source whatsoever.