For this review, we found a cheap testosterone booster on the market containing some good ingredients. It looks good on the surface, so we were interested in taking a deeper look into it.
You can separate the best products from the budget ones by looking at the dosages of each ingredient – and that's exactly what we'll analyse in this review.
Claimed to promote:
Testosterone
Energy
Strength
This product is called Testo Fusion and is marketed by Reflex Nutrition. Let's take a look: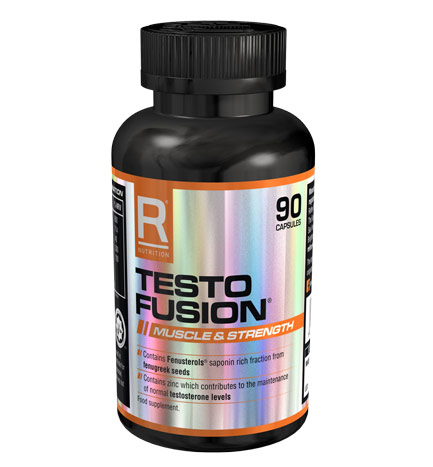 About The Company
Reflex Nutrition have been around for a while – since the 1990's to be exact. But they've never quite reached the level of the bigger brands, such as Optimum Nutrition or USN.
But here's the bad news – they don't deliver to the US.
In fact, the limited list of countries they deliver to is very strange – as we've just mentioned, they don't ship to America, but they do deliver to Hong Kong.
However, the rest of the countries they deliver to are basically exclusively European countries.
Here's the list of placed Reflex Nutrition deliver to: 
Andorra
Belgium
France
Germany
Hong Kong
Isle of Man
Luxemborg
Repiblic of Ireland
United Kingdom
After looking at this list, it's clear why Reflex Nutrition haven't been able to establish themselves as leaders in the supplements industry – because they simply don't provide products to potential customers outside of Europe (apart from Hong Kong).
---
About The Product
Testo Fusion costs £29.99 on Reflex Nutrition's website, which at first seems like a decent price. However, once you look past the surface – you realise one container only provides 15 servings. 
For basically £30, you'd expect to get a month's worth of supplements – not just 2 weeks.
It's even stranger that it's advertised on their website as offering 30 servings. It's not good when a company provides false information to sell you their product: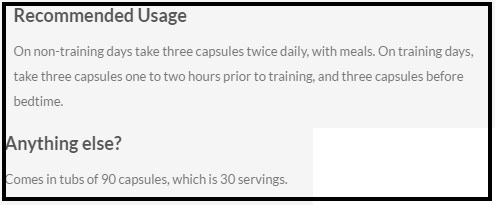 We've seen market leading testosterone boosters offer 30 servings per container, so straight away we're beginning to think Testo Fusion isn't good value for money.
Not only that, Testo Fusion has massive serving sizes of 3 capsules.
No-one enjoys popping that many pills in one go, and it's actually better to spread servings throughout the day – so you're body is always topped up with optimal levels of nutrients, instead of having spikes of dosages at certain times.
---
The Ingredients and How They Work
This is arguably the most important part of this review. In a nut shell; if a supplement's ingredients and dosages are ineffective, then the whole product won't work – it's really as simple as that.
We'll take you through each ingredient in Testo Fusion, so you can see exactly how good it really is.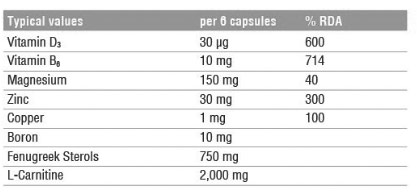 Vitamin D3 
This is one of our favorite testosterone boosting ingredients – it's proven to raise your testosterone levels in dosages of 3,332IU's and above.
However, Testo Fusion only provides 30ug (1,200IU) per day. This means that you're not likely to experience a raise in T-levels by taking this supplement (which is a perfect example of why dosing ingredients correctly is so important).
Zinc 
Zinc plays an important role in your body, when aiming to boost your testosterone levels. This is why such foods as Oyster are known as aphrodisiacs (because they contain great amounts of Zinc).
However, the TUL (tolerable upper limit) for Zinc is 40mg per day – meaning you're at risk of suffering from side effects when exceeding this amount.
This is a problem for Testo Fusion; this supplement contains 30mg of Zinc, so if you consume other foods high in this mineral, you may experience side effects such as nausea and diarrhea.
Fenugreek Seed
This herb has been used for decades in Ayurveda medicine (traditional Indian medicine) to raise libido and testosterone levels.
Reflex Nutrition have added a big 750mg dosage in here, but studies have proven that a dose as small as 100mg can be effective – so they've increased the dosage when it doesn't matter, but haven't added enough of nutrients such as Vitamin D3.
L-Carnitine 
Carnitine is a great ingredient for improving your focus in the gym, while also reducing muscle damage and fatigue.
However, this is more commonly seen in pre workouts, as it's more useful in them. L-Carnitine doesn't have any effect on your T-Levels, so there's not much point of having this in a testosterone booster supplement.
---
---
Side Effects
You might experience a few side effects after taking Testo Fusion – due to it's high Zinc content.
As we've mentioned, the TUL for Zinc is 40mg per day and going over this can lead to side effects. Testo Fusion gives you 30mg Zinc per day, so you'll have to stay away from foods and other supplements containing Zinc to avoid these.
Here's the potential side effects from taking Testo Fusion: 
Nausea (High 30mg dosage of Zinc)
Diarrhea (High 30mg dosage of Zinc)
---
Pros & Cons
Pros
Contains Vitamin D3 and Fenugreek
Cons
Vitamin D3 is underdosed, so likely to be ineffective
High Zinc dosage (30mg) could lead to side effects
L-Carnitine is better suited to pre workout supplements – it has no effect on your testosterone levels
Only 15 servings per container – not good value for money
Doesn't ship to outside Europe (apart from Hong Kong)
---

---
Testo Fusion Review Conclusion
You can see why Testo Fusion is a bit cheaper than the market leading testosterone boosters – because Reflex Nutrition have cut corners by only offering 15 servings per container, and under dosing the most important ingredient inside (Vitamin D3).
As a result, Testo Fusion can't compete with the best products on the market; we recommend spending a bit extra, to get a much better testosterone booster that actually works.