Testo FX is a testosterone booster supplement by AllMax Nutrition, that comes in 30 serving containers at $39.99.
Claimed to promote:
Testosterone levels.
Reduction in Estrogen levels.
We've analyzed this product's ingredient list, to see whether it will deliver on its claims. See for yourself: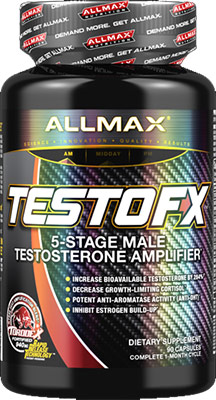 About the Company
AllMac Nutrition are a supplements company that's dedicated to "strict policies of quality in manufacturing", and offering quality products.
However, we couldn't find much more information about the company.
The Ingredients and How They Work
It's great to see a testosterone booster that doesn't hide its ingredients inside any blends – you can clearly see the doses of each individual ingredient in Testo FX, which is great. You should always know exactly what you're putting into your body.
At the top of the ingredient list is Fenugreek, which is one of the best T-boosting herbs you can find. Let's take a look whether the rest of the ingredients in Testo FX are as effective.
See for yourself: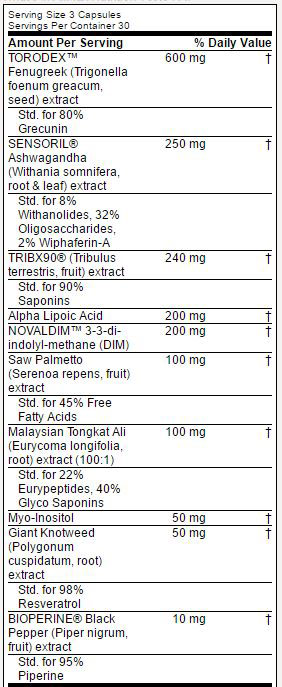 Fenugreek
This herb is the best ingredient in Testo FX and is proven to boost testosterone levels, libido, and even fat loss.
It's most commonly consumed in Indian food – but due to the high fat and salt in these dishes, it's not a good idea to try and consume enough Fenugreek through Indian food.
This is why orally supplementing Fenugreek is the best way to experience its full benefits. It's a great ingredient to look out for when choosing a quality testosterone booster.
Ashwagandha
This is another herb that's been traditionally used in Indian Medicine (Ayurveda) and is a useful ingredient – it's shown to reduce anxiety, stress, and improve strength.
However, it's not shown to enhance testosterone levels in any study. For this reason, it's not key to a testosterone booster.
An ingredient such as Aspartic Acid would've been more beneficial in Testo FX, as it's proven to increase T-levels in numerous studies.
Tribulus Terrestris
This is a herb traditionally used in Indian (Ayurveda) medicine. It's believed to enhance libido and testosterone levels, but there's no evidence that it delivers these benefits.
The only thing it's been shown to deliver is improved erections in infertile men – but there's been no studies to prove it does the same with otherwise healthy men.
However, there's concern that Tribulus Terrestris increases prostate weight, which could lead to severe illness. We recommend that you stay away from this ingredient to avoid this harmful side effect.
An ingredient like Asian Red Panax Ginseng would've benefitted you more here – Red Asian Panax Ginseng's proven to boost T-levels in studies.
Alpha Lipoic Acid
Also known simply as ALA, it's key in energy metabolism (process of generating energy from nutrients). ALA can be consumed through meats, as well as some vegetables and fruits.
However, it's only shown to be effective in studies in doses of 300mg-600mg – there's only 200mg in Testo FX, meaning it's likely to be ineffective at delivering its benefits.
It also has no effect on your testosterone levels, so it's not key ingredient in a T-booster supplement.
Diindoylmethane (DIM) 
This molecule is found mostly in broccoli, kale, and cauliflower (Brassica species of plants).
It's been added to Testo FX due to its ability to prevent the conversion of testosterone to estrogen. However, no natural testosterone booster is strong enough to increase your T-levels enough for your body to begin converting it into estrogen – AllMax Nutrition could've used this ingredient to make you believe it's as strong as steroids (use of steroids can lead to T being converted to Estrogen).
Also, there is also cause for concern when taking DIM – if you consume large amounts of DIM, it can actually promote the conversion of T into Estrogen.
Testo FX contains 200mg of DIM – the usual dose of DIM is set at 100mg in studies, so you might be at risk of suffering from increased estrogen levels with this product.
Saw Palmetto
This is a mix of fatty acids extracted from the Saw Palmetto (AKA. Serenoa Repens) plant. It's sometimes used in testosterone booster supplements as it's believed to increase T-levels and supress prostrate growth.
However, no studies have shown that it actually delivers these benefits. The only benefit it's found to provide is the ability to increase hair growth.
As you can see, this product is ineffective in a testosterone booster supplement.
Eurycoma Longifolia Jack
This is a herb that's used for its ability to improve fertility. It's also believed to improve testosterone levels, but studies have shown that this it doesn't raise T-levels.
But it has shown to improve erections when supplemented for a very long time – meaning you'd be spending alot of money on Testo FX before you experienced better erections.
There are much better ingredients for a testosterone booster supplement out there, such as Oyster Powder – Oyster Powder is proven to improve your T-levels due to containing numerous vitamins and minerals (especially zinc).
Saw Palmetto also comes with risks of side effects, like dizziness, headache, nausea, and diarrhea.
Myo-Inositol
Myo-Inositol is a small molecule that's as important in your body as vitamins and minerals. It's shown to improve fertility in women, in doses as low as 200mg, but has no effect on testosterone levels.
This is a problem – Testo FX only contains 50mg of Myo-Inositol, which means women wouldn't even experience improvements in fertility.
AllMax Nutrition has made a serious mistake in under-dosing this ingredient here.
Giant Knotweed
Also known as Japanese Knotweed, it isn't a very beneficial ingredient to have in any supplement. It's used as an ingredient due to being a cheap source of Resveratrol (the molecule in wine, falsely believed to possess life extending properties).
It's also shown to reduce inflammation in studies, but apart from that, Japanese Knotweed doesn't offer any benefits – especially not any in a testosterone booster.
Black Pepper Extract
This is commonly used to season food around the world, but not many know about the benefits it can provide in a supplement.
Black Pepper Extract improves the absorption rate of other ingredients that it's consumed with – meaning it can enhance the overall effectiveness of a product.
While it doesn't offer any testosterone boosting benefits or is vital to any supplement, Black Pepper Extract is a useful ingredient to have in a product.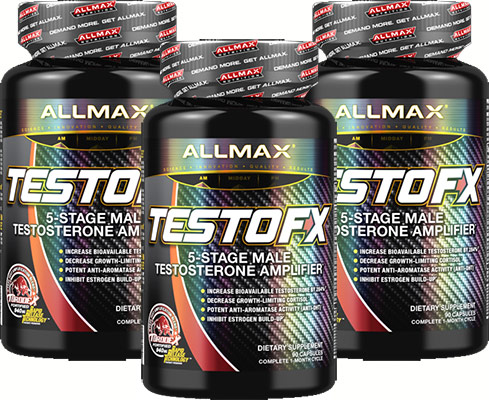 Fenugreek and Ashwagandha are great ingredients in a T-booster, but the other ingredients are either under-dosed or ineffective. 
Check out which ingredients work and which don't in our
– Testosterone Booster ingredients guide – 
Side Effects
There are a few ingredients in Testo FX that can cause side effects, such as Tribulus Terrestris and Eurycoma Longifolia Jack.
We've put all potential side effects in a list for you here:
Increase in weight of prostate (Tribulus Terrestris)
Dizziness (Eurycoma Longifolia Jack)
Headache (Eurycoma Longifolia Jack)
Nausea (Eurycoma Longifolia Jack)
Diarrhea (Eurycoma Longifolia Jack)
Increased Estrogen (DIM)
Not What You're Looking For? Click here for
– Our Top Rated Testosterone Boosters –
Pro's and Con's
Pro's
Fenugreek is a great T-boosting ingredient.
Ashwagandha is a useful ingredient in a supplement.
Con's
Comes with dangerous potential side effects.
Most ingredients are ineffective or under-dosed.
You're not likely to experience a raise in testosterone levels.
Testo FX Review Conclusion
The only real positives about this T-booster supplement is that it contains Fenugreek, which is a great herb to raise testosterone levels. Ashwagandha get's an honorable mention, as it's shown to boost strength and reduce anxiety.
However, the rest of Testo FX's ingredient list is disappointing. There are ingredients that are shown to be ineffective but come with side effects included in this product.
It's even more frustrating that there are ingredients that could've offered some benefits but have been under-dosed, such as ALA and Myo-Inositol.
We recommend looking for T-booster supplements that contain more key ingredients – such as Aspartic Acid and Asian Red Panax Ginseng, which are both proven to raise testosterone levels.