TestoTek v2.0 is a testosterone booster marketed by Tek Naturals. It comes in 30 serving containers, at $69.99.
Claims to promote:
Libido
Testosterone Levels
Muscle Gains
Energy
Fat Loss
This product claims to do many things, but from what we can tell from its ingredient list, it seems to be a copy of our market-leading T-Booster, Testofuel.
About the Company
We hadn't heard of TEK Naturals until just a few years ago. But being a new company doesn't mean it's afraid to take a stand.
The brand's About page refers to it as "the No B.S. Supplement Company." It decries the amount of "nonsense" in the supplement industry and scoffs at how "so many products are thrown together to meet demand."
To that end, we agree with whoever wrote this page. But we're not fans of all the cheap shots it takes at a rival company…
Cheap shots at a rival brand
The remaining copy takes direct aim at a rival when it blabs on about "disingenuous marketing" and "bottles and packaging that are in the shape of a fist."
This obvious shot at Roar Ambition's Instant Knockout is unnecessary – and not the behavior you'd expect of a company claiming to bring "over two decades of nutritional manufacturing to the table."
And despite its blatant attempts at smearing the competition, it's clear TEK Naturals bases its products on those from Roar Ambition.
Lies? You decide
In addition, TEK Naturals' claim to price its products lower than its competitors is not true – TestoTEK v2.0 costs $4.99 MORE than Roar Ambition's TestoFuel (the product TestoTEK is clearly based on).
The Ingredients and How They Work
As we've already mentioned, this product's ingredient list is worryingly similar to market-leading T-Booster, TestoFuel – apart from one or two different ingredients.
We've analyzed Testo Tek's ingredients to see whether it can compete against TestoFuel, or whether it's simply a bad copy.
See for yourself: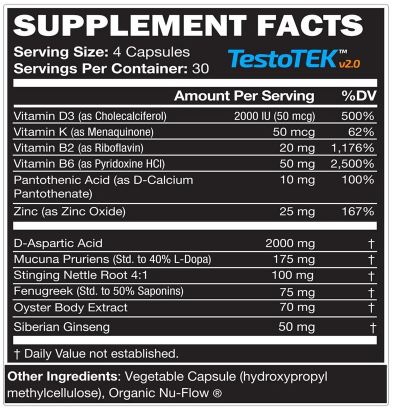 Vitamin D3
Technically a hormone, Vitamin D3 is naturally found in the sun's rays. It comes with numerous benefits, such as increased T-levels, energy, and general health.
However, without the right dose, this ingredient isn't going to have any effect. You need a daily serving of 5000IU for Vitamin D3 to deliver its benefits – unfortunately, Testo Tek only contains 2000IU per serving. This means your body may never get an optimal amount of Vitamin D3.
We recommend looking for a product that contains 5000IU servings of Vitamin D3, so you're always 'topped up' with the best amount of this key ingredient.
Vitamin K
The Vitamin K listed here is actually K2 (or Menaquinone). While not as well-known as some other vitamins, K2 is still an essential nutrient that plays an important role in your ability to produce T.
Vitamin K2 works with Vitamin D3 to not just boost T-levels, but also lower the risk of calcification – a condition which sees excess calcium block the arteries and prevent the flow of nutrients to your muscles.
Foods rich in K2 include eggs, butter and cheese. But the issue is that all of these food are high in fat – no good if you want to bulk up and get (or stay) cut.
For this reason, it's wise to get more K2 from a supp. We've found 15-20mcg of Vitamin K2 to be ideal, but TestoTEK v2.0 uses 50mcg – which is too much.
Vitamin B2
Also known as Riboflavin, Vitamin B2 is a vital nutrient that your body needs to break down proteins into amino acids.
Yet while it supports general health, there is no evidence B2 has any direct effect on testosterone levels.
Vitamin B6
Found in fish, beef, liver and sunflower seeds, Vitamin B6 is another essential nutrient. As it can reduce estrogen levels by up to 30%, B6 is useful T-booster.
B6 deficiency is also shown to cause anemia and depression. And as too much estrogen can cause muscle loss and lead you to develop man-boobs, it makes a lot of sense to include Vitamin B6 in a T-booster.
But whereas 5mg of B6 is enough to help give you the results you want, it seems excessive to include 50mg, as in the case of TestoTEK.
Pantothenic Acid
Pantothenic Acid also goes by the name of Vitamin B5 and is shown to boost fertility in male rats.
However, there's not enough evidence that it's fit for the same purpose in humans. Besides, B5 is found in most food groups. So while it is an essential nutrient, B5 deficiency is rare, which renders supplementation pointless.
Zinc
Tek Naturals has made a big mistake in dosing Zinc. The Tolerable Upper Limit (TUL) for this ingredient is 40mg – meaning you'll experience side effects when taking more than 40mg per day.
As Testo Tek contains 25mg Zinc, this could be unsafe if you already get 15mg or more in your diet.
If you ingest more than 40mg of Zinc in total, you're likely to suffer from side effects such as nausea, vomiting, diarrhea, and potentially kidney and stomach damage.
With this in mind, stick to 10mg Zinc per serving to be on the safe side, but try not to go any higher for a single dose.
SupplementTester's Highest Rated
– Testosterone Booster Supplements Here –
D-Aspartic Acid
D-Aspartic Acid (D-AA) is perhaps the most important ingredient to look for in a natural testosterone booster.
In fact, numerous studies show D-AA may boost T by up to 45.5% in 12 days or more. It also boosts levels of the Luteinizing Hormone (LH) by 46%.
And as LH is a precursor to T production, this is great news for those looking to build muscle and decrease their chances of overtraining.
The standard dose of D-AA is 2000-3000mg. However, we've found doses closer to the middle of that range (2300-2500mg) give us the best results. TestoTEK v2.0 contains 2000mg, which is okay, but not great.
Mucuna Pruriens
TEK Naturals probably include Mucuna Pruriens in this supp for its supposed ability to boost fertility. And there is some evidence to show it can boost T and enhance fertility in men with low sperm counts.
However, there's little evidence it does the same for otherwise healthy males.
Stinging Nettle Root
Combined with other key ingredients, Stinging Nettle Root can raise T. In fact, you'll find it in one our three favorite testosterone boosters.
Nettle Root contains lignans, which bind with the sex hormone binding globulin (SHBG) to free up testosterone in your system.
But yet again, TestoTEK fails on the doses…
This supp holds 100mg of Nettle Root – but in our experience 300mg works best.
SupplementTester's Highest Rated
– Testosterone Booster Supplements Here –
Fenugreek Seed
This herb is a key testosterone boosting ingredient, and is traditionally used to boost libido and testosterone in India and Arabic regions.
This is how it works – a compound called 4-hydroxyisoleucine in Fenugreek regulates glucose metabolism, which keeps your blood sugar levels from spiking. This is important, as a spike in blood sugar can reduce testosterone by up to 25%.
Oyster Body Extract
Along with D-AA and Vitamin D3, Oyster Extract is one of our top T-boosting ingredients. As well as containing 10 times as much Zinc as beef steak, Oyster Extract also plays host to a wealth of other nutrients – 59 to be exact.
These include amino acids, vitamins and fish oils, as well as copper and manganese.
It's fair to call Oyster Extract an all-in-one mineral and multivitamin that boosts T, enhances your libido and improves your general health.
Siberian Ginseng
So far, TestoTEK v2.0 uses mostly great ingredients at doses that are either too low or too high. But the use of Siberian Ginseng sticks out like a sore thumb.
Why? Because it DOES NOT boost testosterone. In fact, it bears no relation to Panax Ginseng (the only true form of Ginseng). The Asian (Panax) form is proven to boost T due its active ingredients – ginsenosides.
On the other hand, Siberian Ginseng contains NO ginsenosides and is not really Ginseng at all.
Shallow marketers often include this useless ingredients in their T-boosters in the hope that you won't notice the difference. Don't let them make a fool of you.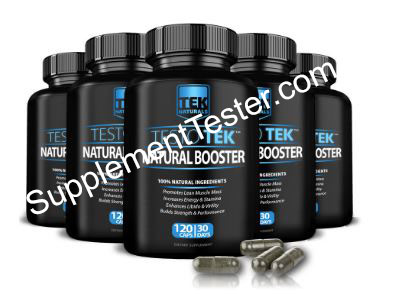 Check out which ingredients work and which don't in our
– Testosterone Booster ingredients guide – 
TestoTek Side Effects
Most of the ingredients in Testo Tek are free from side effects, but there are a few concerns – especially the high amount of Zinc. While 25mg of Zinc is safe in isolation, it could be unsafe if you already get 15mg+ Zinc in your diet.
Here's a list of the potential side effects:
Nausea
Vomiting
Diarrhea
Kidney and stomach damage
Pros and Cons
Pros:
Contains a number of decent ingredients
All-natural and safe
Cons:
Pale imitation of one of our favorite T-boosters
Key ingredients underdosed or overdosed
Pantothenic Acid is a pointless addition to any supp (deficiency is rare)
Siberian Ginseng DOES NOT boost testosterone
Costs more than a superior product
SupplementTester's Highest Rated
– Testosterone Booster Supplements Here –
TestoTek Review Conclusion
Testo TEK v2.0 is a pale imitation of a market leader. Maker TEK Naturals claims to be the "NO B.S. Supplement Company" – but that in itself is B.S.
Not only is TestoTEK v2.0 a blatant copy of another product – it also throws some useless ingredients (i.e. Siberian Ginseng and Vitamin B5) in for good measure.
And while this T-booster does use some great ingredients, most of them are either overdosed or underdosed.
So while Testo TEK isn't terrible, it's both more expensive than – and inferior to – the product it seems to rip off. As a result, we suggest you save money and look elsewhere.