It's a fact of life that we age, and it's also a fact that our testosterone levels drop as we do so. Shockingly, on average your testosterone levels will drop by 10% every decade.
This means less energy, lower mood and worst of all for fitness fanatics, reduced muscle gains in the gym. Which is where products like TestoFuel step in.
A good testosterone booster has the right mix of natural ingredients to raise testosterone and help build muscle, and we're interested to see if TestoFuel is up to scratch.
TestoFuel says that it has a "unique, winning formula" that helps you:
Boost muscle gains – achieve larger, harder muscles.
Enhance strength – lift more weight and make more gains.
Reduce body fat – get leaner and carve out a V-shaped torso.
Lift your mood – gain more energy and drive.
Improve your sexual performance – increase your sex drive and sperm count.
According to the product website, TestoFuel does all this by performing three key processes in the body:
Supports testosterone production – increases the Luteinizing hormone to stimulate release of more of the male hormone
Promotes free testosterone – makes more testosterone available in your system
Blocks estrogen – suppresses the female hormone to enhance your dominant male traits
TestoFuel boasts good reviews on many fitness sites and forums, with users experiencing clear results. And now we're itching to see whether it lives up to the hype…
The company
TestoFuel has been around since 2012, it was one of the first premium direct to consumer natural testosterone boosters on the market. For the first few years, it dominated the market place and was the number 1 product around.
Since then, the market has been flooded with various other internet only testosterone booster brands. Many of these brands copied TestoFuel with similar names and similar ingredients.
Looking at the brand now, 10 years on. We're pleased to see that the formula has been updated several times and is using the latest ingredients. This product is still going strong and is till the top choice for many customers.
The product is produced in the USA and UK under strict cGMP guidelines.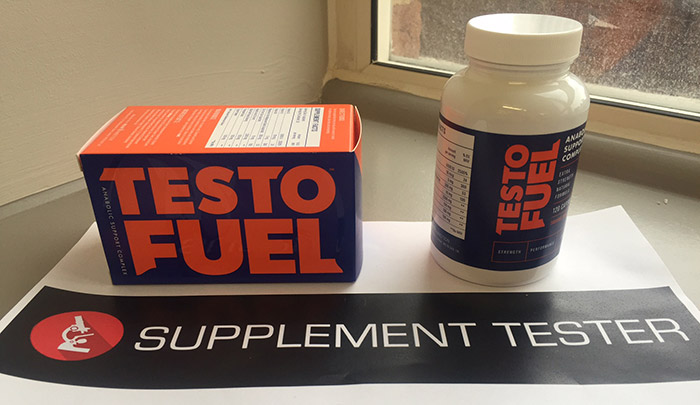 "Buy direct to make sure you get the best"
You can buy TestoFuel from their website TestoFuel.com where the offer the best price and deals. They also now sell on Amazon for customers who prefer to buy on there.
TestoFuel send worldwide from its depots in the USA and UK to ensure fast delivery wherever you are in the world.
Used by a four-time Mr Universe
One of the stars of Pumping Iron (1977) alongside Arnold Schwarzenegger, Robby Robinson is a bodybuilding legend.
Now in his seventies, "The Black Prince" is still in better shape than many lifters half his age. And he says TestoFuel plays a big role in his success…
Read more about Robby Robinson's experience with TestoFuel at: www.testofuel.com/our-testimonials/
Ingredients and how they work
The directions on the TestoFuel label say you should take just one capsule four times a day, with no need to cycle on and off.
The four daily servings are enough to give your body a consistent supply of nutrients that raise and maintain testosterone.
There are no proprietary blends in TestoFuel, which means you know exactly what you're getting for your money.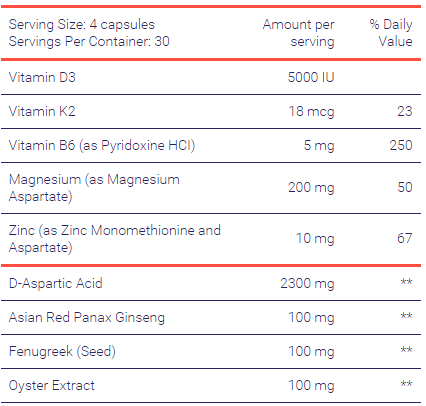 D-aspartic acid (D-AA)
This amino acid reacts in the brain to stimulate the release of Luteinizing hormone, which is a precursor to testosterone.
Studies have shown that taking D-AA over a period of 12 or more days can increase testosterone levels by just under 50% [1].
Vitamin D3
Actually more of a hormone than a vitamin, D3 is an essential nutrient that's synthesized in the skin via sunlight.
In most cases, we don't get a lot of Vitamin D3 due to working indoors or living in naturally overcast countries. Vitamin D deficiency reduces free testosterone, but research show D3 supplementation reverses this trend.
In one study, D3 increased testosterone in men by an average of 25% of the course of one year [2].
Oyster extract
As well as being a potent source of zinc – 10 times the amount of than you would find in a steak – oyster extract is rich in all 59 trace elements needed by the body. These include amino acids, vitamins and other nutrients to support the body.
The zinc in oyster extract helps your brain produce more of the Luteinizing Hormone, a main testosterone precursor [3].
All of these nutrients come together to make oyster extract a powerful aphrodisiac and test booster. You won't often see oyster extract in testosterone boosters – ingredients like this really set TestoFuel apart.
Fenugreek
This herb helps testosterone flow freely in your bloodstream.
It achieves this by lowering blood sugar levels in your body, which then inhibits the Sex-Hormone Binding Globulin (SHBG) [4].
SHBG is your enemy because it robs testosterone of its anabolic effects [5]. Fenugreek reverses this process to help boost muscle mass.
Read more about TestoFuel's ingredients at: 
https://www.testofuel.com/ingredients/
Magnesium
Magnesium deficiency can cause muscle fatigue, cramps, soreness and tension [6].
By contrast, getting more of the mineral in your diet boosts both free and total testosterone levels in athletes and sedentary individuals [7]. It also contributes to muscle growth AND faster recovery after a tough workout.
Zinc
Research shows strong links between zinc deficiency and low testosterone [8]. When the body's zinc levels are too low, this inhibits androgen receptors, lowers testosterone and suppresses the effects of any of the male hormone left in your system.
On the other hand, one study showed subjects who supplemented their diets with zinc raised testosterone by up to 84% [9].
Asian red Panax ginseng
Panax ginseng is shown to increase sex hormones which stimulate the growth of testosterone [10]
Research also shows ginseng boosts energy and reduces muscle damage [11] to help your muscles grow bigger – faster.
In addition, Panax ginseng boosts mental and physical performance under stress [12]. This makes it great for increasing your strength and drive in the weight room.
Vitamin B6
B6 is a vital nutrient that helps reduce levels of estrogen (the female hormone) in your body [13].
This is great news as too much estrogen can stop your body making testosterone. As a result, getting more B6 in your diet helps you gain muscle, ramps up your energy, and stop you developing the dreaded man-boobs (a symptom of high estrogen).
Vitamin K2
One of testosterone's unsung heroes, Vitamin K2 is shown to increase testosterone in the blood plasma and testes [14].
This vitamin is a worthy addition to any testosterone booster in its own right.
But K2 really comes into its own when paired with Vitamin D3…
The mix of K2 and D3 prevents calcification (the build up of calcium in your arteries) [15]. This not only helps keep your heart healthy, but also leaves D3 free to flow around your body and stimulate more testosterone.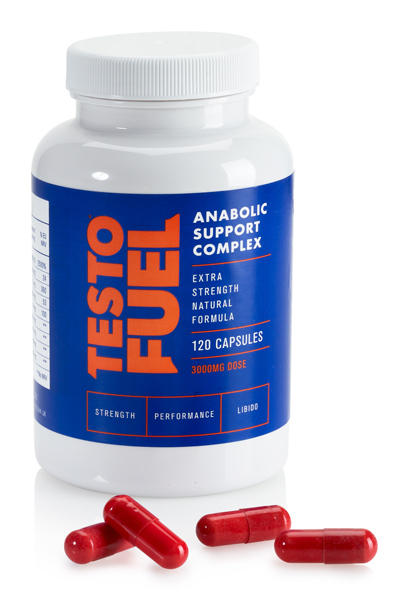 Read more about TestoFuel's ingredients at: 
https://www.testofuel.com/ingredients/
What's missing?
Nothing – and that's what I love about TestoFuel. A glance at the label tells me this product contains nine of my favorite testosterone-boosting ingredients. But then I tried it and got great results. As it stands, this is one of my favorite testosterone boosters.
TestoFuel side effects
As TestoFuel contains all-natural and safe ingredients, it's unlikely you'll experience side effects, unless you have allergies to any part of the formula.
There are no banned substances in TestoFuel either, so you'll have no problems passing a drugs test.
What people are saying about TestoFuel
I did some research on TestoFuel and found a lot of guys on forums and on YouTube love this product. These two guys really bring home the benefits:
Tons of people on YouTube, forums and other websites all have great things to say about TestoFuel.
Discover what other users have to say about TestoFuel here: www.TestoFuel.com/our-testimonials
TestoFuel pros and cons
Pros:
Increases muscle growth and recovery – key ingredients like vitamin D3 and D-aspartic acid are proven to boost T.
Ramps up your strength, sex drive and self-esteem – transform your body and feel amazing.
Safe and natural – side effects are highly unlikely.
No proprietary blends – clear dosage info shows you exactly what you're paying for.
Worldwide shipping – fast, next-day shipping from centers in USA and UK.
Discreet packaging – TestoFuel ships in a plain wrapper to keep your purchase private.
Cons: 
Premium priced
Not suitable for vegans or vegetarians
Review conclusion
After 10 years, TestoFuel is still one of the best testosterone boosters on the market. It continues to lead the way with the regularly updated formula containing proven ingredients.
We found hundreds of happy customer reviews on their website, YouTube, Google and Amazon. It's clear that it has a strong user base, we found many customers that have been using the product for years and are still making gains.
There are many copies of TestoFuel with similar names and similar formulas but none of them come close to the original and the best.
If you are looking for a good all around testosterone booster, we highly recommend TestoFuel. It has stayed on our top 3 list for years and will probably be on their for years to come.
To find out more or to buy, visit www.TestoFuel.com
My personal TestoFuel results
What did I buy?
For this review, I bought the three-month package from the TestoFuel website. It came with an extra month's worth of TestoFuel.
My experience
When I first started taking TestoFuel, the main thing I noticed was a surge in motivation.
I felt more energetic and was actually excited when it came to getting ready for a workout.
After a month is when you'll start seeing a difference in your lifts. For me, I was more aggressive in tackling weights – I was upping the weights every session and recovering a lot faster – and this effect seemed to snowball over time.
By the third month, I was going the gym 6 times a week and looked the best I had in years.
At the end of month 4, I had more energy, strength and  muscle mass. I had even broken my PR for bench press which I set in my early 20s, and felt more confident and better in myself.
If you're in a slump, and looking for motivation and faster gains, I strongly suggest taking TestoFuel for a few months.
TestoFuel is one of our top-three testosterone boosters. Find out more here.
References
*Publishing, H. (2018). Testosterone, aging, and the mind – Harvard Health. [online] Harvard Health. Available at: https://www.health.harvard.edu/newsletter_article/Testosterone_aging_and_the_mind [Accessed 11 Oct. 2018].