TestoFuel ($65 per bottle) and Nugenix ($58) are both premium testosterone boosters. We're reading good things online about Nugenix, so we're keen to see how it shapes up against the market leader.
Both TestoFuel and Nugenix claim to help you:
Boost testosterone
Enhance your sex drive
Feel stronger
TestoFuel also promises to help raise your energy levels.
But despite claiming to offer most of the same benefits, a quick scan of the packaging for TestoFuel vs Nugenix shows they're far from identical. And the same goes for the two companies that make the different products…
About The Companies
Roar Ambition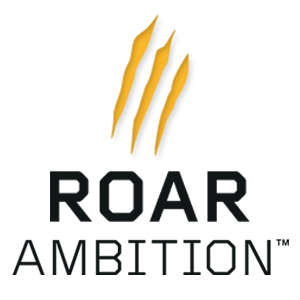 Roar Ambition is a respected UK-based supplement company. It began life in 2012 as a small enterprise, but now sells to hundreds of thousands of customers worldwide.
TestoFuel is the company's best-selling product, although it also makes and sells 4 Gauge (pre-workout) and Instant Knockout (fat burner).
Where does Roar Ambition ship from?
Roar Ambition ships worldwide from dedicated distribution centers in the US and UK. According to the company rep we spoke to, this ensures your TestoFuel order arrives faster, wherever you are in the world.
Roar Ambition also offers next-day delivery on all orders made before 2pm EST in the US, or before 2pm GMT in the UK.
Where can you buy Roar Ambition products?
You can only buy through RA's official product websites. You can't buy TestoFuel at GNC or Amazon.
The company says selling direct cuts the cost of paying wholesalers and retailers, which in turn allows the team to plow all its time and money into making supplements that never compromise on quality.
So TestoFuel's price may be high compared to some T-boosters. Yet the blend of research and quality ingredients make it a truly high-grade product.
"The most effective and well researched formulas on the market"
We can see why some might find this limited availability frustrating – after all, it's so easy to find Nugenix and other brands online.
But after doing a little digging, we found RA's control of distribution allows it to pass savings on to you.
When you buy TestoFuel, you get peace of mind in knowing you're getting the most up-to-date version of the product at any time.
Find out more about Roar Ambition's shipping policies on the product website: www.TestoFuel.com
---
Direct Digital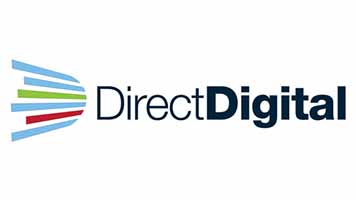 North Carolina-based Direct Digital is the company behind the Nugenix testosterone booster. It also owns the Instaflex, Lumiday and Luminite brands.
The company claims to be "leaders in marketing." But despite its 'direct' name, you can find DD products "in many popular retail stores nationwide."
Unlike Roar Ambition, Direct Digital does not sell Nugenix outside the US or Canada.
Who sells Nugenix?
Nugenix is available to US and Canadian customers in several physical and online stores in North America.
You can learn more about Direct Digital at: www.directdigitalllc.com. 
---
TestoFuel Vs Nugenix: The Ingredients and How They Work
The best way to judge how safe and effective a product is to take a look at the ingredients.
There's so much hype and pseudoscience in the industry that knowing your stuff lets you see past all the marketing tricks to find the right testosterone booster for you.
And a quick look at the ingredients in this shootout reveals TestoFuel doesn't contain proprietary blends, but Nugenix does.
Recap: A proprietary blend is a sub-formula that lists ingredients, but not doses.
Take a look: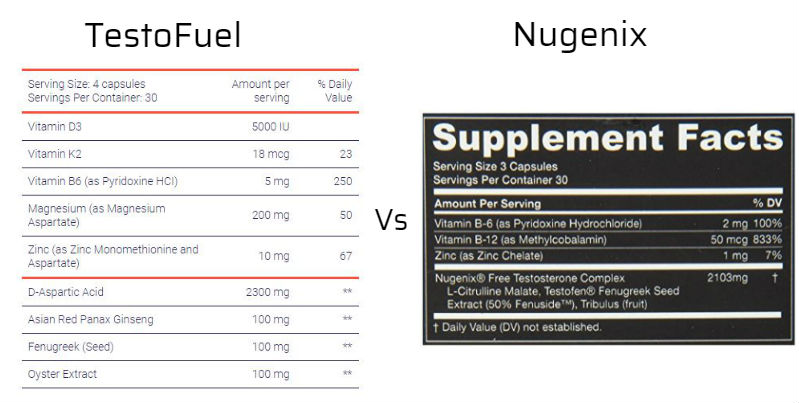 Shared Ingredients
Despite being different products, you'll find some of the same ingredients in TestoFuel vs Nugenix…
Vitamin B6
Also known as Pyridoxine, Vitamin B6 is proven to help reduce estrogen and raise testosterone to boost your energy levels and improve your mood.
You'll find B6 in several foods, including fish, beef liver, starchy vegetables (esp. potatoes), and fruit. However, we advise taking more of it in a supplement to help keep your T-levels high.
In our experience, the optimal dose of B6 for boosting T is 3-5mg. So whereas TestoFuel uses more or less the ideal amount, Nugenix contains less than half what you need to increase testosterone.
Zinc
Research shows Zinc helps your body create more of the Luteinizing hormone (LH) to boost T and promote muscle gains.
Zinc deficiency is shown to not only reduce testosterone, but also increase fat and lower your mood. And as mood affects your body's ability to produce T, it's even more important to get enough of the mineral in your diet.
However, experts estimate around 2 billion people around the world don't get enough Zinc. This could be due to reasons beyond your control, such as eating food grown in Zinc-deficient soil.
With this in mind, it may wise to ensure you get your fill of Zinc in supp form.
How much Zinc boosts T?
To boost testosterone, we recommend a dose of 8-11mg if combined with Zinc-rich Oyster Extract. In supplements without Oyster Extract, we recommend doses of up to 30mg.
As TestoFuel contains of a healthy dose of Oyster Extract, its extra dose of 10mg is near enough ideal. On the other hand, Nugenix contains just 1mg of Zinc, which falls well short of the optimal dose for boosting T.
Fenugreek
Fenugreek is found almost exclusively in Indian cuisine. Studies show the herb boosts testosterone, enhances sex drive and raises sperm count in men.
It works by inhibiting the sex hormone binding globulin (which strips testosterone of its muscle-building and libido-enhancing power).
So why not just eat a lot more curry?
While Indian food tastes awesome, much of it is rich in fat. As a result, it's best to take Fenugreek in a supplement if you want to boost T.
Over the years, we've found 100-150mg of Fenugreek to be the optimal amount to raise testosterone. So whereas the amount in TestoFuel falls (just) within this range, there's no way of knowing how much of the herb Nugenix contains.
This is because Direct Digital includes Fenugreek as part of a proprietary blend – and as a result, you can't judge how useful it is.
Unique Ingredients
Now you've find out what TestoFuel and Nugenix have in common, let's go through what sets them apart…
TestoFuel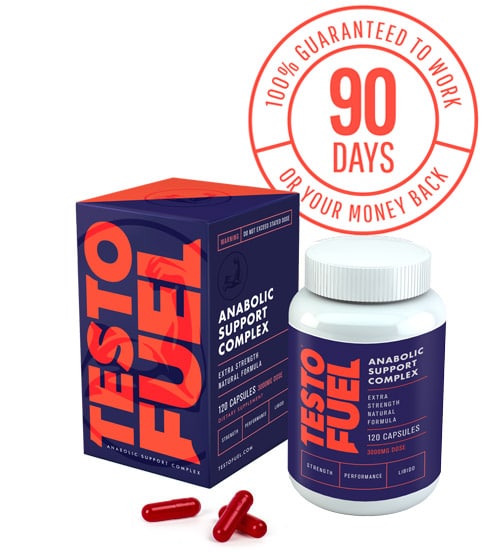 Vitamin D3
Commonly known as the "sunshine vitamin", Vitamin D is an essential nutrient that your body usually absorbs through the skin.
More of a hormone than a vitamin, D3 is also proven to boost testosterone. And along with D-Aspartic Acid and Oyster Extract, D3 is one of the most important ingredients for this purpose.
Why you may not be getting enough Vitamin D
The problem is that millions of people don't get enough Vitamin D. This could be due to a lack of sun as a result of spending long hours in an office, or it could come down to living in an overcast climate.
With this in mind, it makes sense to take more Vitamin D in supp form. Research shows daily supplementation of Vitamin D3 (at a dose of 3000-5000 IU) helps boost testosterone.
For this reason, it's good to see TestoFuel contains an optimal 5000 IU of Vitamin D3.
D-Aspartic Acid
D-Aspartic Acid (D-AA) is an amino acid which is naturally produced in your body. It's present in the testes, pituitary and pineal glands – all of which play a role in testosterone production and sexual function.
D-AA works with your central-brain receptors to release the Luteinizing Hormone (LH) to boost natural testosterone levels. This in turn promotes increases in lean mass, muscle growth, size and strength.
Asian Red Panax Ginseng
Also known as True Ginseng, Panax Ginseng is a potent T-booster, as well as a libido and fertility enhancer.
Many herbs from Asia are supposed to have healing power. But in many cases, these claims are debunked by modern science.
But Panax Ginseng really does do what its users have claimed for thousands of years.
It works by reducing insulin in the body, which then helps raise T.
Oyster Extract
Oyster Extract is rich in 59 essential nutrients, including Magnesium, Iron, Vitamin C and Selenium.
The seafood is also rich in Zinc – in fact, it contains 10 times as much as a portion of beef steak.
As Zinc helps your brain produce more of the Luteinizing hormone, it comes as no surprise to find at least two studies on professional athletes show Oyster Extract boosts testosterone.
But its rich nutrient profile also helps maintain general health and mood. This indirectly helps your body maintain healthy levels of the male hormone to boost strength and allow your muscles grow larger.
---
Nugenix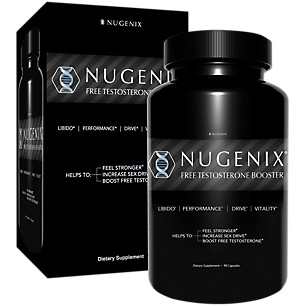 Vitamin B12
Vitamin B12 is another vital nutrient found in eggs, milk, fish and more. It's a well-known energy booster, but it can also improve brain function and raise metabolism – which is why it works well in some of the best fat burners on the market.
But we don't get why Direct Digital chose to include it in their Nugenix T-booster.
Why? Because other than supporting general health (which can indirectly affect T), there's no evidence B12 boosts testosterone.
L-Citrulline Malate
L-Citrulline Malate is a dietary amino acid with a great rep in the world of sports nutrition.
As a precursor to L-Arginine, it helps your body produce nitric oxide to dilate your blood vessels. This then sends more vital nutrients to your muscles to ensure they grow larger, faster.
This amino also helps reduce more soreness and improve endurance, which is why you'll find it some of the best pre-workouts on the market.
We suspect it's included here for its ability to improve blood flow (and therefore erection strength). But in reality, L-Citrulline does not increase testosterone and we're a little baffled to find it in the Nugenix formula.
Tribulus
Tribulus Terrestris (or just Tribulus for short) is a herb with a long-discredited reputation as a testosterone booster.
It became famous in the 1970s after Bulgarian weightlifters claimed to use the herb as a legal way to improve performance. However, this was likely a ruse to hide the use of anabolic steroids among athletes behind the Iron Curtain during the Cold War.
Since then, Tribulus has been the subject of several different studies to determine its T-boosting potency. Despite this, there's still no conclusive proof Tribulus boosts testosterone, increases lean mass, or improves power output.
We recommend you ignore Tribulus and spend your money on something proven to be more effective.
– Learn more about TestoFuel's ingredients here – 
or
– Learn more about Nugenix's ingredients here – 
Side Effects
TestoFuel
TestoFuel contains 9 all-natural ingredients and is safe to take. As a result, you're unlikely to experience any side effects.
Nugenix
Nugenix is generally safe. However, some research links Tribulus to the following possible symptoms:
Nausea
Abdominal pain
Flatulence
Constipation
Enlarged prostate
Pros and Cons
TestoFuel pros:
All-natural ingredients are unlikely to cause side effects
Contains pretty much the perfect doses of some great ingredients
Honest formula with no proprietary blends
Dosed and made in the US and UK for your safety
Huge number of positive online reviews
Comes with a 90-day risk-free guarantee
Buy using credit/debit card, PayPal, or Amazon Pay
Available to buy in US dollars, British pounds, Euros, or Australian dollars
Nugenix pros:
Contains a handful of decent ingredients
Slightly cheaper than TestoFuel
TestoFuel cons:
Costs a little more than Nugenix
Only available from the product website: www.TestoFuel.com
Nugenix cons:
You have the right to expect a better product for $58
Not enough B6, Zinc, or Fenugreek to boost testosterone
Vitamin B12 does not directly affect T
L-Citrulline Malate would be more useful in a pre-workout
Proprietary blend hides vital dose info
Tribulus does not boost testosterone
Tribulus can cause nausea, stomach cramps, constipation and could even enlarge your prostate
Only available in US and Canada
Fewer payment options
Conclusion: TestoFuel Vs Nugenix
While these two product claim to offer the same results, TestoFuel is by far the better T-booster.
Both products do share a few good ingredients – we're always pleased to see B6, Zinc and Fenugreek in any T-booster. But Nugenix pales in comparison to TestoFuel in every respect.
Yes, it costs around $7 less than TestoFuel, but this is the best thing we can say about it. The good ingredients in Nugenix are either underdosed or have their dose info hidden behind a proprietary blend – and for $58, you have the right to expect much more.
But for just an extra $7, you can buy TestoFuel and get an infinitely better product. The Roar Ambition T-booster is packed full of great T-boosting ingredients at near enough the optimal doses to not only boost testosterone but also transform your body.
Discover more about this awesome T-booster at www.TestoFuel.com