You're probably here because you've narrowed down your choices to two T-Booster supplements – TestoFuel and Cellucor P6 Black.
If you are, then you've come to the right place. We've analyzed both products, to see which one is better – to save you time and money, so you can get in the gym and make muscle gains.
TestoFuel claims to promote: 
Energy
Strength
Focus
Muscle gains
T-levels
Cellucor P6's claims to promote: 
Strength
Virility
Muscle Size
T-levels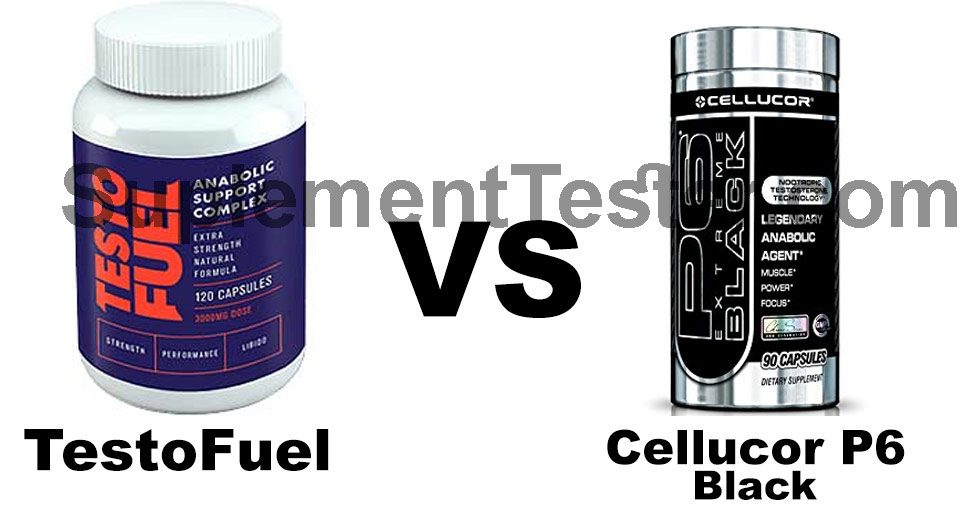 About the Companies
TestoFuel is made by Roar Ambition, a premium supplements company. These guys are all-about quality over quantity, only offering 2 products on the market – a testosterone booster and a fat burner.
Roar Ambition are endorsed by some big names in the sports industry – including Robby Robinson (Former Masters Mr. Olympia, golden era legend), and Diego Sanchez (UFC Fighter).
We've had good experiences with them before, and from what we've read online, others seem to like them too.
————————————————————————————
Cellucor P6 Black is marketed by Cellucor, a well-known supplements company. They sell a range of products, from Amino Acids to fat burners.
Cellucor sponsor various athletes, including Jen Jewell, and Craig Capurso.
The Ingredients and How They Work
Why are people comparing TestoFuel and Cellucor P6 Black? Well, they both contain a number of the same ingredients – but it's the dosages in each that're different.
Basically, it's the dosage of an ingredient that makes it effective. You could have the best ingredient in the world, but if it's not optimally dosed, then you won't experience its benefits – it's as simple as that.
So we've analyzed the ingredient lists of both products, to see which one is better overall.
Take a look: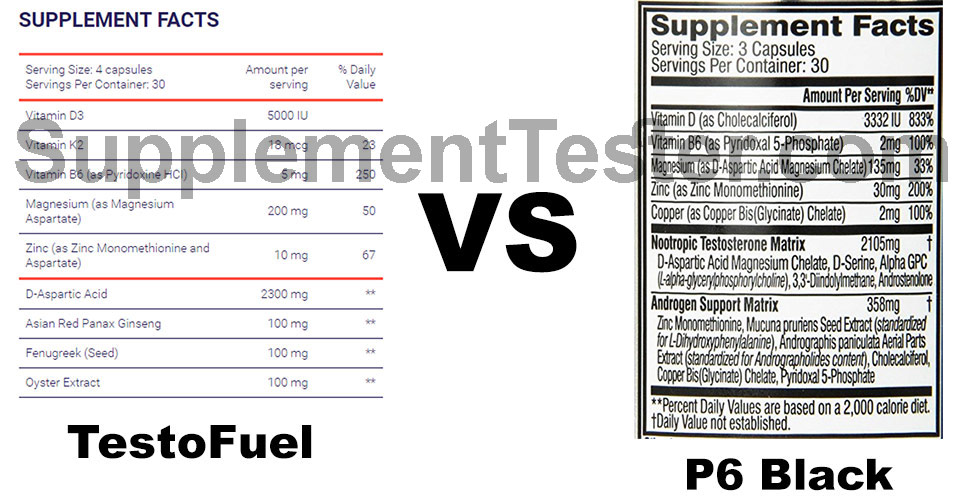 ---
Vitamin D3
This is technically a hormone, and is naturally absorbed through the sun's rays. So why should we supplement Vitamin D3? Well, unless you're literally outdoor all day, and are relying on the weather being constantly great, then you don't get enough Vitamin D3 from the sun's rays.
It's proven to boost testosterone and energy levels, as well as your immune system. So what's Vitamin D3's optimal dose? Studies have shown that a dose of 3332IU's spread throughout the day, is the best dose to raise T-levels.
TestoFuel – TestoFuel contains 5000IU, which allows your body to always be 'topped up' with optimal amounts of Vitamin D3. So it gets full marks here.
P6 Black – This offers a 3332IU dose of Vitamin D3, which is the optimal amount.
Draw
---
Zinc
This is an essential mineral that supports testosterone levels. It can also improve your mood, with Zinc being used to successfully treat depression in studies.
But there's one thing to watch out for – the tolerable upper limit for Zinc is 40mg, so you should avoid consuming more than this or risk experiencing side effects.
TestoFuel – This contains 10mg Zinc, which is an effective dose – while keeping you safe from potential side effects and the 40mg limit.
P6 Black – Cellucor's product contains 30mg of Zinc, which could put you at risk from side effects – especially if you're consuming other foods high in this mineral.
Winner: TestoFuel
---
D-Aspartic Acid (DAA)
This amino acid is proven to increase testosterone and growth hormone (HGH) levels, as well as muscle gains.
How? Well, it encourages your brain to release hormones, including luteinzing hormone (LH) 0 LH stimulates the testes to produce testosterone.
What's the optimal dose? Studies have shown that doses between 2,000mg-3,000mg will deliver the best results.
TestoFuel – TestoFuel contains an optimal 2,300mg of D-Aspartic Acid, meaning it'll be effective at raising your T-levels.
P6 Black – This product contains D-Aspartic Acid in a proprietary blend, so no-one knows the exact dosage.
The whole 'Nootropic Testosterone Matrix' blend is 2,105mg, so it's looking unlikely that there'll be an optimal amount of DAA contained in P6 Black.
Winner: TestoFuel
---
Other Ingredients 
Here's where TestoFuel and P6 Black really differ. They both contain ingredients that are unique to each.
We'll take you through the rest of TestoFuel's ingredients first:
Asian Red Panax Ginseng – This is known as the 'true' ginseng, due to it being the most beneficial and researched type in the plant family.
Studies have proven it's effectiveness as a T-Booster, as well as it's ability to strengthen erections and cognition (alertness, focus, and memory).
Fenugreek – A herb that's popular in India and Arabic regions, it's been used for centuries to boost testosterone – and for good reason.
Studies have shown that it raises T-levels and libido – great benefits in a T-Booster supplement.
Oyster Extract – Oysters are one of the best natural sources of Zinc, and are even a great source of multivitamins. This ingredient has shown to boost testosterone in numerous studies – which is the reason Oysters are known as an aphrodisiac.
————————————————————————-
Here's P6 Black's other ingredients:
Mucuna Pruriens – This is the only remaining ingredient in P6 Black that's worthy of a mention. Why? Because it's shown to reduce prolactin levels in men (which can lower testosterone levels).
Mucuna Pruriens can also reduce cortisol levels (cortisol has proven to reduce T-levels in men). But here's where the problems start.
Cellucor have added Mucuna Pruriens into a proprietary blend titled 'Androgen Support Matrix'. Why's this bad? Well, you don't know the exact dose of any ingredients inside these blends, so there could be a minimal amount of Mucuna Pruriens contained – meaning it would be ineffective.
Winner: TestoFuel
---
---
Side Effects
TestoFuel:
Here's one of our favorite things about TestoFuel – it didn't cause any side effects when we used it. Why? We think that it's due to only containing 100% natural ingredients – and after reading other reviews and YouTube video reviews, others seemed to agree.
————————————————————–
P6 Black: 
The main concern we have about P6 Black, is the high dose of Zinc contained. As we've mentioned, the safe limit for Zinc is 40mg – P6 Black contains 30mg, which is worryingly close to that, so you'll have to avoid foods high in Zinc when taking it (such as beef, lamb, yoghurt, chickpeas, and chicken).
Here's the potential side effects from consuming too much Zinc:
Nausea (high 30-40mg dose of zinc)
Diarrhea (high 30-40mg dose of zinc)
Itching (high 30-40mg dose of zinc)
Tingling (high 30-40mg dose of zinc)
Winner: TestoFuel
---
TestoFuel v P6 Black Review Conclusion
Both TestoFuel and P6 Black have similar ingredient lists. But their not identical, which makes a big difference.
After analyzing both ingredients, P6 Black's 2 proprietary blends let's it down – it contains numerous ineffective ingredients, which proves that quality is better than quantity.
TestoFuel is all-about quality over quantity, which we really like. It contains fewer ingredients than it's rival, but every ingredient plays a part in raising testosterone levels – which is the aim of the game here.
Ultimately, it's TestoFuel that comes out on top.
– Overall Winner:

TestoFuel

–