If you've been searching for testosterone booster supplements, then you'll have already seen TestoFuel and Test Freak; their both big names in the market, and it's no surprise that you've come looking for the important answer…
TestoFuel vs Test Freak: Which Is Better?
Well, you'll be glad to know that we'll be taking you through everything you need, in order to determine a winner yourself. We'll give you the tools, but ultimately it'll be up to you to decide.
Take a look:
About The Companies
Roar Ambition 
Roar Ambition are a premium supplements company that're well known for marketing a range of leading supplements; from pre-workouts to fat burners, and of course, testosterone boosters.
We like that Roar Ambition don't just pump out countless products every year. Instead, they produce 3 supplements but update their formula's, so you're always getting the most up-to-date nutrients that work.
We've heard great things about their customer service, but we haven't had to deal with them yet – which is good news.
It's clear that TestoFuel is a well-respected product, and it's hard to find a bad review of it online. So we're interested to see how it competes against another big supplement.
PharmaFreak 
Like Roar Ambition, PharmaFreak are a big name in the supplements industry. Their products, such as Ripped Freak and Anabolic Freak have gained great reputations, and Test Freak is following nicely.
As a result, we're not surprised that people are starting to compare this product to other highly-rated testosterone boosters. You always want the best product, so let's see how it compares to TestoFuel below…
The Ingredients and How They Work
In this section, we'll start by examining the ingredients that both TestoFuel and Test Freak have in common. After that, we'll then see which product has the best unique nutrients.
See for yourself: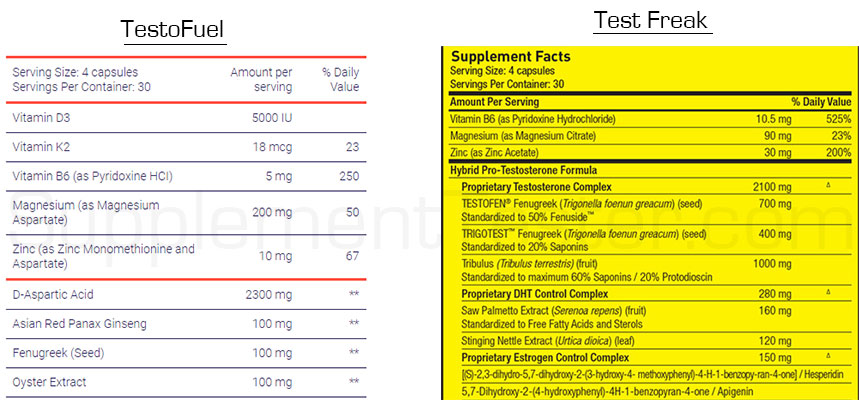 Fenugreek Seed Extract
We're glad that both testosterone boosters contain fenugreek seed extract, as it's proven to raise your test levels and libido – making it a perfect addition to any test booster supplement.
But the problem with Test Freak, is that fenugreek seed extract is part of a proprietary blend; this means that you're not shown the exact amount of this nutrient inside Test Freak, which is a problem as the dosage determines how effective the ingredient is.
As a result, we can't clarify whether fenugreek seed extract will be effective in Test Freak.
Roar Ambition have played things better with TestoFuel; they haven't added any proprietary blends in their test booster, showing you the exact dosage inside, which is optimal.
Ultimately, this means that TestoFuel has drawn blood first in this battle vs Test Freak.
Zinc
You can't deny that zinc is an important mineral, as it's classed as an 'essential' mineral important for our well-being.
However, not many people know that zinc is able to support healthy testosterone levels. So we're happy that both TestoFuel and Test Freak contain zinc.
But it's also important to know that zinc has a TUL (tolerable upper limit); studies have shown that consuming over 40mg zinc per day can cause side effects.
Test Freak contains near this limit at 30mg, meaning you shouldn't consume many foods that are high in zinc when taking it. But TestoFuel contains a safer 10mg zinc, which studies have shown is still effective at supporting your T levels.
However, it would be unfair to give TestoFuel the advantage here, as Test Freak won't cause side effects, if you don't consume other foods high in zinc.
So while TestoFuel is more likely to keep you safe, we'll call this a draw.
Unique Ingredients
That's where the similarities end with TestoFuel and Test Freak. From now on, we'll be looking at which product has the better unique ingredients, so you can see the real difference between them.
Ultimately, it's the nutrients inside supplements that determine how safe and effective they are. So you'll see both products in their true colors by the end of this review.
TestoFuel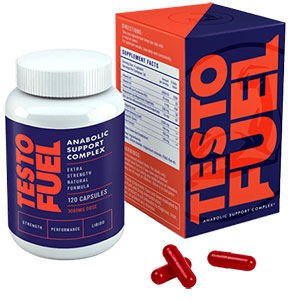 Vitamin D3 
If you're looking to raise your testosterone levels, as well as reduce fatigue & improve your general health, then Vitamin D3 is the complete package.
In fact, if you go to the doctors complaining about fatigue, then they'll often encourage you to consume Vitamin D3 supplements.
Why? Because most people don't get enough Vitamin D3 from sunlight, as you're often hidden in offices during work.
In case you're wondering, Vitamin D3 is synthesized by your skin when exposed to sunlight; this means that your body technically creates it, making it a hormone.
But it's important to check that test boosters contain an optimal dosage of Vitamin D3. Fortunately, Roar Ambition have done their homework and added the optimal 6,000mg in TestoFuel.
Great job here.
D-Aspartic Acid 
Also known as DAA, this has shown to significantly raise your T levels by over 40% when consumed in dosages between 2,000mg-3,00mg.
You can't argue with these studies, so we consider DAA to be a key addition to any natural testosterone booster.
Again, TestoFuel lands more punches here, as it contains an optimal 2,300mg D-Aspartic Acid.
Asian Red Panax Ginseng 
As its name suggests, this is grown in Asia (most commonly Korea and China), and has traditionally been used to create medicine.
What does it do? Answer: helps to enhance your cognition, as well as raising your test levels and libido.
Again, studies have shown this to be an effective nutrient at getting the job done. So it's another punch landed by TestoFuel.
Let's see whether Test Freak can respond, or get knocked out.
Test Freak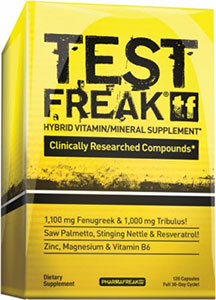 Tribulus Terrestris 
Now, this used to be a popular addition to testosterone boosters, back when it was believed to work.
However, modern studies have shown that tribulus terrestris isn't actually effective at raising your T levels. Saying that, it is known for being able to raise your libido, making it a useful addition.
However, other studies have shown worrying results; it's believed that tribulus terrestris can cause an increase in your prostate weight, which can lead to serious health issues in men later in life.
We'll leave it up to you, whether you feel tribulus is a worthy addition to Test Freak. But we can tell you that it's nowhere near as effective as Vitamin D3.
Stinging Nettle Extract 
Test Freak has come out fighting at last, as stinging nettle extract is known for being able to increase your testosterone levels.
How does it work? Answer: by binding with SHBG (sex hormone binding globulin) and freeing up more testosterone available to your body.
You can't argue with the studies. And while it's not as effective as vitamin D3, stinging nettle extract will help you out.
Saw Palmetto Extract 
Similarily to tribulus terrestris, saw palmetto is another ingredient that's been commonly believed to raise your test levels. But the problem is that modern studies have shown that it doesn't actually work.
But we think the real reason why Test Freak have added saw palmetto extract, is to counteract the side effects of tribulus terrestris; saw palmetto is believed to suppress prostate growth.
Ultimately, this might take the bad 'sting' away from tribulus terrestris. But remember that tribulus terrestris has no effect on your testosterone levels anyway…
Pros and Cons
TestoFuel Pros: 
Contains optimal dosages of key nutrients
Vitamin D3 probably the best ingredient at boosting your T levels
No reported side effects
Test Freak Pros: 
Zinc supports healthy test levels
Fenugreek seed extract boosts testosterone and libido
Stinging nettle extract can raise T levels
TestoFuel Cons: 
Premium price – costs more than less effective products
You can only buy from their official website: www.TestoFuel.com
Test Freak Cons: 
All ingredients in proprietary blends (dosages hidden from you)
Tribulus terrestris can cause a side effect
Missing key T-Boosting nutrients (eg. Vitamin D3)
Side Effects
As we mentioned, TestoFuel doesn't contain any ingredients likely to cause side effects. And we couldn't find any reported issues from past users either.
However, the main concern with Test Freak, is that it contains tribulus terrestris; this has shown to cause prostate enlargement in studies, which is a side effect you should try to avoid.
As a result, it seems that TestoFuel has delivered the final blow to Test Freak here.
Summary: TestoFuel vs Test Freak
By looking at the nutrient profiles of both products, you can see that TestoFuel contains the more reliable ingredients.
The big problem with Test Freak, is that all of its ingredients are hidden in proprietary blends; this means you don't know the exact dosage of any nutrients inside, so you don't know how effective it really is.
Also, another downfall of Test Freak, is that it contains tribulus terrestris. In case you skimmed past everything, this herb has shown to cause prostate enlargement, which isn't a good thing (and doesn't raise your test levels either).
As we mentioned at the start, we'll leave you to make your own mind up, But personally, we'd rather pay a bit extra and get a product that's likely to work and is free from side effects – TestoFuel.
---
Editor's Verdict: TESTOFUEL WINS
---