We're putting market leading testosterone booster, TestoFuel head to head with another product – Testogen. They both have fairly similar nutrient profiles, so let's see which comes out on top.
Take a look: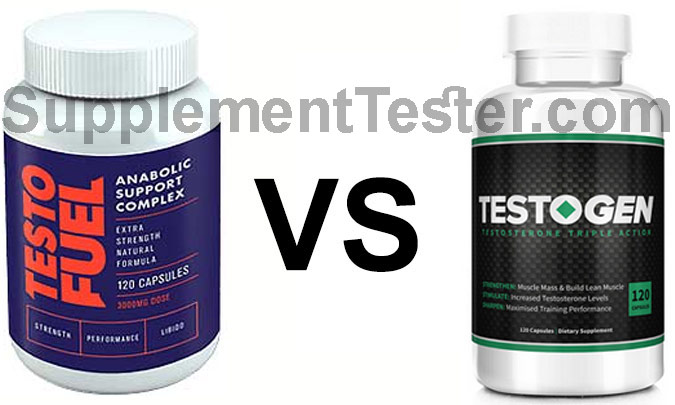 About the Companies
TestoFuel is made by Roar Ambition – a premium supplements company, with good reviews across all their products. They offer free worldwide shipping, and are endorsed by such names as Robby Robinson (former Mr. Olympia), and Diego Sanchez (UFC Fighter).
Testogen is made by a company of the same name. They aim to "produce and supply the highest quality premium testosterone supplements". But there wasn't much more information available online.
The Ingredients and How They Work 
As you can see, both T-Booster's have similar ingredients, with TestoGen containing a few more than it's market-leading rival (TestoFuel).
However, more isn't always better – and in this case, TestoGen has lowered the dosages of it's ingredients to accomodate more ingredients.
We've analyzed both products' ingredient list, to see how effective they are – and more importantly, which one is better.
See for yourself: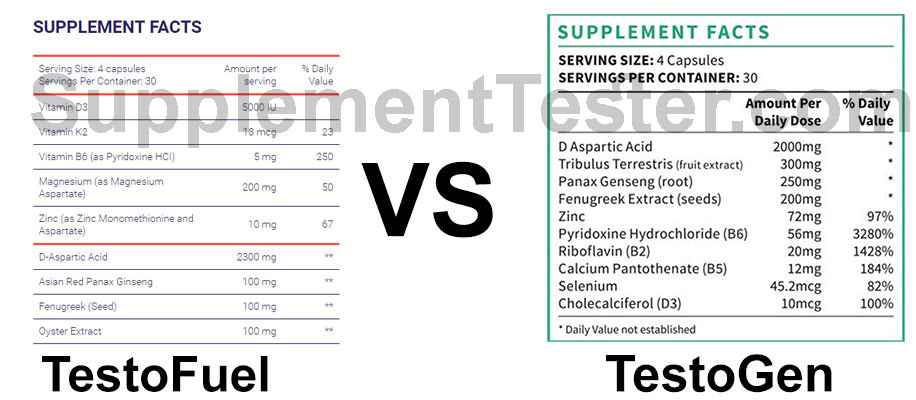 ---
Vitamin D3
TestoFuel contains an optimal 5,000IU of this hormone. Vitamin D3 has shown to increase testosterone levels, as well as boost your immune system – so you'll be sure to experience these benefits with TestoFuel.
TestoGen only offers 10mcg (400IU), so this ingredient's been severely under-dosed – meaning it's almost certain to be ineffective in TestoGen.
Winner: TestoFuel 
---
D-Aspartic Acid
TestoFuel has a great dosage of this ingredient (2,300mg). Why? Because D-Aspartic Acid's optimal dose is between 2,000-3,000mg.
TestoGen contains just enough D-Aspartic Acid to make it optimal, at 2,000mg.
Draw
---
Zinc
Zinc is a key testosterone boosting ingredient, and is proven to improve T-levels – as well as strengthen your immune system.
But there's one thing to watch out for – the dosage and your daily intake. Studies have shown that you should limit your Zinc consumption to 40mg per day, to avoid any side effects.
TestoFuel contains a good dose of Zinc (10mg), so you'll be sure to keep under the 40mg daily limit.
However, TestoGen has a huge dose of Zinc (72mg) – meaning it'll push you past the safe limit for Zinc, which can cause side effects.
Winner: TestoFuel
---
Other Ingredients
TestoFuel and Testogen both contain Asian Red Panax Ginseng and Fenugreek Seeds, which are both great for raising T-levels.
We'll take you through an analysis of Oyster Extract and Tribulus Terrestris – as these are ingredients that are individual to each products:
Oyster Extract – This is what set's TestoFuel apart from it's contender. It's a great source of Zinc and iron, which are proven to boost testosterone levels and promote muscle pumps in the gym. But that's not all.
Oyster Extract contains numerous vitamins, and has a strong amino acid profile too – meaning it promotes muscle protein synthesis (growth) too.
Tribulus Terrestris – This herb is contained in TestoGen, but not TestoFuel. It's believed to enhance testosterone production, and has been used in Ayurveda (Indian) medicine for this reason.
But here's the bad news. Studies have shown that Tribulus Terrestris has no effect on T-levels.
Not only that, it's known to increase prostate weight, which can lead to serious health issues – this is something you want to avoid.
Winner: TestoFuel
---
Our Top 3 Testosterone Boosters for 2017
Out of all the testosterone boosters on the market, these are your top three choices for:
– Building Lean Muscle
– Faster Recovery
– More Energy and Motivation
– Better Libido
---
TestoFuel – This testosterone booster contains 100% natural ingredients, which significantly reduces the risk of side effects – we didn't experience any side effects when taking TestoFuel.
TestoFuel's side effects:
TestoGen – On the other hand, TestoGen can cause side effects for a number of reasons. As we've already mentioned above, it contains a huge 75mg of Zinc – the safe limit for Zinc is 40mg, so you're almost certain to experience side effects.
Also, Tribulus Terrestris can cause an increase in prostate weight, which leads to serious health risks.
Here's the potential side effects from taking TestoGen:
Headache (Zinc overdose, over 40mg)
Irritability (Zinc overdose, over 40mg)
Gastrointestinal effects (Zinc overdose, over 40mg)
Abdominal pain (Zinc overdose, over 40mg)
Nausea (Zinc overdose, over 40mg)
Diarrhea (Zinc overdose, over 40mg)
Increase in prostate weight (Tribulus Terrestris)
Winner: TestoFuel
---
TestoFuel vs TestoGen Conclusion
Although TestoGen has a similar ingredient list to TestoFuel, when you look deeper, it's simply not as effective.
Why? Because the dosages are different, and it contains more ineffective nutrients – TestoGen has sacrificed optimal dosages, for quantity of ingredients.
We always recommend products that are free from side effects, and TestoFuel delivers on this point. It's the T-booster market leader for a reason – it works.
Overall Winner – TestoFuel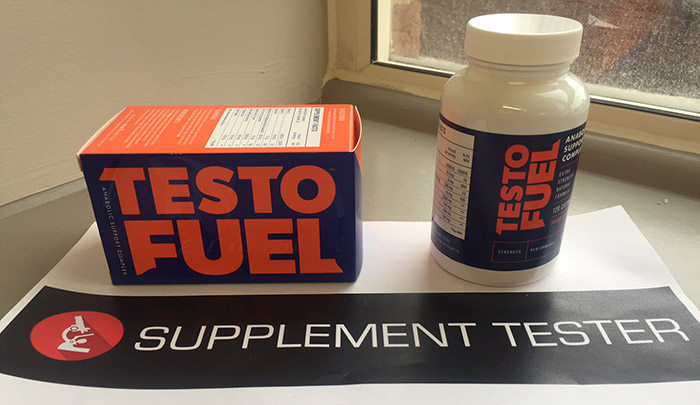 See our personal experience with this product in:
– Our Full TestoFuel Review Here –