The world of natural testosterone boosters can be a confusing and complicated place. To make things worse I recently came across two entirely different products of the same name, one of which I've chosen for my analytic eye to review.
We have TestoGen, a relatively new testosterone booster on the market, and Testogen-XR an older testosterone booster by professional bodybuilding legend Ronnie Coleman.
Always a fan of the alleged name-copying underdog, I had to go with TestoGen.
First let's talk about Testogen claims to do, on their website Testogen, (taken verbatim) has done the following for users:
Strengthened muscle mass and more lean muscle
Stimulated libido and motivation
Sharpened performance, both physical and mental
Slimmed-down body fat especially around the waist, and even reduced cholesterol and lower blood pressure
About the Company
Testogen was made by Advanced Health Limited, a supplement conglomerate also responsible for Bauer Nutrition. According to AHL their "supplements are only manufactured in the highest quality controlled facilities and use only 100% pharmaceutical grade ingredients"
I've reviewed Bauer Nutrition products in the past, specifically their fat burner Primeburn… which was rather disappointing.
The main problem I had with this company from my last review of them with Primeburn involved a proprietary ingredient. On top of that it didn't disclose any components to it's makeup. I couldn't possibly recommend it without knowing all the facts,.
Testogen seems to have gone the extra mile to avoid being associated with Bauer Nutrition, hopefully to establish itself more as a solitary brand rather than to get away from any previous bad press.
However, that may have had a completely different team behind it, so out of fairness, I'm going to treat TestoGen as I would any other product.
The Ingredients and how they work
Testogen requires 4 servings of 1 capsule a day for a full daily dosage. Servings are best taken at breakfast, lunch, dinner and late evening. This is always a good sign as it shows that T levels will be consistently 'topped-up' throughout the day while using this product.
However, this doesn't mean much until we've seen the ingredients: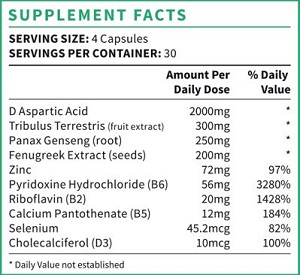 No proprietary blends, or mysterious formulas – this is a lot better for me to give an informed judgement with.
D-Aspartic Acid – An amino acid vital to the production of testosterone in the body. It allows for the rise of Leuteinzing hormones which up testosterone levels in men. It also helps build up the testes.
Tribulus Terrestris – Having been seen to increase libido, I can see why AHL included this ingredient, unfortunately though this has not been proved and the ingredient itself has never been proven to improve testosterone.
Panax Ginseng – Seen to improve erectile dysfunction, Ginseng has been recognized as a fantastic natural testosterone booster, raising levels and supplying a whole host of health benefits.
Fenugreek Extract – This is a great testosterone boosting performer. Working primarily with the libido Fenugreek raises T levels and provides a range of other benefits as an antioxidant.
Zinc – A great tool for the body to use for testosterone production. It raises DHT levels and helps the body release more Leutienizing hormones which are needed for the production of testosterone.
Pyridoxine Hydrochloride (Vitamin B6) – Vitamin B6 works with testosterone by working with androgen receptors which raises the production of testosterone and helps suppress estrogen.
Riboflavin (Vitamin B2) – Useful in many processes in the body, but more so for the breakdown of proteins, fats and carbs for energy.
Calcium Pantothenate (Vitamin B5) – Reduces fat in blood and lowers cholesterol, which helps as both of these obstacles and decrease testosterone production.
Selenium – Has been linked to causing rises in testosterone levels. Commonly found in foods like Brazil nuts.
Cholecalciferol (Vitamin D3) – A very important part of the testosterone production process. We commonly get Vitamin D3 from the sun however most people don't get enough of it due to location and lack of natural light in work stations. D3 helps increase the amount of free testosterone in the body.
Check out which ingredients work and which don't in our
– Testosterone Booster ingredients guide –
Side Effects
This is a pretty natural and safe product, however there is a risk of one side effect which may happen when taking this supplement. As TestoGen contains D3, without having K2 in there Testogen runs a mild risk of calcifying arteries and soft tissues. It's very unlikely but there is always a possibility.
That said there seems to be much less of a potency on D3 and D-Aspartic Acid side of this supplement. They're great ingredients I just don't know if a user would be able to enjoy the full effects of raised testosterone on this product.
Pros and Cons
Pros
All natural ingredients
Taken 4 times a day for consistent work on testosterone
Some of the ingredients I highly recommend already to boost test
Cons
This product does not make the most of it's ingredients
The second main ingredient is unproven
Vitamin D3 without K2 could possible have negative side effects
– Click Here to see our Highest Rated Testosterone Boosters –
TestoGen Review Conclusion
TestoGen, although having seen all the positive ingredients it has, I would argue they are not being used as efficiently as possible. More Vitamin D3 is needed, along with the inclusion of K2 to counteract any effects. Also the second main ingredient, Tribulus Terrestris has not been proven to raise testosterone.
I don't recommend this product.
Looking at the website and some of the ingredients, I feel like this product is trying to be a cut-rate version of TestoFuel – a testosterone booster I reviewed a while ago with all natural ingredients  and proven results. I've listed it as the top spot on my list of Top Testosterone Boosters and you should really check it out.