TestoJack 200 is a testosterone booster supplement marketed by NOW, sold in 30 serving containers. It seems to focus on being "vegetarian friendly", offering all natural ingredients.
Claimed to promote:
Sexual Health
Testosterone levels
Energy
This is a very low-cost product, but that's not always a good thing – sometimes, top quality supplements' production costs are high due to the quality of ingredients inside. We've analyzed TestoJack 200 to see whether NOW have cut costs, or been very generous.
Take a look: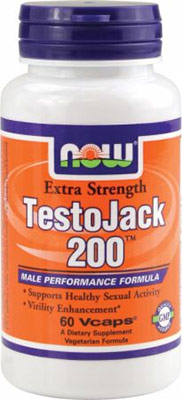 About the Company
NOW are a supplements and health food company that's been around since 1968, offering numerous products from gym supplements to healthy foods like organic quinoa penne.
It'll be interesting to see whether NOW have become experts at formulating products, seeing as they've been marketing supplements for a very long time.
The Ingredients and How They Work
It's great to see a product that provides all the doses of each individual ingredient, not hidden away in any blends. NOW also gets extra points for only including 100% natural ingredients, which limits the potential side effects (as long as they're not dosed too high).
There's also a key ingredient for a testosterone booster included – Panax Ginseng, which is great to see.
However, TestoJack 200 falls slightly short on its servings per day. In a testosterone booster, it's important for a product to provide 4 servings spread throughout your day – so your body is always topped up with optimal amounts of vital ingredients.
TestoJack 200 provides 3 servings daily – so it's not extremely bad, but it could be better. But the most important thing is the quality of the ingredients inside.
We've analyzed every ingredient in this testosterone booster supplement, to see whether it's an effective product.
See for yourself: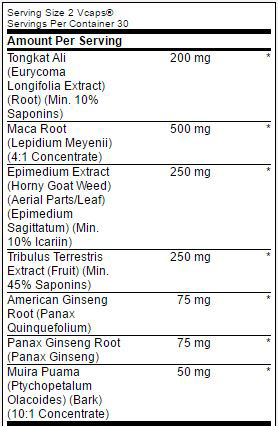 Eurycoma Longifolia Extract
Also known as Tongkat Ali, this has shown to be effective at improving erections and libido. It's also dosed clinically to provide these benefits at 200mg.
However, it's not shown to have any effect on your testosterone levels.
Maca Root
This is a vegetable that's historically been used as an aphrodisiac. and studies have shown that it does work in raising libido levels. However, that's the only benefit Maca delivers, and only in doses between 1,500-3,000mg.
This is a problem. Unfortunately, TestJack 200 only contains 500mg of Maca, meaning it's been severely under-dosed – for this reason, this ingredient is likely to be ineffective in improving libido in this testosterone booster.
Horny Goat Weed
Horny Goat Weed is used to strengthen erections and boost libido. However, studies have shown that you need to consume at least 900mg of Horny Goat Weed for it be beneficial.
There's only 250mg of this ingredient in TestoJack 200, so it's likely to have no effect on your erections or libido.
Tribulus Terrestris
The roots and fruits of this plant are traditionally believed to increase testosterone levels, quality of erections, and libido. However, it's proven to have no effect on your T-levels.
But there's more bad news. Studies have only shown Tribulus Terrestris to be effective in benefiting erections and libido in 6,000mg doses. There's only 250mg, so it won't provide any benefits at all, in TestoJack 200.
Not only that, Tribulus Terrestris has been known to increase prostate weight (benign prostate hypertrophy), which can lead to serious health problems. We strongly recommend that you stay away from this ingredient.
American Ginseng Root
This is typically used to treat the common cold, but it there's no evidence to prove that it's actually effective in doing this.
American Ginseng Root offers no benefit to a testosterone booster supplement, and there's no reason for it to be included in TestoJack 200.
Panax Ginseng Root
Also known as Asian Red Panax Ginseng, this is a key ingredient in any testosterone booster supplement – it's shown to improve cognition, quality of erections, and testosterone levels.
However, here's the bad news. This ingredient has only shown to deliver its benefits when consumed in doses over 400mg – TestoJack 200 only contains 75mg, meaning it's certain to be ineffecitve.
Muira Puama
This has been traditionally used as an aphrodisiac in Brazil, and appears to positively effect cognition in the few studies conducted on it.
However, in the studies that've shown it to be effective, Muira Puama's been consumed in 1000-1500mg doses. This is a problem, as TestoJack 200 only contains 50mg – meaning it's been seriously under-dosed.
Ultimately, this means that it won't provide any benefits in this product.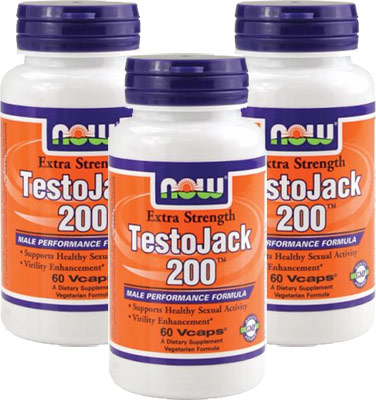 Only Panax Ginseng is proven to be effective in a T-booster. The rest are ineffective or have been seriously under-dosed. 
Check out which ingredients work and which don't in our
– Testosterone Booster ingredients guide – 
Side Effects
As most ingredients are seriously under-dosed, they're not likely to have any effect on you at all. This is bittersweet, as it also means reduced risk of side effects.
However, one major concern is the Tribulus Terrestris in TestoJack 200 – it's been  known to increase prostate weight (benign prostate hypertrophy).
Here are the TestoJack 200's potential side effects:
Benign prostate hypertrophy (increase in prostate weight).
Not What You're Looking For? Click here for
– Our Top Rated Testosterone Boosters –
TestoJack 200 Review Conclusion
We're disappointed that this product hasn't been dosed more effectively, as it's great that it only contains 100% natural ingredients. Other positives are that no ingredients are hidden in any blend, so you know the exact amounts of each ingredient.
The best thing about TestoJack 200, is that it contains Asian Red Panax Ginseng – a key ingredient in any T-booster supplement.
However, sadly, the rest is bad news. Most of the ingredients have been seriously under-dosed – which is a shame, as some would've benefited you if they were clincally dosed.
The most worrying thing about this product is the addition of Tribulus Terrestris, which can increase prostate weight. Ultimately, this can lead to more serious health problems.
We recommend looking for another testosterone booster supplement that contains 100% natural ingredients, but with more key ingredients – such as Vitamin D3, Aspartic Acid, and Fenugreek Seeds.