Testosterone UP is by no means a 'well-known' testosterone booster. It's not rated very well on bodybuilding.com either, sitting at a 2.0/10 at the time of writing, but we always review each product with a fresh mind and make our own minds up.
Claimed to promote:
Testosterone levels
Mood
Sexual Health
Muscle Mass
Strength
We're glad that Irwin Naturals has created Testosterone UP to try and deliver the relevant benefits that every test booster should. But we'll be checking these against this products' ingredients to see whether it actually works or not.
Take a look:
About The Company
There isn't a lot to learn about Irwin Naturals on thier website. It says that they've been around for 'several years', but we can't be sure what year this page was written or whether they update it.
Irwin Naturals market a big number of supplements, but they're not able to compete with the giants in the industry (and we hadn't heard of this brand before finding Testosterone UP in the Bodybuilding.com store).
The Ingredients and How They Work
After looking at the nutrient profile for Testosterone UP, we can start to see why this product isn't too highly rated.
The first big issue we found, was that it didn't contain any key test boosting ingredients, like vitamin d3 or d-aspartic acid. But there are a few positives, such as stinging nettle extract being included (which has shown promising signs of being able to boost your T).
Also, we're glad to see that Irwin Naturals haven't added any proprietary blends to Testosterone UP; this allows you to see the exact dosages of each ingredient, so you have a more accurate idea of how safe and effective this test booster is.
See for yourself: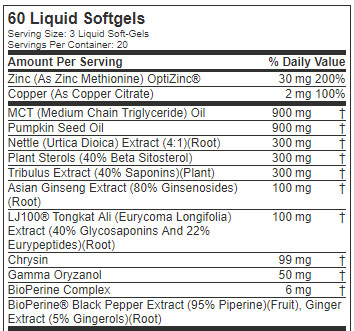 MCT Oil
Medium chain triglycerides are basically a form of saturated fat that's found naturally in coconut oil. Some consider MCT oil to be effective at boosting your metabolism and helping you burn fat. But this hasn't been backed by many studies.
Even the studies that show MCT Oil to help promote fat loss showed its benefits to be short lasting. As a result, we don't consider this ingredient very effective when compared to proven fat burning nutrients like green tea extract.
Pumpkin Seed Oil 
As you can see this is another oil that's been included in Testosterone UP. But pumpkin seed oil isn't the best option when it comes to fat burning.
Why? Answer: while pumpkin seed oil might benefit your general health and reduce inflammation, it's not proven itself as a reliable fat burner.
Stinging Nettle Extract 
Also known as Urtica Dioica, you'll know why it's been named if you've ever come into contact with it; it has the ability to sting you when touched.
However, when added to supplements, it's unable to harm you. Instead, stinging nettle extract has shown promising signs of being able to raise your testosterone levels, making it one of the better ingredients in Testosterone UP.
Plant Sterols 
There hasn't been much research conducted on plant sterols, so no-one really knows how useful plant sterols are. One thing that plant sterols seem capable of doing, is lowering your cholesterol levels, which will improve your general health.
But the bad news is that there's no evidence that plant sterols can improve your test levels.
Tribulus Terrestris Extract 
If there's one ingredient that you recognize in Testosterone UP, then it's probably tribulus terrestris. So you might be surprised to hear that it's not proven to actually raise your testosterone levels.
Not only that, tribulus terrestris has actually shown to potentially cause a side effect – prostate enlargement. As this side effect can go-on to cause serious male health issues, we personally try to avoid supplements containing tribulus terrestris.
See SupplementTester's Highest Rated
– Testosterone Booster Supplements Here –
Asian Ginseng Extract 
As well as being able to raise your energy levels and lower your cholesterol, Asian ginseng extract has also shown to have a positive effect on your testosterone levels.
In fact, we consider asian ginseng extract to be the best addition to Testosterone UP for this reason. Good job by Irwin Naturals here.
Tongkat Ali 
Also known as eurycoma longifolia, this has long been believed to work as an aphrodisiac, with more recent studies showing that it's able to raise your libido.
But it's bad news for those wanting a raise in testosterone levels; unfortunately, tongkat ali hasn't shown to be able to positively affect your test levels.
As a result, while this might be a useful addition, it's certainly not a key ingredient in Testosterone UP.
Chrysin 
You won't be happy when you hear how this works…
Basically, chrysin has only shown to raise your testosterone levels when directly injected into your testicals. Yes, you read that right.
Personally, we wouldn't want to inject anything down there, and as Testosterone UP is an oral supplement anyway, it's not going to be effective here.
Gamma Oryzanol
A mixture most commonly found in rice bran oil, gamma oryzanol has shown to reduce your cholesterol levels, which can improve your general health.
But unfortunately, this is another ingredient that hasn't shown positive results when it comes to raising your testosterone levels.
Bioperine 
We're not sure why Irwin Naturals has added 2 forms of Bioperine, as it's simply a patented form of black pepper extract.
You know that it's pretty tasty when added to your meals, and studies suggest that it can also improve the absorption rate of supplements it's added to.
As a result, we believe that black pepper extract is a useful addition to Testosterone UP. But in case you're wondering, it's not able to raise your testosterone levels.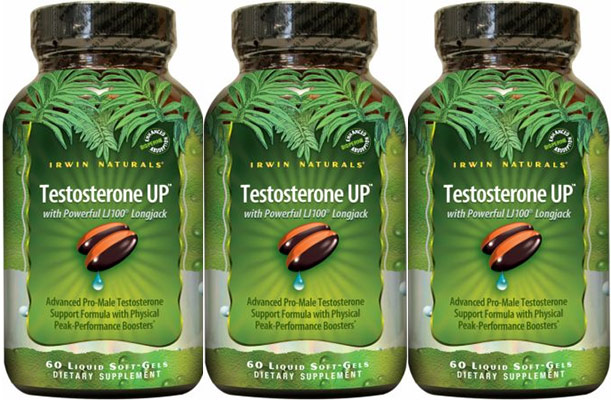 See SupplementTester's Highest Rated
– Testosterone Booster Supplements Here –
Pros and Cons
Pros: 
Stinging nettle extract can help raise T levels
Asian ginseng extract more reliable at boosting testosterone
Bioperine can improve absorption rate of supplements
Cons: 
Tribulus terrestris can cause prostate enlargement
Missing key T-Boosting ingredients like vitamin d3
Most ingredients have no effect on test levels
Side Effects
The good news is that most of the ingredients in Testosterone UP don't come with any potential side effects.
But one that does is tribulus terrestris; we mentioned before that this ingredient has shown worrying signs of being able to cause prostate enlargement, which can lead to severe male health issues.
We're not saying that it's going to definitely going to happen, but we personally wouldn't take the risk in the first place. Especially when there are much better ingredients available at raising your T levels.
See the possible side effects here:
Not what you're looking for? See Our
– Top Three Fat Burners Here –
Review Conclusion
Overall, we can see why other users of Testosterone UP have rated it a 2/10. It simply doesn't contain the ingredients necessary to reliably raise your testosterone levels.
We've mentioned the negatives enough, so let's focus on the positives to end this review; we're glad that Irwin Naturals have added 2 ingredients that are shown to be effective at helping to raise your testosterone levels, asian panax ginseng extract and stinging nettle extract.
However, we have to be honest and state that Testosterone UP can't compete with the highest rated test boosters on the market.