Testrol is a testosterone booster supplement by GAT Sports. It comes in 30 serving containers at $24.88.
Claimed to promote:
Muscle growth
Libido
Testosterone levels
It's marketed as the "ultimate dual-purpose male performance product that contains some of the most advanced testosterone boosting ingredients" – so we've analyzed Testrol to see whether it lives up to GAT's claims.
Take a look: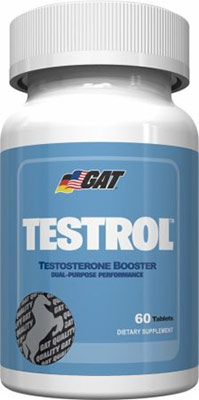 About the Company
GAT Sports are a supplements company that "develops quality products that assist athletes in training hard and competing harder".
They market a range of products, from pre workouts to fat burners, and sponsor high-level bodybuilders.
The Ingredients and How They Work
The first thing you notice about Testrol is the amount of ingredients inside – there's 12 overall. This is a large number of nutrients, but the maximum quantity for one is 500mg, which isn't alot.
This makes us worried that GAT have chosen quantity over quality. But one thing we like is that no ingredients are hidden in any blends – so you know exactly what you're getting.
See for yourself: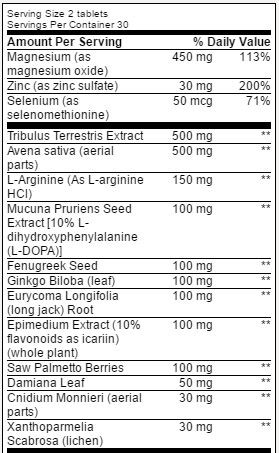 Tribulus Terrestris Extract
This is a plant from Ayurveda that's traditionally used in Indian medicine to improve libido and sexual health. However, studies have shown that it has no effect on testosterone levels.
But that's not all – there are concerns that Tribulus can increase prostate weight, which can lead to very serious conditions. For this reason, we recommend avoiding this ingredient.
Avena Sativa
This is a plant, which is also known as oat straw or oat extract. It's believed to improve libido, but the only study that shows this is from 1980 – making it unreliable.
L-Arginine
This is believed to deliver great muscle pumps as it plays an important role in nitric oxide production in your body. But here's the bad news.
L-Arginine has a poor absorption rate when orally supplemented, meaning it's ineffective in a supplement.
Mucuna Pruriens
This is a very useful ingredient in a testosterone booster – it's proven to raise Testosterone and human growth hormone (HGH) levels in numerous studies.
Fenugreek Seeds
This is one of the best ingredients in Testrol. This herb's been used to raise T-levels and libido for centuries, and for good reason – it works.
Numerous studies prove that it delivers, and it's a key ingredient to have in any testosterone booster.
Ginkgo Biloba
Believed to be a cognitive booster, it's not been very reliable in studies. It's more suited to a Nootropic supplement, as it's only benefit is delivering increased mental function (memory, focus, alertness).
Eurycoma Longifolia
Also known as Tongkat Ali, this herb's known to improve erections – but only in 200-300mg doses.
Testrol only contains 100mg, so it's not likely to be effective. But that's not all. Studies show that although it enhances erections, Eurycoma Longifolia has no effect on testosterone levels.
Epimedium Extract
More commonly known as Horny Goat Weed, it's been used traditionally to strengthen erections and as an aphrodisiac.
But here's the bad news – studies have shown Epimedium Extract to be ineffective in raising T-levels.
Saw Palmetto Beans
This is a plant originally found in the West Indies and United States, and is believed to promote prostate health. But there's a problem.
The FDA doesn't consider Saw Palmetto Extract is safe to use: "Saw palmetto extract is not recognized as safe and effective by the U.S. Food and Drug Administration (FDA) and is misbranded when labeled as an OTC drug for use as an orally administered menstrual drug product". 
For this reason, we strongly recommend that you avoid any products containing this ingredient.
Other Ingredients
Diamiana Leaf, Cnidium Monnieri, and Xanthoparmelia are believed to enhance erections. However, they haven't been studied enough to prove they have any effect on testosterone.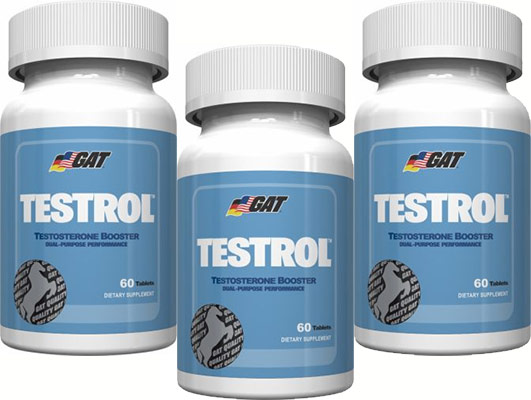 Check out which ingredients work and which don't in our
– Testosterone Booster ingredients guide – 
Pro's and Con's
Pro's 
Contains Fenugreek Seeds, which is a key testosterone boosting ingredient
Mucuna Pruriens is effective in raising T-levels
Con's
Most ingredients are ineffective, meaning this product isn't likely to deliver any benefits
FDA recommends that you avoid Saw Palmetto Beans
Not great value for money
Side Effects
When looking at side effects, there are two ingredients that are worrying – Tribulus Terrestris and Saw Palmetto Beans.
Why? Because Tribulus can increase prostate weight, which can cause serious issues, and Saw Palmetto Beans has been listed as unsafe by the FDA.
Here's the potential side effects from taking Testrol:
Increased prostate weight (Tribulus Terrestris)
Diarrhea (Saw Palmetto Beans)
Dizziness (Saw Palmetto Beans)
Headache (Saw Palmetto Beans)
Nausea (Saw Palmetto Beans)
Constipation (Saw Palmetto Beans)
Which products contain the best ingredients? Check
– Our Top 3 Testosterone Boosters –
Testrol Review Conclusion
Ultimately, there's only two ingredients that are beneficial to your testosterone levels – Fenugreek Seeds and Macuna Pruriens.
Testrol's other ingredients are either ineffective or can cause worrying side effects (especially Tribulus Terrestris and Saw Palmetto Beans).
It's important to know exactly what you're putting into your body, to stay safe. Check out our best testosterone ingredients page to learn which are good, and which you should avoid.