True GRIT is one of the newer brands of the supplement market and is quickly gaining a reputation for itself.
Selling on Bodybuilding.com for the cheap price of $29.99 (down from $74.99), I thought it was definitely worth a look in. There's only two reasons this product's price would plummet so dramatically. Either:
True GRIT are trying to spread awareness
OR
The product hasn't been selling well
To get the bottom of this, I'm going to review 'Test Booster' to determine whether it is worth the money, or worth ignoring. In their marketing Test Booster claims to:
Boost serum testosterone
Increase free testosterone and decrease estradiol
Decrease cortisol to testosterone levels
These claims seem well informed and knowledgeable about the testosterone boosting process, which most testosterone boosters fail to address.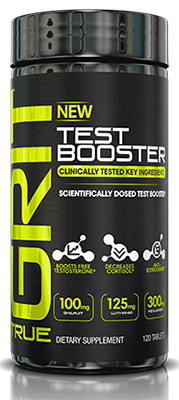 However, it's not the best product I've come across. You can check out my highest rated testosterone boosters over here.
About the company
True GRIT is one of the newer companies in the supplement industry. They offer a range of products that compliment the bodybuilding lifestyle such as protein powders, testosterone boosters, pre-workouts and more.
They're a very 'gym-orientated' company and sell their products exclusively through the bodybuilding.com website.
The Ingredients and how they work
The servings for 'Test-Booster' involve taking two capsules a day. One in the morning and another in the mid-afternoon. When on a workout day, the second capsule should be taken half an hour before a workout.
This serving schedule, just needs a little revision. The best testosterone boosters perform when having servings around 3 – 4 times a day. Having the last serving in the mid-afternoon, leaves on average at least 12 hours until the next dose. The T levels could sink in this time which could hinder progress.
That aside, True GRIT has avoiding putting together a proprietary blend for this T-Booster, which is always refreshing. We can see exactly what is going into this supplement and how much of it.
Let's take a closer look: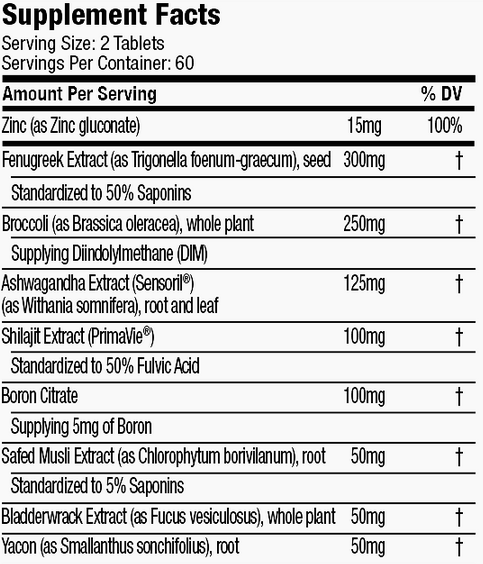 Zinc – A great ingredient for boosting testosterone. Zinc supports optimum testosterone levels by how it reacts in the brain to producing the Luteinizing hormone (precursor to testosterone and growth hormone). It has also been seen to help reduce estrogen levels by inhibiting aromatase enzymes (estrogen producers)
Fenugreek – Fenugreek is an effective testosterone booster, particularly free testosterone. It does this by regulating the blood sugar in the body, which keep avoids risking insulin resistance and decreases Sex Hormone Binding Globulin (SHBG) – which are both negative to testosterone production.
Broccoli (Supplying DIM) – Although there is no scientific evidence, DIM has shown promise to be an aromatase inhibitor. 100mg is believed to be an effective dose. However, we don't know how much of this resides within the broccoli.
Ashwagandha – Less known as a testosterone booster, but more for it's ability to lower stress and cortisol in the body. Ashwagandha anti-anxiety effects could help raise testosterone, as cortisol is known to block T-production when stress levels are higher.
Shilajit Extract – There are very few studies done into Shilajit (and by extension, Fulvic Acid) when it comes to testosterone. Only starting to be looked into recently in western practice, Shilajit has been seen only in one study to raise testosterone when taking 200mg of the compound for 90 days. That said there is only 100mg in this product.
Boron Citrate – We're more interested in the 5mg of Boron itself. This a proven booster of testosterone, when taking 10mg of boron a day for a week – subjects saw a reduction in estrogen and an increase in free testosterone. However, there is less used in this supplement.
Safed Musli – Used for it's ability as an aphrodisiac, Safed Musli has been seen to have libido and erectogenic properties in rats. Although this may sound promising, scaling up to humans does not always have the same effect.
Bladderwrack Extract – This brown seaweed contains a healthy amount of iodine which helps with thyroid function and hormones. Although there have only been a few studies, Bladderwrack has only been seen to be bioactive at doses around 500mg – which is ten times more than what is currently in this product. Which calls this nutrient's value into question.
Yacon – A tuber vegetable (like potatoes). There have been very little studies carried out on Yacon, however, when given 140mg/kg body weight subjects saw a decrease in insulin levels over 120 days. This lowers the risk of insulin resistance and can increase testosterone, however, there dosages used in that study is a lot less than what's used in this product. Again, we can't be sure how much of an effective this nutrient will have.
Check out which ingredients work and which don't in our
– Testosterone Booster ingredients guide –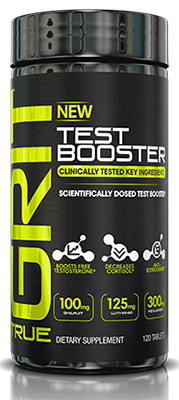 Side Effects
There have been no reported side effects with this products. The ingredients used are natural.
Pros and Cons
Pros
Contains Zinc, Fenugreek and Boron
No proprietary blends
120 capsules for $29.99
Cons
A lot ingredients under-dosed
Effective part of ingredient (i.e. DIM in broccoli) hidden behind source
Some ingredients unproven
Can only be purchased via bodybuilding.com
– Click Here to see our Highest Rated Testosterone Boosters –
True GRIT Test Booster Review Conclusion
True GRIT uses a lot of promising ingredients in 'Test Booster' however, the drawback with this is the amount of each ingredient used. This has led to including a lot of the right nutrients but at ineffective dosages, which has sunk the product completely.
Fortunately however, this company is still in it's infancy and has plenty of time to turn this around. True GRIT know what ingredients to put in their products (made abundantly clear by their knowledge of serum testosterone and cortisol levels) however they just need to get the most effective dosages pinned down.
I actually look forward to reviewing their products in the future to see how their nutrient profiles develop – as for now however, I cannot recommend this product. If you want to see the products I do recommend, I suggest checking out my Top 3 Testosterone Boosters to find the best supplement for you.