---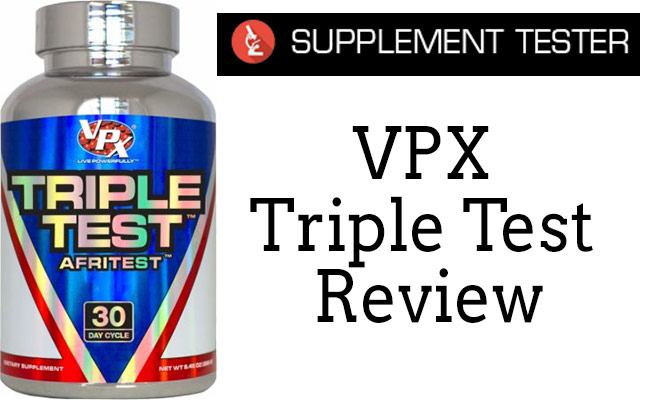 ---
On our search for new products to review, we're always asking shop assistants what the best sellers are – if they're being bought by the public, then we want to test and review it.
Anyway, this led us to a supplement (and a company) we'd never heard before. We're always intrigued when we hear of popular supplements that aren't made by the 'big boys' such as MusclePharm or Optimum Nutrition – so we couldn't wait to see the results of Triple Test by VPX.
Claimed to promote:
Testosterone levels
Strength
Energy
Sexual Health
VPX has tried to tick all the boxes with Triple Test – we like these claims, and they're exactly what someone looking at buying a testosterone booster wants to hear.
So take a look at our review to see whether this is worth trying out.
About The Company
VPX Sports Nutrition are quite a big supplments company based in the USA – they own multiple brands, including VPX, Bang and Redline. Their website tells us it was founded in 1993, so they've been around longer than some huge company such as MusclePharm.
We enjoyed their 'about us' section, and anyone looking for information about VPX Sports Nutrition will learn everything they need to know there; it's refreshing to see, as we've had to look on wikipedia to find more info about some companies (we won't name and shame here!).
Anyway, enough about the company, let's see what's inside Triple Test below.
The Ingredients and How They Work
Many companies have recently started making supplements with unusual ingredients; they're taking this 'unique' approach in an attempt to beat the many tried-and-trusted products containing the reliable ingredients.
For us, ingredients never get boring; in a nutshell, they either work or they don't – and personally, we'd rather choose the products containing nutrients proven to deliver results.
This becomes a problem with testosterone boosters such as Triple Threat – while it contains 2 quite popular nutrients, the other 3 aren't commonly used. We enjoy ingredients that are backed by studies and human testimonials, which proves how effective they are; with fairly unknown nutrients, there isn't many studies conducted on them (making them unreliable).
Anyway, we'll examine the ingredients inside Triple Test by VPX for you below. See for yourself: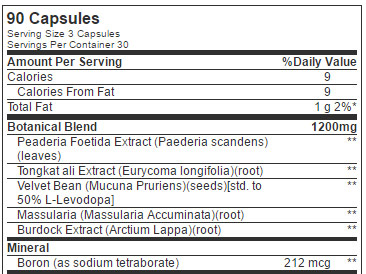 Paederia Foetida Extract 
This is one of the lesser known nutrients inside VPX Triple Threat. It's a herb that's believed to improve sexual function (it's also thought to be an antioxidant and anti-inflammatory).
However, there hasn't been enough studies conducted on this ingredient to prove that it works. But from what we know, while it might have some kind of anti-oxidative effect, it's not likely to have an effect on your testosterone levels.
Tongkat Ali 
Otherwise known as Eurycoma Longifolia, this is one of the more common additions to a testosterone booster supplement – but that doesn't make it good.
In a nutshell, this is believed to improve your erections and improve your test levels; but there hasn't been any studies to prove Tongkat Ali delivers these benefits.
As a result, it's an unreliable ingredient in Triple Test.
Mucuna Pruriens 
Also known as Velvet Bean, this is the only effective ingredient inside VPX Sport Nutrition's testosterone booster. In a nutshell, it's shown to improve both your test and HGH levels in numerous studies.
Good choice of ingredient here – we just wish the others worked too.
Massularia 
Traditionally used in Nigeria, this is used as a chewing stick and is also considered to be an aphrodisiac. However, this is one of the more uncommon additions to test boosters we've seen on the market; not much is known about Massularia, and there hasn't been any human studies to prove it works.
While there's been some promising tests on animals, we're not convinced until we see consistent, successful human trials.
Burdock Extract 
Again, this is another nutrient not commonly seen in testosterone boosters – and there hasn't been much research on its effects on T levels either.
We don't understand why companies add unreliable ingredients into their products; ultimately, this results in them losing money to create an unreliable product that isn't likely to work.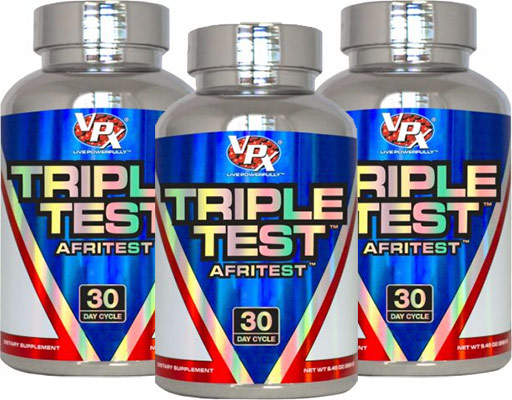 Check out which ingredients work and which don't in our
– Testosterone Booster ingredients guide –
Pros and Cons
Pros: 
Mucuna Pruriens shown to boost test and HGH levels
Cons:
Numerous ineffective and unreliable nutrients
No key test boosting ingredients
Can't compete with other T-Booster supplements on the market
Side Effects
From what we know, none of the ingredients are likely to cause side effects in Triple Test. However, as we've mentioned, there are nutrients that haven't been studied much in this testosterone booster supplement – so we can't be 100% sure about this.
This is a great example of why we don't like less researched ingredients – at the end of the day, you want to know what you're consuming is both safe and effective (so you get the most for your money).
Not what you're looking for? See Our
– Top Three Test Boosters Page Here –
Review Conclusion
We were excited to review this product, as we hadn't heard of the company or test booster before. However, it didn't turn out to be very memorable.
In a nutshell, Triple Test only contains 1 ingredient proven to increase your testosterone levels – not good for a supplement claiming to deliver this benefit. The rest of the ingredients are unreliable and not likely to work.
As a result, you'll be wasting your money on a large portion of this supplement; we recommend looking at T-Boosters that contain more tried-and-trusted nutrients, so you get the best value for money.