We stumbled across Weider Prime when looking for a new testosterone booster to try and review – because that's what we do best.
Anyway, we found Weider Prime, named after the man who created the most prestigious competition in bodybuilding (Mr. Olympia) – Joe Weider.
Claimed to promote:
Fat loss
Testosterone levels
Sporting performance
We've covered everything you need to know about Weider Prime in this review. Take a look: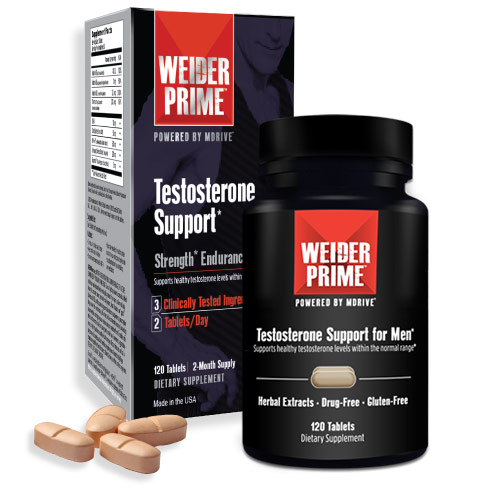 About The Company
This testosterone booster is made by the company of the same name – Weider Prime.
There wasn't much information about their company on their website; it was completely devoted to selling this supplement.
The Ingredients and How They Work
One thing we managed to find on Weider Prime's website was this testosterone booster's ingredient list.
While it contains some great ingredients, such as Vitamin D3 and Ashwagandha, Weider Prime is missing numerous key ingredients which is a shame.
Anyway, we'll take you through all of Weider Prime's ingredients – so you can see just how effective it really is.
See for yourself: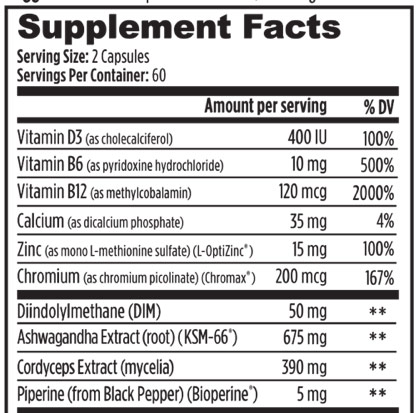 Vitamin D3 
Vitamin D3 is one of the most beneficial nutrients available. Technically a hormone, this ingredient is proven to boost your testosterone levels.
However, it only works in dosages of 3,332IU or above – Weider Prime only contains 400IU, so it's very unlikely to do much for your T-levels.
Diindolymethane (DIM) 
This molecule is believed to reduce estrogen and prevent cancer. However, there hasn't been any studies to prove that it works.
But that's not all – DIM has been reported to cause side effects such as diarrhea and nausea.
Ashwagandha Extract 
Ashwagandha is a herb that's been used in Ayurveda medicine (traditional Indian Medicine) for decades. It's shown to enhance your strength and endurance, while reducing anxiety.
However, it hasn't shown to affect your testosterone levels.
Cordyceps Extract 
This mushroom has been used in traditional Chinese medicine for decades, and is believed to promote general health and lifespan. However, it's not proven to raise your testosterone level.
Not only that, the optimal dosage of Codryceps is 1,000mg-3,000mg – Weider Prime only contains 390mg, meaning it's almost certain to be ineffective.
Piperine 
Piperine is basically black pepper (the same you season food with). It can improve the absorption rate of other ingredients it's consumed with.
But it's not a miracle worker – if it's not consumed with key ingredients that have been optimally dosed, then it won't do much.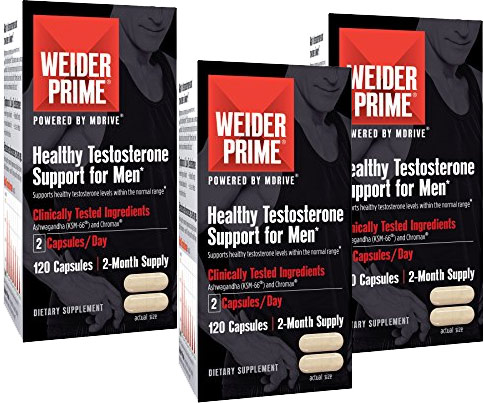 Check Out The Best Testosterone Boosting Ingredients
– Click Here –
Side Effects
The good news about Weider Prime is that it won't cause you many side effects. However, there is one ingredient that can cause some issues – Diindolymethane (DIM).
DIM has caused people such side effects as nausea and diarrhea in the past.
Here's the potential side effects from taking Weider Prime:
Nausea (DIM)
Diarrhea (DIM)
Not What You're Looking For? Check out Our
– Top Three Testosterone Boosters Article –
Weider Prime Review Conclusion
This is a disappointing product for one that has the name of a bodybuilding legend on it. From what we can see, Weider Prime has relied on the legacy of Joe Weider to sell this testosterone booster – that doesn't look likely to work.
Simply put, Vitamin D3 has been seriously underdosed, and it's missing key testosterone boosting ingredients – so you're not getting your money's worth with Weider Prime.
We recommend looking for a product that contains optimal dosages of ingredients proven to work.