A recent product by FUSION BODYBUILDING, Zeus 2.0 is a natural testosterone booster that claims to support testosterone, strength and focus using all natural ingredients.
But just how effective is it?
According to FUSION BODYBUILDING, Zeus 2.0 provides the following benefits:
Supports Testosterone
Increases Muscle Mass and Strength
Helps metabolism
Sharpens focus
Although this sounds enticing, marketing and effectiveness are two different things.
If you are thinking about buying Zeus 2.0 make sure you read this review first.
About the Company
FUSION BODYBUILDING is a lesser known supplement company but has been making supplements since 1998.
Unfortunately they've never made anything that I've considered highly notable, and I was hoping Zeus 2.0 would be the exception – you find out how good it actually is further on.
In terms of products, Fusion have a large range. Their supplements cover many angles of fitness including before, after and during workouts – they even have supplements that promote sleep.
You can find most of their products online from various online retailers.
The Ingredients and how they work
Disappointingly, Zeus 2.0 only has 2 servings a day each consisting of 2 capsules. This isn't the best delivery method for optimum testosterone boosting.
For the best results you want a T-booster that has around 3 – 4 servings per day. This ensures testosterone levels are constantly topped up and given everything they need to grow.
The ingredients in this product weren't great either – here are our the most notable ones: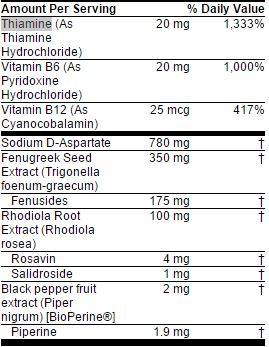 Vitamin B1, B6 and B12
There's a lot of Vitamin B in Zeus 2.0, but the main elements we want to look at are B6 and B12. B6 has some connection to suppressing the gene activity of estrogen via the C6 pathway, while B12 is great for promoting energy.
Sodium D-Aspartate
Essentially D-Aspartic Acid. This is a potent testosterone booster when used in high doses and helps promote the luteinizing hormone (LH) which is the precursor to both higher T levels and more growth hormone – essential to muscle growth.
However, 780mg may not be enough to raise testosterone effectively.
Fenugreek
A traditional herb that is a strong libido booster. Aside from raising sex drive Fenugreek also indirectly raises free testosterone (available testosterone) by lowering insulin levels in the body.
Rhodiola Root
Here's where the product helps focus. Rhodiola has been seen to have some cognitive effects and may help reduce fatigue.
Black Pepper (Piperine)
This nutrient doesn't directly boost testosterone but it does help with the overall absorption of the supplement.
Overall this isn't the best list we've seen by any stretch, some core ingredients like Vitamin D3, Zinc, Magnesium and Oyster Extract have been missed out of this supplement.
If you want to see what you should be looking in a testosterone booster and why, click the link below to learn more:
Check out which ingredients work and which don't in our
– Testosterone Booster ingredients guide –
Side Effects
No side effects have been reported with Zeus 2.0.
Pros and Cons
Pros
Contains D-Aspartic Acid
May boost cognition
Cons
Doesn't contain enough T-Boosting Ingredients
Very little aromatase inhibitors
Under-dosed in some areas
Not Impressed?
– Click Here to see our Highest Rated Testosterone Boosters –
ZEUS 2.0 Review Conclusion
Overall this isn't the best supplement on the market for raising testosterone levels – far from it – although it isn't the worst we've seen.
The main ingredients in this product that provide any benefit are the D-Aspartic Acid and the Fenugreek – however the dose of the D-Aspartic could be higher. You ideally want over 2g of DAA daily to get any real benefit.
On top of this, many of the core nutrients that have been seen to raise testosterone are missing from Zeus 2.0: Vitamin D3, Zinc and Magnesium are all necessary for healthy promotion of testosterone levels.
Then the serving schedule isn't the best for optimum T-levels as it only provides you with 2 servings a day instead of 3 – 4.
If you're considering Zeus 2.0 we suggest you look elsewhere.
For the best results when it comes to boosting testosterone be sure to check out our Top 3 Page for the highest rated T-Boosters on the market.