Pre workout supplements aren't really designed for any specific gender. The majority of ones you see on the market can be taken by both male and females, so women shouldn't have a problem choosing one.
However, that hasn't stopped companies from creatine pre workouts marketed solely at women. This has created confusion, with many women being convinced that they can only consume these supplements targeted at females.
In this article, we'll clear up any confusion by giving you the straight truth about pre workout products. You'll find out:
What is a pre workout?
Benefits of a pre workout
Are pre workouts unisex?
What to look for/avoid
Best pre workout for women
Conclusion – don't be a pussy
By the end, you'll know everything you need to know about these supplements. Take a look:
---
What's a Pre Workout Supplement?
This is quite self-explanatory, but we'll explain what pre workouts are – for those new to supplements. (You can skip this section if you know already).
Simply put, pre workout supplements are designed to improve your workouts. You should perform better in the gym after taking one of these products, and reach your fitness goals quicker than before.
You'll find that 95% of pre workouts will advise you to take a serving 20-30 minutes before entering the gym – this allows time for the product to really 'kick' in, ensuring that you're pumped and ready to smash your training session.
Here are the benefits of taking a pre workout:
Increased energy – Feel like you can take on the world when entering the gym.
Enhanced endurance – Be able to train for longer and make more progress in your workout.
Bigger glutes and legs – Gain size on your legs and sculpt your dream booty.
Feel great, look even better – Muscle pumps raise confidence & motivation, allowing you to smash your gym session.
No distractions – Keep your phone in your pocket, and stay focused on your fitness goals.
---

---
Which Pre Workouts Can Women Use?
The answer to this question, is that women can use any pre workout on the market. While there are pre workouts designed specifically for women, this doesn't mean females are limited to these products.
For this reason, both men and women have the same guidelines when it comes to choosing a pre workout. Here's a quick checklist:
Make sure it doesn't contain harmful ingredients – Read out 'pre workout ingredients to avoid' article for more info.
Check for optimal dosages of ingredients – An ingredient is ineffective when dosed incorrectly, so make sure a company's done their research to get the best pre workout available (see the best pre workout ingredients here).
Always check caffeine dosage – This is a similar point to number 2, but we need to emphasize this. Caffeine can cause jitters and energy crashes when in large doses (above 200mg per serving). For this reason, we recommend only consuming 150mg-200mg in a pre workout.
What To Avoid
As we've mentioned above, there are certain ingredients that are harmful to you – but companies still risk adding them into their products, in an attempt to deliver as many benefits as possible.
Side effects affect you, regardless of gender – this is an obvious fact. But there are some side effects that are potentially more harmful to females (such as defects in unborn babies).
As a result, we've given you the ingredients that you should avoid:
DMAE – This is believed to increase your focus in the gym, but is potentially teratogenic (meaning it can cause defects in unborn infants).
Synephrine – Also known as 'Bitter Orange Peel', it's shown to promote fat loss, but at a cost; it's been reported to cause nausea, high blood pressure, and anxiety.
---
Best Pre Workout For Women
After years of researching and reviewing supplements, we believe that we've found the best pre workout – for both men and women (the best supplements don't limit a certain gender, but appeal to everyone).
Take a look:
4 Gauge By Roar Ambition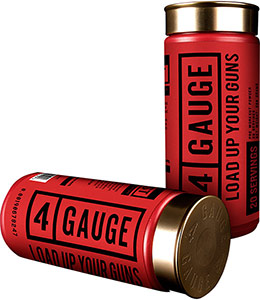 4 Gauge is Roar Ambition's latest supplement – it's one of the most up-to-date products on the market. Using only 100% natural ingredients – without any artificial sweetners, flavorings, food dyes, or harmful additives – 4 Gauge will offer a boatload of benefits, without any side effects.
Why You'll Like It
Low calorie – With only 5kcal per serving, you'll be improving your workout while staying lean.
No artificial sweetners – 4 Gauge only contains natural sweeteners, such as Monk Fruit Extract, to keep you safe from side effects.
No side effects – 100% natural ingredients ensure that you're safe from any harmful side effects.
Great energy boosts – Never feel tired in the gym again, with elevated energy levels throughout your gym session.
Increased Strength – Squat bigger weights than before, and see your dream booty come to life.
Train harder for longer – Your muscles will keep pumping without getting fatigued or sore, so you can keep burning calories!
Get shredded abs faster – By improving the quality of your workouts, you'll realize your ambitions much quicker than before.
Learn Why It's So Effective:
Simply put, 4 gauge will give you the boost you're looking for without the 'crash' – so you always reach your fitness goals. You can learn how it helped me push harder in the gym below:
Or visit their website www.4Gauge.com